The Long Trail in Vermont is held to be the oldest long-distance hiking trail in the United States. Running 273 miles long, experienced backpackers can finish it in about a month through the mountains between the Massachusetts and Quebec borders, plunging deep, deep into the forest where no civilized man would go. Though not the most famous patch of track the Long Trail is regarded as a must-try for the ambitious backpacker.
While I did not have a month to spare, my hiking partner Carolyn and I arranged to do six days of it, nearly fifty miles from the Appalachian Gap to the resort town of Stowe, before gorging on ice cream and beer. However, while I was en route Carolyn noticed that we were in for the most appalling weather in recent history: temperatures always around 35° Celsius1, humidity in the nineties, and three days of lightning storms while we would have been crawling across the top of Mount Mansfield. It appeared to make travel ill-advised.
A late-night Skype conference from a shitty hotel in Harrisburg, Pennsylvania produced a plan. The news was grim but even in such hostile conditions the Long Trail could be conquered.Thirst and privation would be our constant companions, the heat our implacable nemesis, and death our only friend, but should we succeed the adventure would define the rest of our lives. Generations not yet born would feel their blood quicken as they thrilled to our tale. The price would be immense; perhaps greater than we could pay. But it is not given to everyone to carve new tracks out of the wilderness: sometimes you simply persevere when the weaker, and perhaps the wiser, would long ago have turned back. The prize for all this pain? Trivial, local, but real immortality.
But it was really hot so we went glamping in Ontario instead.
Day 1
·
Day 2
·
Day 3
·
Day 4
Day's Distance: 0.2mi (0.3km)
Total Distance: 0.2mi (0.3km)
Day's Elevation Gain: 6ft (1.8m)
Maximum Elevation: 690.3ft (210.4m)
Hiking Time: 00:02:48
Speed: 4.3mph (6.9km/h)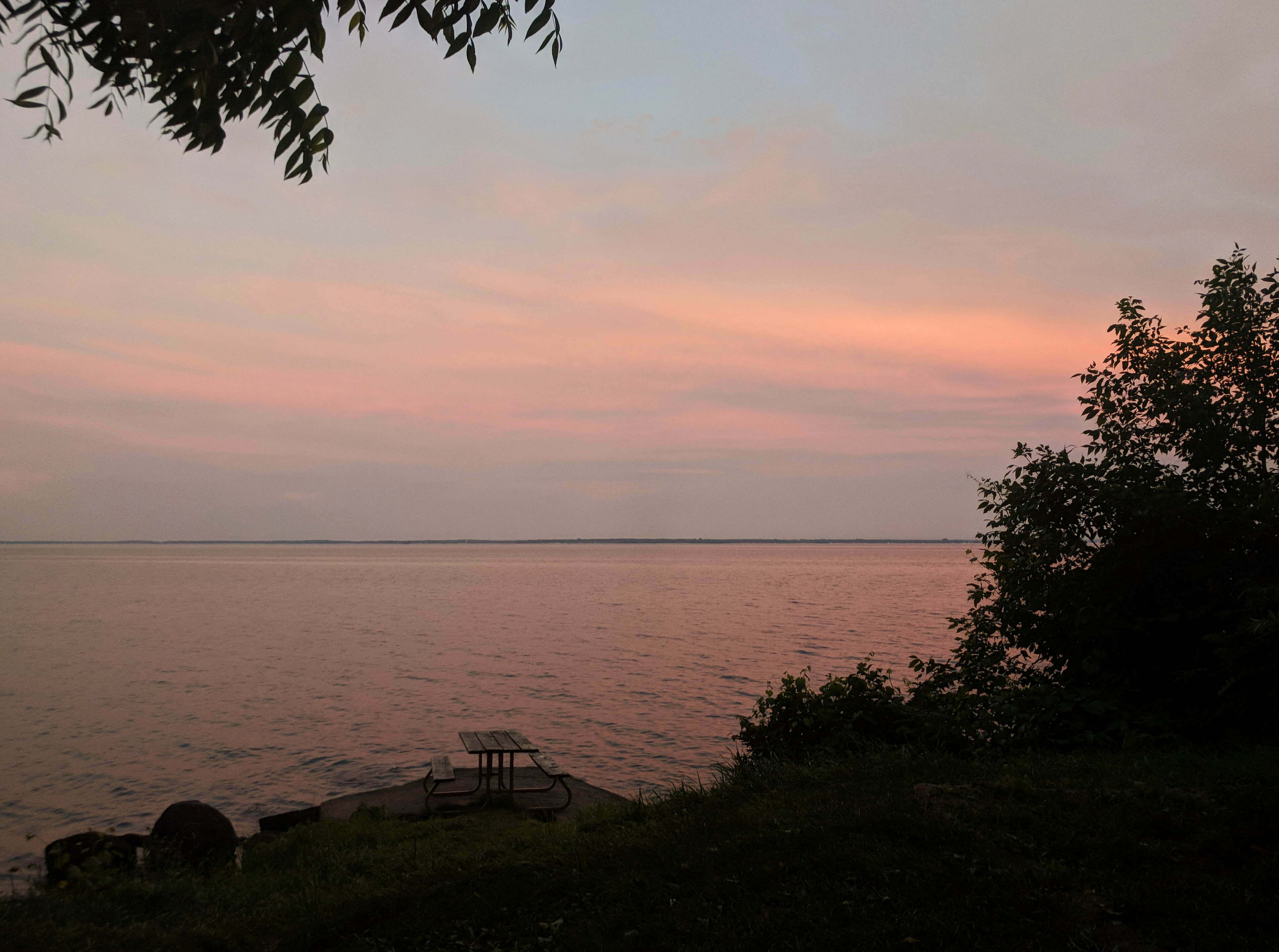 Having led you on I suppose I should now be honest. Glengarry Campground, near Lancaster, Ontario, is extremely nice. Situated on the banks of the St. Lawrence River at Lake St. Francis, Glengarry has dozens of RV sites with full hookups, laundry, shower, wifi, firepits, a family play area, flush toilets, extensive day use facilities, and river swimming from a sandy beach, all about an hour's drive from downtown Montreal. In short it has a lot going for it.
Alas, when we arrived our campsite was festooned with trash, which just after the Dominion Day long weekend is understandable if not forgivable. An ember was still merrily smoking away in the firepit, and my city water was expended putting it out. Then I got some more. Running water and garbage service change the camping experience a bit, as does not hiking seven miles a day between sites, but I had packed almost two weeks earlier in Vancouver for the Vermont backcountry and, not-withstanding an emergency cooler full of cheese, breakfast sausages, and iced tea, could not change my equipment. You know, if you only go around the campsite in Crocs before dinner, one of those Mountain House freeze-dried meals feels like a lot of food!
So when we saw our next-door neighbours not only had a larger tent than our frankly outlandishly-huge MSR Elixir 3 but also had a separate mesh-clad marquee for day use, two grills, and a paddle boat, well, I felt pretty ultralight let me tell you. Yes, we had two lightweight hiking chairs, the aforementioned Crocs as camp shoes, and our emergency cooler, but by local standards we may as well have been sucking bugs out of hollow logs. The other neighbours spent three days marathoning the Tragically Hip. You may think there cannot possibly be 72 hours worth of Tragically Hip songs, even in Ontario, and you're right there aren't.
This is not a complaint. Whatever your appetite, Glengarry can cater to it, at admittedly front-country prices. $35 a night gets you a spacious, well-appointed inland tent site which can easily host six people who don't like each other very much. But for an additional $2 you upgrade to a waterfront site, and that is the bargain of the century. I especially recommend site 14, which not only offers a private rocky beach but has its own old, broken-down concrete pier that's ideal for suppers and sunrises. Sites 20 and 21 are less private but stroll freely into the lake with childlike ease. Most of the inland sites are frankly pretty average, and get as close to the water as you possibly can; this is probably a place to be avoided on long weekends. But what's good is excellent.
If you prefer walls and air conditioning there are lots of RV sites (no waterfront options because you don't deserve it), and if you also insist on porches and barbecues why not rent a cabin by the water between the day-use and camping areas, all for the low low price of like $200 a night or something I don't know, renting a cabin in a public campground is where you leave the path of wisdom.
There is not a lot of reward in strolling around the campground, unless you like judging people's taste which I absolutely do. I must mention the couple in a red SUV who rode past our campsite six times, twice in reverse, stopping on our doorstep a couple of times, before moving on and making me ask Carolyn "we are in the right site, right?" But when we saw their site later that evening—not particularly near ours, incidentally—they had a selection of good lightweight backpacking stuff, so obviously they recognized kindred spirits trapped in the world of playgrounds and showers. Possibly they had similar backcountry plans ruined by the weather. My heart went out to them.
Day's Distance: 12.4mi (20km)
Total Distance: 12.6mi (20.3km)
Day's Elevation Gain: 124.7ft (38m)
Maximum Elevation: 743.4ft (226.6m)
Hiking Time: 04:28:15
Speed: 2.8mph (4.5km/h)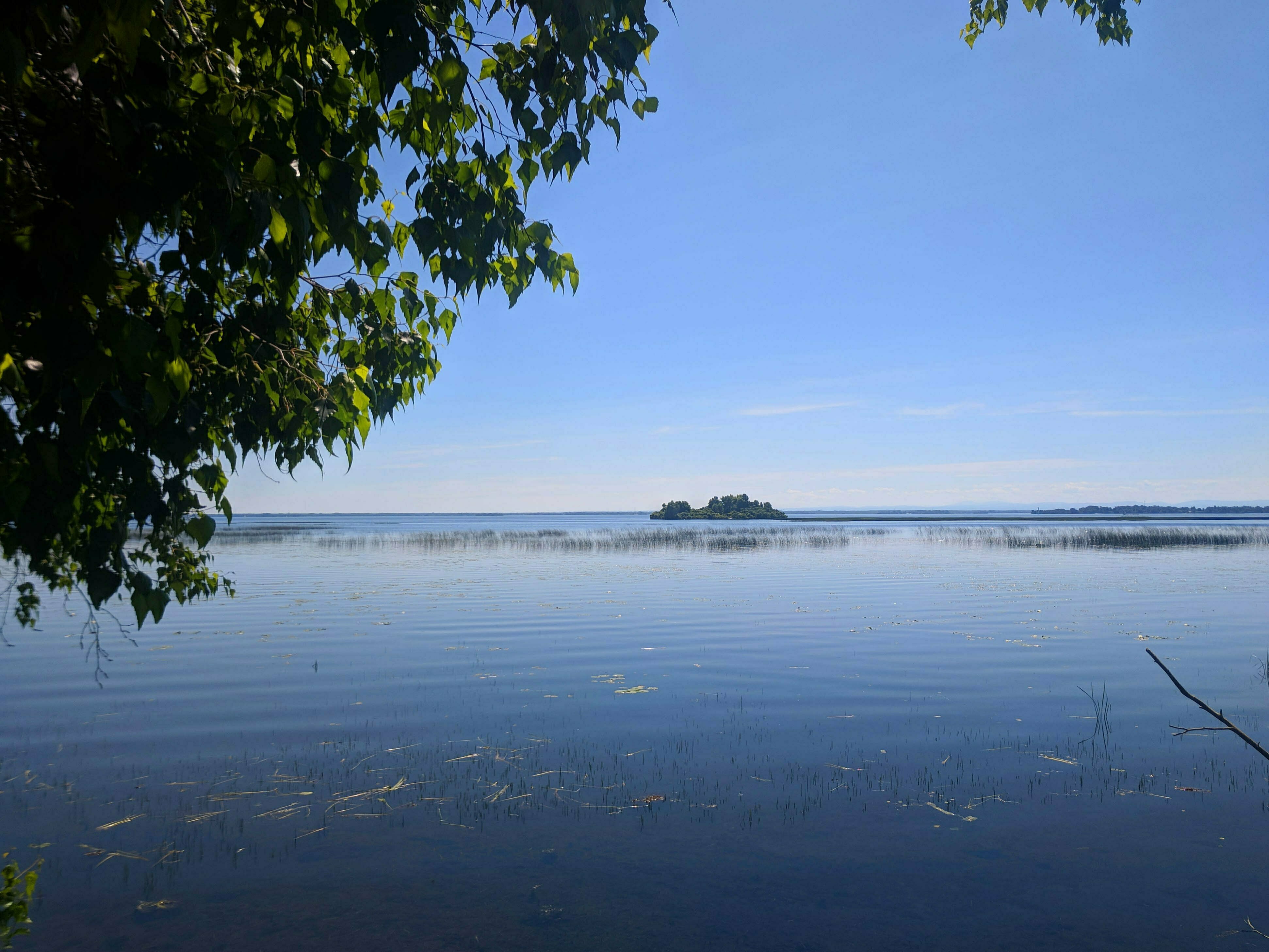 I think because it was so hot, the Glengarry bug life had been teeny and annoying rather than bitey. As if in compensation there was ever-so-very-much of it. By dawn on day 2 a colony of black no-see-ums was already waging war against the aphids for possession of the inside of our tent, slipping through the mesh regularly and, unluckily for them, dying in the oven-like conditions beneath the tent fly. There were wasps about, probably attracted by the cucumbers and limes and such left all around the ground by the previous residents, but happily few and none of us got bit. On the outside spiders rule the day; in just one night they built a magnificent spiderweb between our cooking pot and the picnic table. It felt a shame to destroy it but necessity knows no law.
The most aggravating form of life was, of course, MAN. Here I must note the Mazda that cruised by us at 11 PM, rolling slowly with headlights bright to find the campsite they had inexplicably decided to draw up to in the middle of the night, only to spend something like twenty minutes arguing Frenchly and waving flashlights as they disputed which of their many tents they should sleep in.
It was a worthwhile argument; sleep was hard to get. It was very hot.
Because our meals were planned with high energy use in mind, Carolyn and I found ourselves overfeeding even before considering the cooler full of cheese and s'more material. In the evening of day 1 Carolyn drew the carboloaded straw with 900 calories of Mountain House Macaroni and Cheese, while I enjoyed a health-filled 420 calories of pasta primavera2. The next morning, in addition to a couple burned-on-the-outside-tender-and-juicy-on-the-inside breakfast sausages incompetently whipped up with an ungreased titanium pan over a camp stove, I got 740 calories of AlpinAire blueberry and honey granola while Carolyn grabbed 420 calories of cinnamon apple crisp. AM advantage Carolyn, or so you'd think, but the apple crisp (labeled "dessert") has no actual nutritional value. In quite different circumstances it can make an invigorating start to the day; in these ones she sort of wanted a vegetable.
Not that we planned to sit around soaking up the calories all day again, for natural beauty had called. The Cooper Marsh Conservation Area is some four miles from Glengarry Campground, a vast former Loyalist farmland since engineered by conservation organizers into important wildlife-supporting wetlands. According to the sign out front the number of bird species spotted in this part of the St. Lawrence River has more than pentupled since the reserve opened, but more important to us were several miles of picturesque trail offering chances to observe nature and point at the animals.
Between us and it, Ontario's noble Waterfront Trail, a ribbon of riverside grandeur, tracing the backbone of English Canada for some 1900 miles from the Quebec border to its western terminus near Sault Ste. Marie. Sticking to the Great Lakes and the St. Lawrence River, to follow this trail is to follow both the natural and human history of our great Dominion. We would take only a few short miles of it but in this part of the country, each of those miles has been followed by a legion of aboriginals, fought through by a horde of settlers from England and the United States, and marched past by files of soldiers in 1812, 1914, 1939, not all of whom marched back.
Bravely stepping out at glamper's dawn3, we trouped through the campground and straight onto the Waterfront Trail. Which, in this area, is a glamorous way of saying "the service road south of Ontario Highway 401." The only water in sight is a few stagnant agricultural ditches. It is all pavement, optimistically signed as bike lanes4. The sun was still out, the heat wave still on, and the trees pared far enough back from the road that the trip was nearly shadeless. At best you'll think the farms are pretty; at worst you are distracted from hard concrete miles only by the roar of passing traffic on one of Canada's busiest roads.
The Trail gets off the service road at the little community of South Lancaster, which when viewed from the 401 is some fast food and an Esso but on foot is a charming little place, highly Scottish and filled with history. The Presbyterian Church, a few blocks from the Dairy Queen, is an interesting building worth a stop; the old graves are kept clean. After crossing a bridge over the Raisin River, the second half of the trip proceeds through Ontario farm and acreage country, even occasionally offering views of water. This is the best part of the Waterfront Trail we did and both words of that name were still lies.
It took an hour and a half for us to reach Cooper Marsh. Facilities, on our visit, included maps, a one-hole outhouse in the parking lot, not the worst picnic area I've ever seen, many trash cans, several miles of trail and boardwalk, handsome wooden wildlife lookouts not completely filled with Bud Light cans, and a visitors' centre staffed by a kind young lady who too clearly did not expect a pair of stinking, sweating hikers on a Tuesday morning and was not very happy to stand around greeting and interpreting. The only potable water for visitors and staff alike came from her crummy old cooler fed by one of those big blue jugs; we were more than welcome to fill our bottles but going to that well more than once would have been antisocial, even had our hostess more comfortable with us around. I am past the age where it is okay for me to scare high school girls.
As to the marsh itself? Carolyn holds a graduate degree in environmental studies. She literally knows so much about things like swamps that they gave her multiple pieces of paper to prove it. And she got bored just as quickly as I did.
It's probably a nice spot when it's not too warm and you can sit in a shelter with binoculars, checking waterfowl off your Birds of Ontario list. But the heat or the season or something drove most of the aviators to ground, except for the bugs, who were having their regatta day and found us the most interesting visitors in some time. The trails in their own right are not very interesting except for two boardwalks cutting through the middle of the swamp, but one of them had been tilted about ten degrees out of true and was closed until the conservationists could repair it in the winter. These created and preserved swamps may be very worthy things which improve the natural beauty for hundreds of miles but it takes the right kind of person on the right kind of day to enjoy visiting.
At any rate we did most of the walking, had a lunch of crackers and baked Camembert5, and sweated our way back up the trail we came down. By this point it was midday and though the sun was behind us it was devilish hot; my watch recorded a high of 36 degrees Celsius. Small wonder we drank all our water, refilled in the lavatory of a Circle K, and in the remaining 50 minutes drank all of that.
But, and this is unfortunate if you're here for the sarcasm, we did get back to our tent, stripped down to our trunks, bathed in the St. Lawrence, ate like monarchs, and never once said "I wish I was lugging a 75-litre backpack up a mountain in Vermont."
Day's Distance: 10.8mi (17.3km)
Total Distance: 23.4mi (37.7km)
Day's Elevation Gain: 147.6ft (45m)
Maximum Elevation: 747.4ft (227.8m)
Hiking Time: 04:35:19
Speed: 2.3mph (3.8km/h)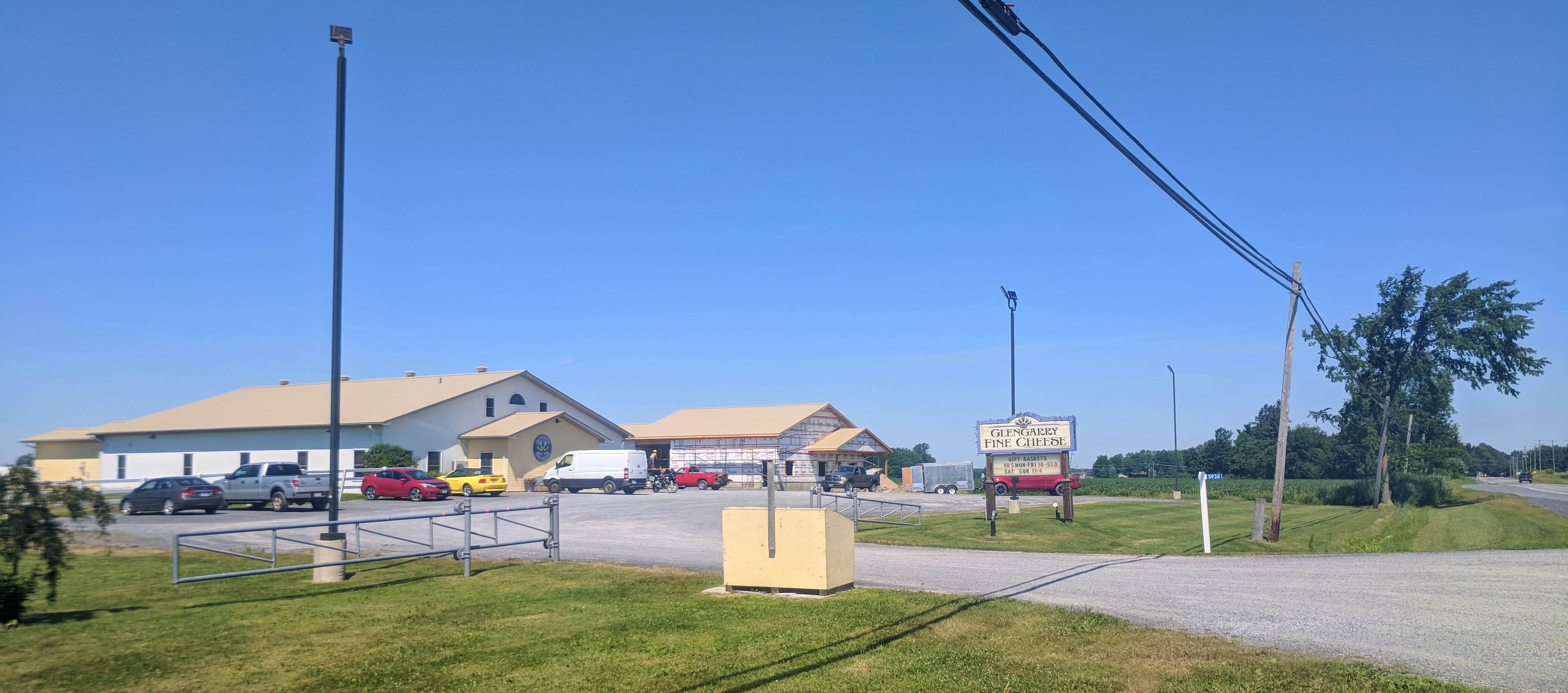 Waking up with a spiderweb on my glasses was a first, so you see, even front-country camping can be instructive.
Once I got it off I saw another splendid morning of riverine sunglasses and unlimited visibility. Any biting bugs, presumably preferring one of many succulent children to my DEET-sodden form, were leaving my alone, and West Nile felt far away. No, today's great peril was the Ben and Carolyn Calorie Challenge.
Dinner yesterday had been indecisive, with a Mountain House Meat Lasagna each avec les s'mores des toasted over mon camping stove6. But breakfast promised a fight. Carolyn drew an AlpinAire Raspberry Granola with Milk (780 calories, 28 grams protein), an old reliable. I wound up with the Apple Almond Crisp (500cal, 10g protein) which is not only lighter but has half the sugar. However, as a challenge to our staying power, our cooler full of ice had become a cooler full of lightly-chilled water and as a result we also endured a super-ration of three mildly waterlogged, burnt breakfast sausages each, to go with the usual tea and coffee.
You can keep your tiny cardboard graves full of Corn Pops, this is how to glamp.
We were, however, eating at a prodigious rate. With only six packs of instant noodles, two and a half chocolate bars, 97% of a bag of marshmallows, assorted crackers, four freeze-fried meals, the considerable contents of the campground store, and a nearby licensed restaurant between us and starvation, it was clear we had to secure our food supply, and fast.
Fortunately Carolyn had a plan. Four miles from our campground, north of Lancaster proper, stands Glengarry Fine Cheese, which is exactly what it sounds like. They would have the necessities of life, since we'd run out of Camembert and had to finish off those crackers.
The first half of the trip followed the "Waterfront" "Trail" to South Lancaster, which I will not review save to note that this time we saw three bicycles and an electric scooter. Then, having recharged our water bottles (high temperature on my watch today was all the way up to 39° Celsius), we turned right over Highway 401 and into town.
I saw little of Lancaster, and it is little so fair enough, but it has cute houses, multiple pizza options, and a bar, so it is all right with me. From there we had a road-shoulder march through farm country to the cheese shop where, in defiance of pop culture, they had many varieties of delectable dairy as well as shelves full of preserves, ciders, and suicide pepperoni. We bought a block of the Figaro, which we smeared over our crackers and found very refreshing, a clothbound cheddar which we devoured, in slightly heat-softened form, back at camp off my much-abused multitool, and an exotic bourbon-honey spread that we will probably use sometime. The cheese was absolutely excellent. I could have spent money there, shoving veiny blues into my facehole, until they had to roll me out with a tractor. Also it was air-conditioned. A visit to Glengarry Fine Cheese is a must for anyone with a tongue.
Look, I realize this is not the exciting adventure content you signed up for but we work with what we are given. Had we kayaks we might have paddled the St. Lawrence, but we didn't and I can't kayak anyway. So with few options for interesting nature we found an attractive attraction, went to it, and had a very nice time, on a day when other campers were strictly confined to air-conditioned RVs or trapped in hell on a closed-down 401 as trucks reversed through traffic for a mile to get on a previous interchange. We made ourselves fat and then cooled off in the river, which I think was doing extremely well.
In the evening we polished off the chocolate bars, with the help of graham crackers, marshmallows, and increasingly proficient camp-stove s'more technique that will let me recommend the MSR MicroRocket stove for all your lightly toasted wads of sugar. We sat in the river and Carolyn beat me at board games. Not much to read about, but it was sure okay to do.
Day's Distance: 0.2mi (0.3km)
Total Distance: 23.6mi (38km)
Day's Elevation Gain: 6ft (1.8m)
Maximum Elevation: 690.3ft (210.4m)
Hiking Time: 00:02:51
Speed: 4.2mph (6.8km/h)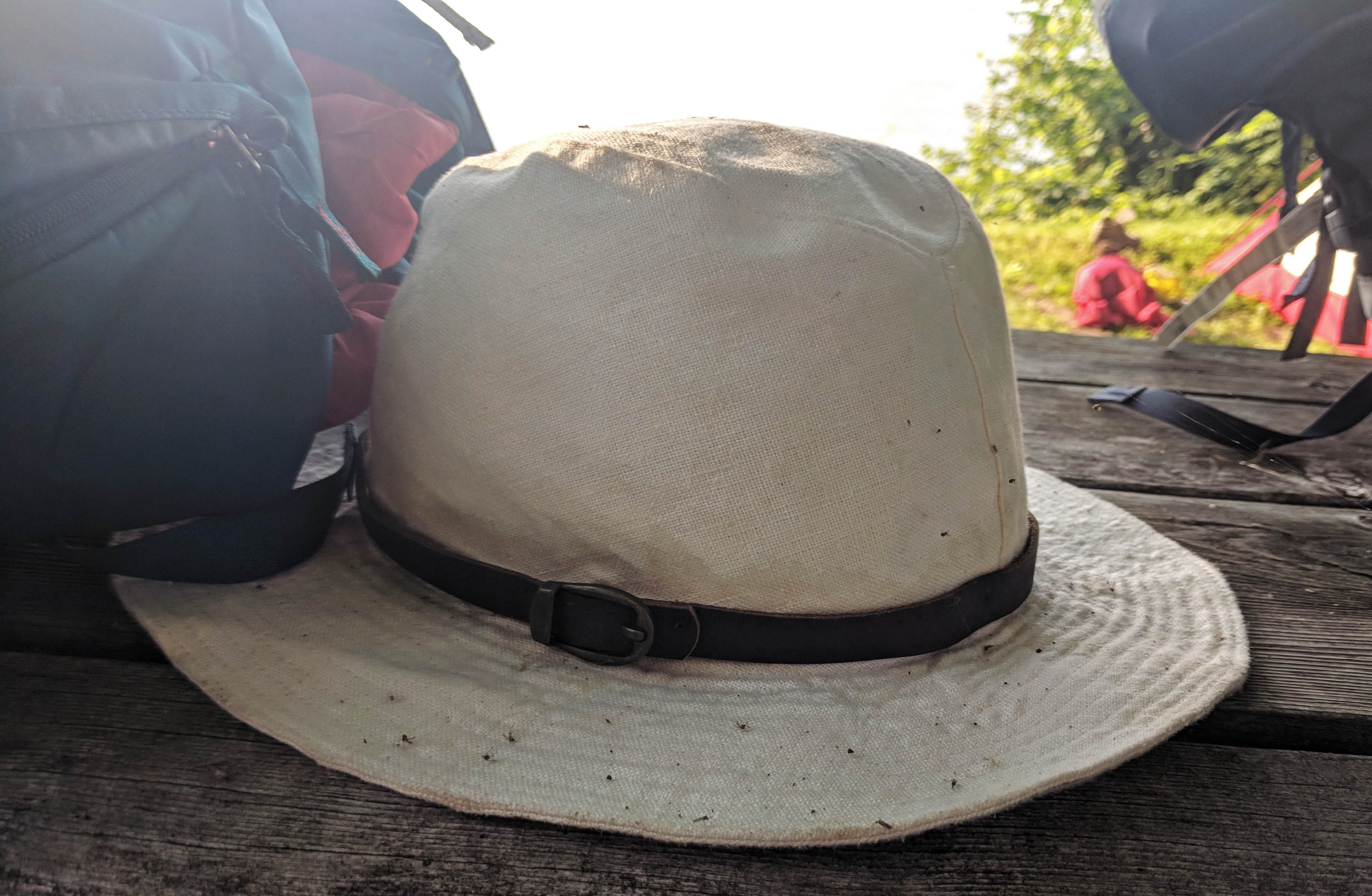 Departure embroiled us in the vicious hike from our campground to the parking lot. But we lived. Our greatest challenge was handling the tonne of biomass our tent had accumulated in three motionless nights from the bugs arriving, and dying, in droves. My highly-fashionable camping hat looked like it had been covered in Raid before bed. Fortunately there was a shower before we got in a car with Carolyn's parents for an hour.
I must be honest. This type of camping, this sitting in one spot for four days, is not entirely my thing. You could probably tell, from all the sarcasm. I like to get up and see new scenes and do adventures, that's why I come out. But not everybody does, and as you can see we wound up hiking almost 24 miles, not counting plenty of round-the-campground strolls and a few river swims, in two full days, which isn't exactly idleness. Nothing about it was challenging, except surviving the heat, but it was agreeable and Glengarry Campground gave us some truly beautiful views. Carolyn, whose feelings get short shrift in this narrative because she didn't write it, looked like she was enjoying herself. And you know, when it's that hot and humid, there's an awful lot to be said about chilling in a river playing cribbage.
So yes, we went glamping, and it was nice. You tore it out of me. I wouldn't want to do it every trip, but now and again, under the right circumstances? That is good.