Parks Canada's new reservations system is fun. Used to be you'd log in 7 AM on opening day, the database server would crash, and you'd refresh, and the database server would crash, and you'd have a couple browsers open to get one as far as the cart, and the database server would crash, but you'd check out, and then the payment server would crash, and you'd repeat this ten times until your credit card had been overcharged a few hundred bucks and, because you were high-agency, you'd get your campsites. I wrote about it! It worked for me, which is not the same as saying that it worked.
Now you log in opening day and are randomly assigned a place in line. The website hardly crashes at all but, no matter how on-the-ball you are, you cannot advance more quickly than the luck of the draw. When I visited on Banff, Kootenay, and Yoho backcountry day there were 14,715 people ahead of me taking the good campsites. 14,715. I wrote it down.
I had planned two hard and fast weeks through three parks, from Field, British Columbia to Canmore, Alberta, a hike to be proud of, one you have to train for. But 14,715 people made that impossible. So I had to gear down and hike Kootenay National Park's Rockwall, one of the crown jewels of the Canadian Rockies, the one they put on the cover of the Canadian Rockies Trail Guide most years, a beautiful and popular destination I was truly lucky to get into. I even found myself obliged to stop at every campground along the way, a relaxed itinerary that would allow me to spend the summer sitting and getting tubby rather than grinding the Grind.
Oh darn.
It was amazing: five of the best nights of my life. You should go. (And if you want to read nearly 9,000 words of what it was like written more for the writer's pleasure than any entertainment value, you should keep going.)
Ben will hike to your inbox! New posts and nothing else.
After two years of frustrated would-be backpacks in the Rocky Mountains1 2020 would be a winner. A half-dozen early mornings, scoring opening-day reservations for some of Canada's most-coveted campsites. Jasper frontcountry, Banff frontcountry, Jasper backcountry, Banff backcountry, provincial parks: processing and stress, HTTP 503s and duplicate credit card charges: all worth it to see great trails in peak season.
Take the train to Jasper, one night in the frontcountry, then two on the famous Skyline Trail. Bus to Banff, and three more nights up the Sunshine Village gondola, through the Assiniboine Pass, and down to the southeastern corner of Banff National Park via legendary Lake Magog. A trip worth the wait.
Then the virus came. VIA Rail, Canada's passenger rail provider, suspended transcontinental service for the year. So I had to fly into Edmonton, with associated problems moving fuel and bear spray, and bus to Jasper on Sundog. This meant a needless night at Wapiti, watching elk and ordering pizza.
On the Banff side Sunshine Village announced they, including the gondola leading to Assiniboine Pass, would not open for the summer of 2020. So an already-long day would be lengthened by a sketchy cab ride and a boring uphill walk. Then, in July, the bombshell: a nice lady from Brewster called and said that due to "extreme low demand" their Jasper–Banff bus would not run until September at the earliest2.
It was disappointing but one cannot be angry at small businesses trying to survive in a time of panic. Every thwarted booking, every reservation canceled, was refunded promptly and without hassle. Everybody was very polite, and the reputation of the Rocky Mountains' little transport companies and outfitters has only improved. But now I could either go to Banff and do Assiniboine Pass, or go to Jasper and do Skyline, but, with no connection between them, not both.
I chose Skyline. A mistake was made.
Until this past Labour Day Garibaldi Provincial Park was one of the many obligatory outdoors spots in British Columbia which I had not visited. There's always some more exciting way to spend scarce vacation time, always some reason to go elsewhere. For non-drivers it's certainly accessible, but a bit of a hassle. It's notoriously crowded, of course, and you can see quite a lot of it any given sunny weekend by searching Instagram. The real outdoorsmen swear by its true backcountry, and the cross-country skiing is said to be excellent, but I lack the game (and the 4×4) for those. So it stayed vaguely on my "I'll get around to it" list for a long time.
This year I finally knocked quite a lot of it off. Parkbus offers service to the Rubble Creek trailhead, access point to Garibaldi Lake, Panorama Ridge, and the Black Tusk, every weekend. From there one can do a day hike, or even an overnight there-and-back (this, I believe, is the only Parkbus destination out of Vancouver with both Saturday and Sunday service). But if you want to experience more of the park then you can hike out the Cheakamus Lake exit and down the access road to the #20 Whistler city bus run by BC Transit, and from there ride into Whistler itself, from which, even in the post-Greyhound era, any of several intercity buses can whisk you back to downtown Vancouver in touristy comfort. It looked too practical to allow of any excuses.
I don't think I'll be back, at least not to Rubble Creek. I hear people say that the West Coast Trail is crowded, well, I liked it a lot. They've had to slap stiff overnight quotas on the Chilkoot Trail and I liked that too. So the crowds didn't scare me, even when I got up at 5 AM the first day campsite reservations were open and saw that, of the 50 sites at Garibaldi Lake itself, half were already booked. Maybe they should have. There were plenty of compensations but it turns out that, after all, there's such a thing as too busy a backpack for me, and Garibaldi was it.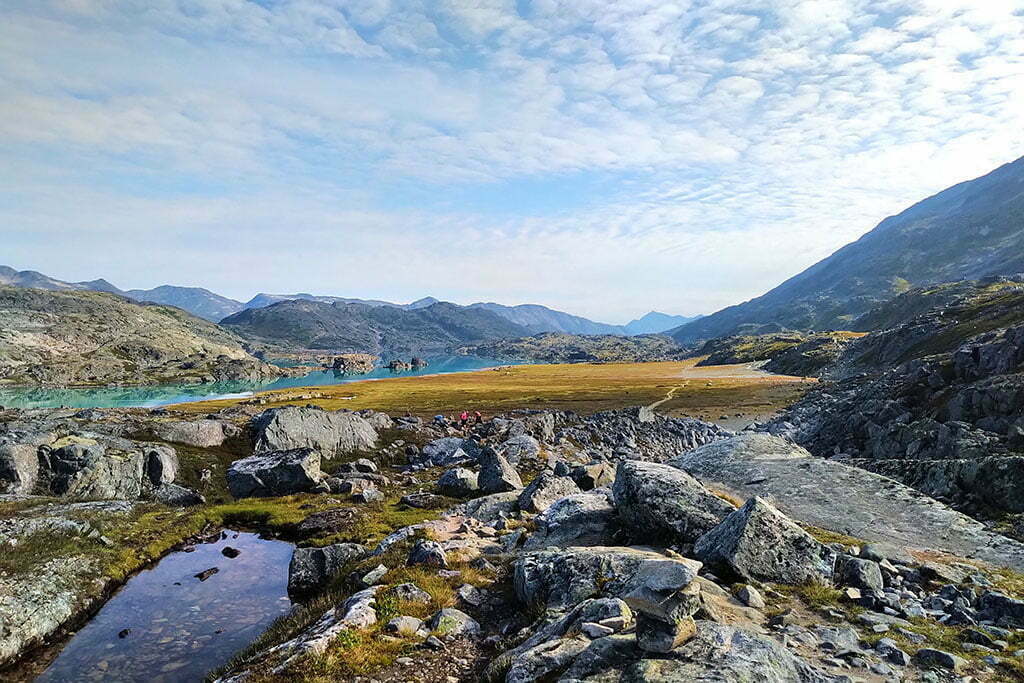 Skagway. I can't believe I'm back in Skagway.
I have visited three times, which is two more than you should. In 2017, an aborted backpack to Kluane National Park (our river disappeared) turned into a week pottering around anywhere you could bus from Whitehorse. Thus a bus trip to Carcross, the most boring town in the world, and a transfer onto the White Pass and Yukon Route railroad down to Skagway. In my spare time I am a train nerd, and like most western Canadians I'd always nursed a modest, Pierre Berton-level interest in the Klondike Gold Rush, a grand tale of human irrationality, hubris, greed, glory, triumph, and despair. Skagway was one of the main Gold Rush towns, these days preserved almost as a memorial, and the railway had been built to convey prospectors and equipment through the early days of modern mechanical mining.
En route the train stopped at Bennett, British Columbia, the near-ghost town that is the northern terminus of the Chilkoot Trail1. From the station you can see a sign for the Chilkoot Trail National Historic Site of Canada. Saint Andrews Church, a rare surviving Gold Rush-era building, looms between the mountains above. You get off the train with the other tourists and ramble briefly around Bennett, looking at the interpretive signs and enjoying the scenery. It is extremely pretty. Some people camp there for a night or two and take the train back without hiking, and you see why.
Then you get back aboard and ride to Skagway through the White Pass, which is stunning. I swore, on that train in 2017, that I would someday hike the Chilkoot, the 33-mile route from sea level by the Taiya River, through the kilometer-high Chilkoot Pass, and back down to Bennett, where Gold Rush prospectors took to their boats and the hiker to his train.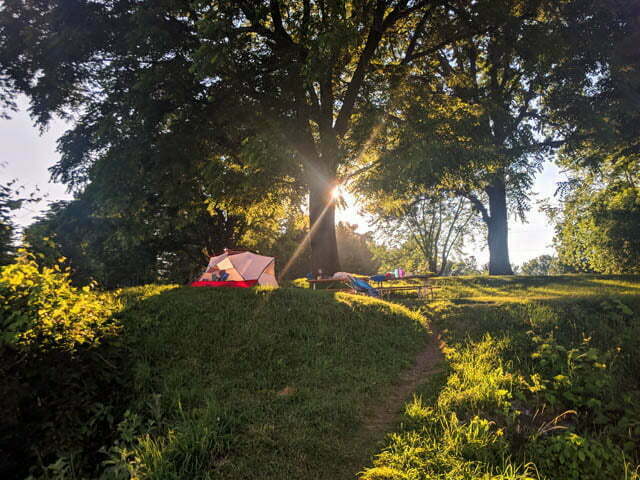 The Long Trail in Vermont is held to be the oldest long-distance hiking trail in the United States. Running 273 miles long, experienced backpackers can finish it in about a month through the mountains between the Massachusetts and Quebec borders, plunging deep, deep into the forest where no civilized man would go. Though not the most famous patch of track the Long Trail is regarded as a must-try for the ambitious backpacker.
While I did not have a month to spare, my hiking partner Carolyn and I arranged to do six days of it, nearly fifty miles from the Appalachian Gap to the resort town of Stowe, before gorging on ice cream and beer. However, while I was en route Carolyn noticed that we were in for the most appalling weather in recent history: temperatures always around 35° Celsius1, humidity in the nineties, and three days of lightning storms while we would have been crawling across the top of Mount Mansfield. It appeared to make travel ill-advised.
A late-night Skype conference from a shitty hotel in Harrisburg, Pennsylvania produced a plan. The news was grim but even in such hostile conditions the Long Trail could be conquered.Thirst and privation would be our constant companions, the heat our implacable nemesis, and death our only friend, but should we succeed the adventure would define the rest of our lives. Generations not yet born would feel their blood quicken as they thrilled to our tale. The price would be immense; perhaps greater than we could pay. But it is not given to everyone to carve new tracks out of the wilderness: sometimes you simply persevere when the weaker, and perhaps the wiser, would long ago have turned back. The prize for all this pain? Trivial, local, but real immortality.
But it was really hot so we went glamping in Ontario instead.