It would have saddened a handful of Vancouver Island backpackers when Sooke Mountain Provincial Park outlawed camping. Located about an hour from downtown Victoria, Sooke Mountain has been logged, surveyed, alternately protected and exploited, driven over, ridden on, and hiked for more than a century, and the park is part of a more nearly-wild area than you might expect given its location and history.
People are all around. Sooke Mountain borders the popular Sea to Sea Regional Park, maintained to a very high standard by the [British Columbia] Capital Regional District and criss-crossed with trails. It is linked to the Sooke Potholes, a very popular destination, and a walk between the two can easily involve a side-trip to Empress Mountain, the tallest peak in the Victoria area. The terrain is often strenuous but, on the established routes, only occasionally severe. To the north there's logging, which puts a limit on the real wildland, and the Greater Victoria watershed, but this leaves a great deal to explore on foot by unofficial and haphazard trails. Geographically it has every advantage. But this gem goes unpolished, to the pleasure of Sooke Hills wanderers who escape the capital for a taste of wilderness.
Land ownership is complicated, with the Capital Regional District, the province, and the YMCA all holding big stakes. The provincial park itself is relatively small, compared to the bevy of public and private landowners around it, and lacks direct vehicle access, so BC Parks has taken a very stand-offish approach. Victoria's planned for at least ten years to open the area up to recreation, but the region has swallowed up more backcountry parkland than it can digest: Sooke Mountain is just one more page of bullet points. Because of this, trails and facilities are user-maintained at best while official maps are non-existent and unofficial ones obscure. Since a wildland so close to an urban area is tempting to the inexperienced, and nobody's apparently taking responsibility for the area, it's probably best not to encourage too much casual activity. People are already rescued after going in flagrantly unprepared for the backcountry; nobody needs more of that.
But until 2019, you could camp there, and in 2017 I did, braving bad maps, blowdown, and poop buckets, crossing old moss-covered pipes across gaping chasms, getting lost in the woods, and emerging dazed, tired, and alive, having seen hardly a soul in 24 hours between two popular destinations.
Day's Distance: 8.8mi (14.2km)
Total Distance: 8.8mi (14.2km)
Day's Elevation Gain: 2510ft (765m)
Maximum Elevation: 2083ft (634.9m)
Hiking Time: 03:46:58
Speed: 2.3mph (3.7km/h)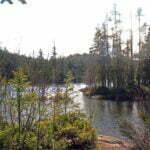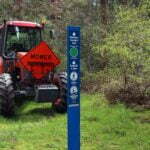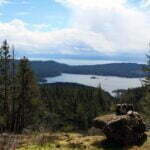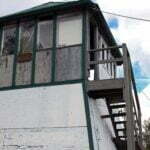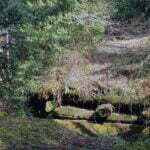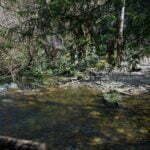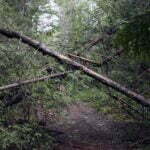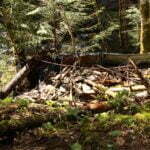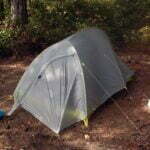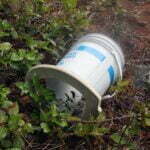 Although it's growing every year, Sooke is well out in the Victoria suburbs, a neighbourhood where most everybody drives. The Sea-to-Sea parking lots fill up fast on any weekend worth the name, and if you are backpacking you've got to find a way to get back to your car after. So why bother? BC Transit's #61 bus takes you, at a very casual pace, to the foot of Harbourview Road, letting you hike a short distance up the street to the parking lot, a toilet, and the entrance to the Sea-to-Sea Regional Park. Get off a bit early if you like and enjoy a taste of the Galloping Goose Regional Trail, an old CN interurban rail line turned recreational artery for the Victoria area. It is all perfectly straightforward and perfectly pleasant.
There's a good afternoon to be spent in Sea-to-Sea alone. Its trails are broad, easy-to-follow, popular with mountain bikers, and abundantly signed. The showpiece of the park is Mount Manuel Quimper, named after the 18th and 19th-century Spanish captain and colonial governor who charted much of the south coast of Vancouver Island out of the Spanish fort at Nootka Sound1, boasting a fine view of Sooke and a mid-century fire watch tower that's well worth seeing. Most of the hike up is a steady ascent on broad, easy trail, and while things are narrower and trickier near the summit this is only relative. If you're on your way to Sooke Mountain park, a visit to Mount Manuel Quimper only adds 700 vertical feet or so and an insignificant amount of distance to your day. Watch out on the descent to the north, though: travelling in April, I came down a slope and slipped into a short but sweet pool of rainwater that soaked me almost to the waist. It's Vancouver Island. It's wet.
It's solidly friendly frontcountry until you get to the end of Sea-to-Sea. The Sooke Mountain Trail continues, seemingly uninterrupted, past a outhouse and an information board, into Sooke Mountain Provincial Park. The trail looks like, and is, old roadway. Broad and trivial to follow for its length. It's just you step over the property line and it stops being maintained. There are unbridged crossings of the Charters River, which probably get severe on really wet days: one crossing was made with the aid of a steel braided cable strung between the two shores, and the collapsed hundred-year-old bridges are no good to man or beast. In the last century this area was logged, then a popular site for day trips and weekenders, sheparded up the fine logging road to cabins whose foundations are still intermittently visible. In 1928 the area became a provincial park, but even trucks would drive the road into the park well into the post-war era. Yet it was always informal, the "infrastructure" has always been maintained by hobbyists, and when recreational vehicle access to the park was cut off the bridges were allowed to rot away and, in some cases, removed.
The Sooke Mountain Provincial Park boundary is not clear on the ground, and even looking it up is ambiguous, but in general it only seems to include the southeast corner of the Sheilds Lake shoreline. Being a law-abiding sort, and not wishing to risk camping illegally outside the park, I followed a crappy, flagged route and scouted the very tippy-tip of the corner for a usable campsite. There was nothing of the sort, it was grey, sloppy, woodsy, and depressing, and I emerged glum, returned to the Sooke Mountain road, walked maybe another, what, hundred yards, and found a turnoff to as clear a campsite as you could wish. The area was clear, there were old fire pits and signs of habitation, and someone had glued a toilet seat to an old bucket to serve necessary purposes. The actual hike was something like seven and a half miles, then a mile and a half of obscure campsite searches and trying to find my camera's lens cap.
For this effort, I got a lake to myself on a spring weekend. People camp there, probably even today when it's not permitted; there are too many good tent-spots for the world to resist the temptation. There were signs of beer-drinkers past. Former buildings can be espied a short walk from the former camping area, and the artificial history of the place leaps out and talks to you. The lake itself is fine; hardly a picturesque destination, but pleasant. Clean enough. Well-treed, easy to swim in or take water from. This is not a hike you make for the stunning views. It's a hike you make to get a nice night out-of-doors, and I had one. It rained, spottily, and I enjoyed that. The sun came out and I enjoyed that too. Most of all I enjoyed the solitude; from the time I passed my last mountain biker I would not see another human for 24 hours. Whenever it is they develop these lands and open them up to camping, I bet it won't be like that again.
Day's Distance: 13.3mi (21.4km)
Total Distance: 22.1mi (35.6km)
Day's Elevation Gain: 1391ft (424m)
Maximum Elevation: 2476ft (754.7m)
Hiking Time: 05:50:36
Speed: 2.3mph (3.7km/h)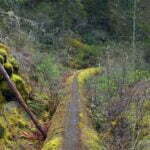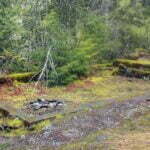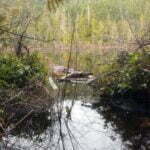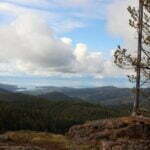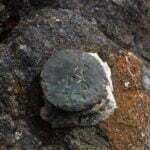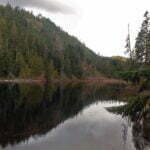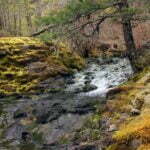 Not for the last time in my life, a short day turned into a longer one.
My plan had been to spend a second night at Peden Lake, which then had a little cabin, put up in the 1920s by the family after whom the lake is named. Years ago somebody even hiked in a canoe, though it wasn't in usable condition in 2017. I hadn't really expected to spend the night there; by reputation the cabin was verminous and on a long weekend I could probably expect it to be taken before I arrived, which it was. The rough, undermaintained, graffiti-strewn structure was hardly comfortable-looking anyway; today, it has supposedly been removed. So, in my head, I had already been pitching a tent beside Peden Lake somewhere, neither too close nor too far from the cabin, and enjoying a night under canvas.
But I didn't. There were no really good spots to pitch a tent I could see; the narrow, sparse lakeshore was mostly rock with nary a clearing, which in hindsight might help account for why someone built a cabin in the first place. I was tired from crossing blowdowns and climbing a mountain.
The trails up here are a maze. Old logging roads, old recreational roads, newer trails, older trails. The ramblers of the area are an enterprising bunch, but many are the stories of people who got lost and few are the maps. I would say a GPS is an absolute minimum; the OpenStreetMap of the area is still the best source of details I've found, and while it's far from perfectly accurate and many of those reassuring trail lines are not so solid in person, it was infinitely better than nothing.
Since my day was scheduled to be fairly short, I decided I might as well knock off Empress Mountain on the way. The access to this is notoriously hazy, but with my GPS I figured it out. The greater problem was the condition of the trail. Although fairly broad, it is maintained only occasionally by volunteer effort, while windstorms lash this part of the west coast most winters, meaning in the spring the deadfall was a serious problem. Time was spent going over, around, under fallen second-growth forest. At least I didn't get lost, finding the trail easy to follow once I picked out the right one through all the ancient intersections, using entirely electronic means and with limited help from old blazes and markings cut into trees decades earlier. The difference between the theoretical map and the facts on the ground was enough that my watch frequently buzzed "off course," but it served to turn the right way at a junction. I would not have done this trip without either satellite assistance or local expertise close-to-hand.
The Empress Mountain turnoff was more than a hole in the road, and turning right, I made my way up. A steady climb, though not actually that high, with plenty of time spent looking back over my shoulder to make sure of my route down. The day was happily clear to reach a nearly-bald summit, crowned by a surveyor's mark, a radio tower, and what looked like a water tank. The best views extended south, towards the harbours of Sooke, and the wind whipped around pretty good. I had a little window of cell service, and indulged. It wouldn't be too far to Peden Lake.
It wasn't, but it was long. Descending the mountain, of course, over the rocky route, steep in spots; I was even less experienced then than I am now and it was slow going. Back into the forest, where I saw a tree blazed "EMP" with an arrow, the wrong way for it to have been of use to me, and plenty more blow-down. Plenty more obscure intersections, too. Once again I blindly trusted my Garmin and once again it delivered, though not quickly. Erosion and time had damaged the trail to the point where there were annoying climbs into and out of culverts here and there, further slowing progress. I got there in the end, of course, to see that cabin, both occupied and shitty, and that I would have to explore a fair bit to find a decent campsite.
But wait, why camp at all? I had gone less than seven miles, it wasn't even mid-afternoon, I could knock the rest of the trail out, return to Victoria, and sleep in an actual bed, no problem. The sun was shining, and I had passed through the most uncivilized part of my entire journey. Most visitors to Peden Lake hike in from the Sooke Potholes side, along the Mary Vine trail (though alternates are available). The trail is well-used, easy to follow when you know what it is, and while there are no signs, no markers, and a criss-crossing web of polymorphous tracks, it was at least a place I was likely to find people and well-trafficked trail. With, of course, my trusty GPS.
However, any first visit to these unmarked woods is perilous to the newcomer, especially if, as I was, you're coming from the wrong side. There are so many alternative options. It is too easy to make mistakes, GPS or not.
At first, the trip was easy as kiss-my-hand. The trail is better-maintained on this side, and I did indeed see other hikers, enjoying a pleasant Sunday in the woods. There was a set of rapids just off-route, very pretty, and the west forest views opened up a bit here and there on steep hillsides. Then I made a mistake, at the Sooke Flowline.
If you have never seen the Sooke Flowline, it's the former route of the greater Victoria drinking water supply. Built from 1912 to 1915 using almost entirely local labour and materials and a narrow-gauge railway, it was one of those many miniature marvels of engineering and effort that dot the southern tip of Vancouver Island. Supplies were crafted on-site, or lugged cross-country from what was then the Grand Trunk Pacific Railway's short Vancouver Island subdivision2, assembling a 27-mile concrete pipe three and a half feet in diameter, maintaining a stunningly level grade give-or-take a siphon or two, from Sooke Lake way up in the watershed down to civilization. Maintenance crews stayed in cabins along the route and patrolled the pipe on custom-made tricycles, performing limitless feats of maintenance as the storms buffeted and the rocks punctured this precious lifeline precariously draped across the Sooke Hills. Part of the pipe was decommissioned in 1970 but the real rugged stuff to Sooke stayed in service until 2009, since when it has been a highly discouraged and certainly dangerous, but in parts popular, walking route.
I was so close to the frontcountry it's pitiful. From where I was I should have mounted the Flowline and turned right a short distance, but I'd already taken a minor wrong turn and my read of the GPS deceived me, so instead I turned left. The top of the otherwise-mossy pipe gave clear signs I was not the only one to do so but they diminish, with time, until you reach the first trestle across a tributary of Todd Creek. Then they disappear.
I probably should have turned around. But I was tired, and aware I was lost. Walking the Flowline itself takes moderate balance; turning around, on the moss, with my heavy backpack, frankly frightened me. And deep down, I knew that at least this was a path, a continuous route that would lead me to Sooke eventually if I let it, and it let me. It felt better than chancing it in the woods going heaven knows where.
So I followed the trestle across a tributary of Todd Creek. This is one of the more hair-raising things I have ever done. Wikipedia, not known for colourful prose, tells us (emphasis in the original):
There are a few aqueducts in this part, as well as the four-storey one, which should be crossed with utmost care or not crossed at all. There is a cantilevered gangway on the side which can be utilized however they are beginning to show their age and may no longer be safe.
In 2017 I thought that gangway looked pretty fucking dodgy even by comparison to the alternatives. Just getting down onto it felt chancy, so I stuck to the pipe. I walked very slowly. The dropoff seemed infinite. I don't care for heights, but now I know it's impossible for me to be literally pants-crappingly scared, because if it was I would know. The height felt enormous, and the consequences for the tiniest slip on the wet moss a guaranteed fatality. I took no photos, though it was a hell of a spot for them: the miniscule imbalance involved in removing my camera seemed too great for my soul to bear. There are several aquaducts in this area. I only crossed one, and, based just on the elevation changes, I'm pretty sure it was not the tallest, but from where I was standing, this particular trestle was a hundred miles off the ground, completely devoid of support, and covered in grease, starving polar bears, and non-English-speaking tourists with selfie sticks.
After that, any plausible trail seemed delightful, and soon I found one off to the right. I practically leapt off down this trail, the so-called Todd Hill Trail which was really more a track nowhere near as straightforward as that map up there makes it seem like it should have been. It was good enough, though, and while I often got the "am I lost?" feeling, I was at least certain I was heading in the right direction. The grade leveled out, and while I made an unnecessary creek crossing, by that time it made no odds. Soon I was on real trail, heading west, back onto the Galloping Goose, all broad, civilized front-country. I like the Galloping Goose a lot for an afternoon walk but to read about it is even more boring than the rest of the article, and I was sufficiently enthralled with not being dead that every road, acreage, and parking lot the trail took me past seemed like a wonderland of delights.
I didn't need to make it a full circle, hiking back to the bus stop where I'd started the previous day, but I did, just for the hell of it. Then I bused into town, enjoyed that bed, ate a pepperoni-and-anchovy pizza, and probably said something like "well I'm never messing with heights like that again," more fool me.
Spain extensively explored Vancouver Island and the San Juans in the 18th century. They established the first colony in what is now British Columbia, and men like Quimper, Pedro de Alberni, Juan Francisco de la Bodega y Quadra, Dionisio Alcalá Galiano—and San Juan, of course—are still immortalized on the map.
The Grand Trunk Pacific deserves a book of its own. The promotional map of their proposed route, found on the Wikimedia Commons, includes such delights as a spur from Hazleton to Dawson City, a Vancouver Island mainline through some of the nastiest terrain in the province, and what would have been about a mile-long bridge over the Alberni Inlet. They did at least build their continental mainline to Prince Rupert before going broke, but their Vancouver Island branch got no further from Victoria than Leechtown, 34 miles away. The mainland leg remains an important secondary line for Canadian National and actually still has occasional passenger service; the Vancouver Island rails have been quiet for a generation and were lifted entirely in the 1990s.