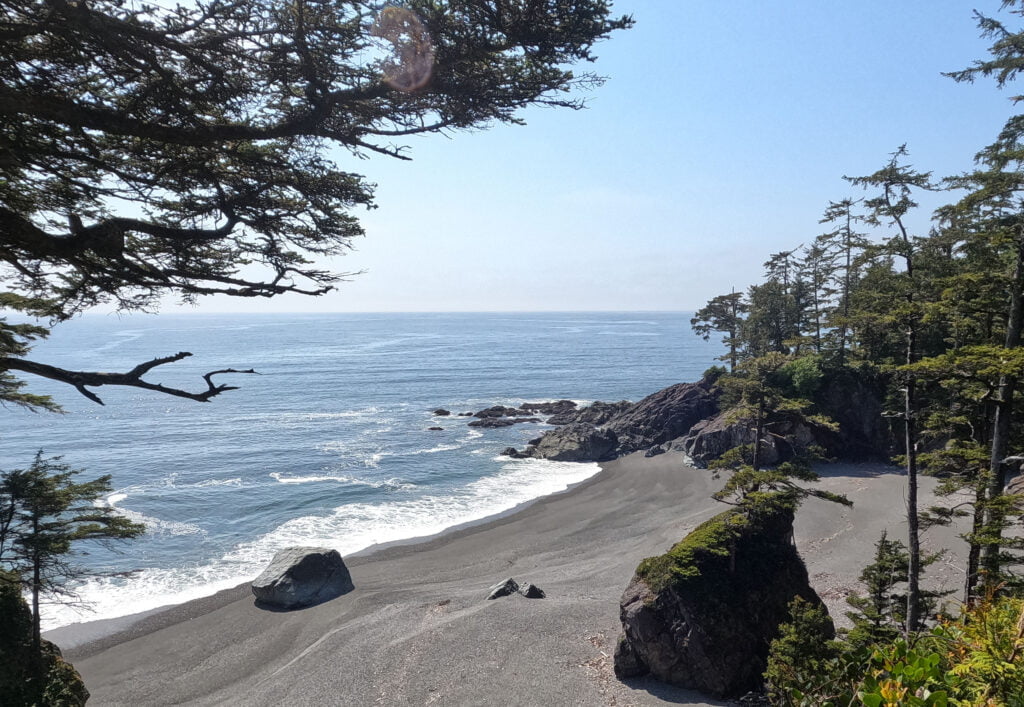 I don't usually hike big trails twice, but 2023 is shaping up to be a major backpacking year. Therefore I wanted to do something in May, to see where I was at and get my legs under me in advance rather than relying on classic Ben Massey hiking-myself-into-shape-in-the-Rockies. May means no mountain backpacking, or at least none I wanted to deal with. So hey, why not the West Coast Trail again? Besides, I had unfinished business from last time. I had taken safe, boring forest routes when I did the trail for the first time in 2017. I wanted to see Tsusiat Falls in their glorious full flow rather than the September trickle. I wanted to do more beach stuff, in particular the nasty route around Owen Point from Thrasher Cove to Camper Bay. I wanted to see a little more of the coast, in particular the ferry from Bamfield to Port Alberni, which I missed last time out. I wanted to not get my tent flooded out from under me. I wanted to have a little less anxiety, and a little more time to experience the beauty. There were even some souvenirs that I have started collecting since 2017 that I wanted to pick up.
Things did not go entirely according to plan.
In September 2017 I was in some of the best hiking shape of my life while in May 2023 I was flabby and not physically ready for a harder trip. I had forgotten some of the difficulties of the trail and neglected all pre-trip training and preparation. Whereas in 2017 I reached Pachena Bay in perfect condition, in 2023 I finished bruised and battered, but luckily not broken, with torn-up pants and chastened pride.
Which does not mean for a second it was not a wonderful, entertaining experience. Just a different sort from what I expected, and very different from 2017.
Ben will hike to your inbox! New posts and nothing else.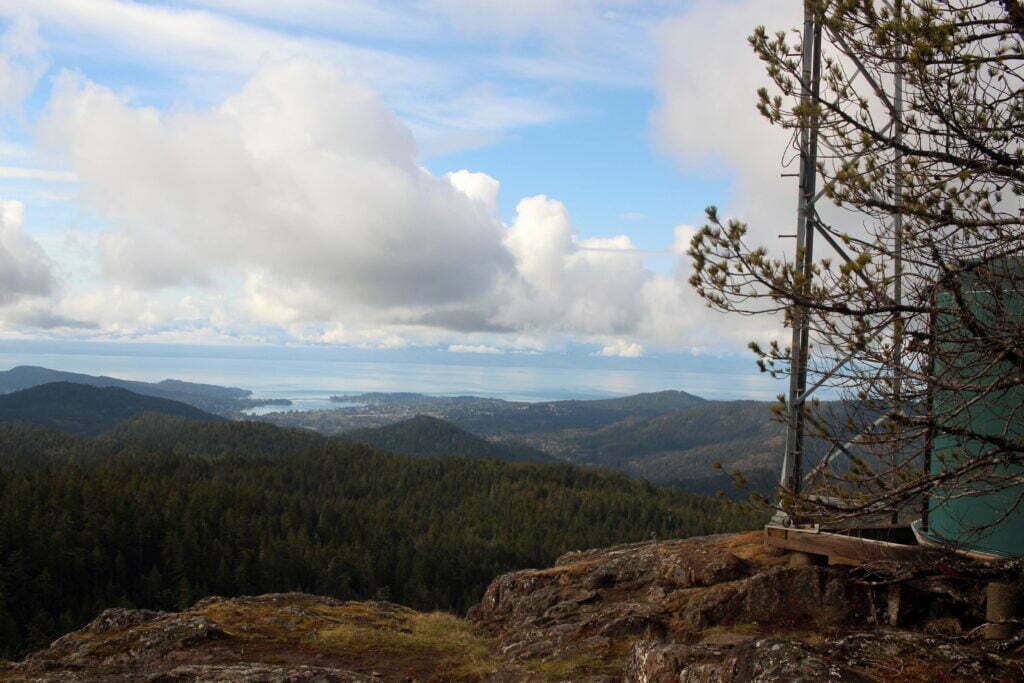 It would have saddened a handful of Vancouver Island backpackers when Sooke Mountain Provincial Park outlawed camping. Located about an hour from downtown Victoria, Sooke Mountain has been logged, surveyed, alternately protected and exploited, driven over, ridden on, and hiked for more than a century, and the park is part of a more nearly-wild area than you might expect given its location and history.
People are all around. Sooke Mountain borders the popular Sea to Sea Regional Park, maintained to a very high standard by the [British Columbia] Capital Regional District and criss-crossed with trails. It is linked to the Sooke Potholes, a very popular destination, and a walk between the two can easily involve a side-trip to Empress Mountain, the tallest peak in the Victoria area. The terrain is often strenuous but, on the established routes, only occasionally severe. To the north there's logging, which puts a limit on the real wildland, and the Greater Victoria watershed, but this leaves a great deal to explore on foot by unofficial and haphazard trails. Geographically it has every advantage. But this gem goes unpolished, to the pleasure of Sooke Hills wanderers who escape the capital for a taste of wilderness.
Land ownership is complicated, with the Capital Regional District, the province, and the YMCA all holding big stakes. The provincial park itself is relatively small, compared to the bevy of public and private landowners around it, and lacks direct vehicle access, so BC Parks has taken a very stand-offish approach. Victoria's planned for at least ten years to open the area up to recreation, but the region has swallowed up more backcountry parkland than it can digest: Sooke Mountain is just one more page of bullet points. Because of this, trails and facilities are user-maintained at best while official maps are non-existent and unofficial ones obscure. Since a wildland so close to an urban area is tempting to the inexperienced, and nobody's apparently taking responsibility for the area, it's probably best not to encourage too much casual activity. People are already rescued after going in flagrantly unprepared for the backcountry; nobody needs more of that.
But until 2019, you could camp there, and in 2017 I did, braving bad maps, blowdown, and poop buckets, crossing old moss-covered pipes across gaping chasms, getting lost in the woods, and emerging dazed, tired, and alive, having seen hardly a soul in 24 hours between two popular destinations.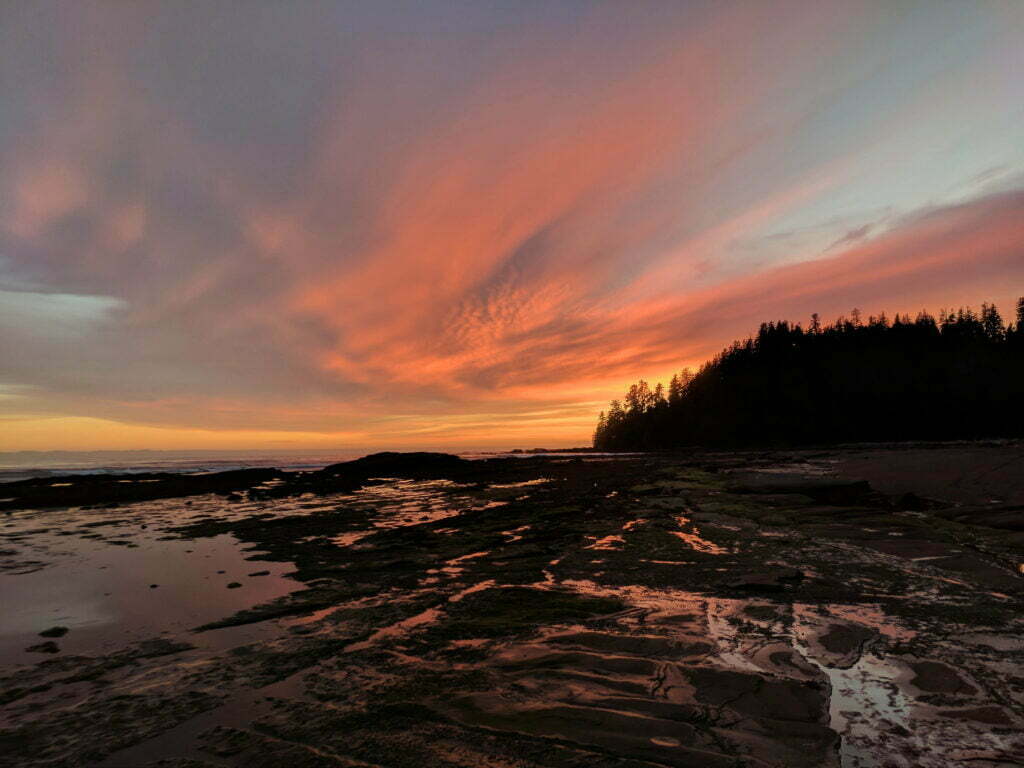 I have a bad head for heights. Earlier this year, in the Sooke Potholes Provincial Park on Vancouver Island, I got to show it off spectacularly. On the second day of a backcountry backpack through an area with no official trails, I found myself walking atop the Sooke Flowline, an abandoned water main that once provided drinking water to the people of Victoria. This was intended; missing my turn was not, and with the trails obscure and sometimes unmarked I was lost in spite of my GPS. I didn't worry at first; I knew the Flowline led to the highway, from which I could not be far, so I stuck to the route rather than bushwhack in an area of valleys and cliffs.
This was a mistake. The pipe soon turned from nicely winding along the ground to perilously perched increasingly high above the forest. Fewer people come this way (because it's wrong), so the slippery moss growing atop the old concrete was becoming more hazardous. Where there was no moss it was only because a falling boulder had punched a hole in the pipe. It was uncomfortable but not actually dangerous, until suddenly it really, really was.
I don't clearly remember the context. The ground had been getting further and further away, then it was gone. Replaced by cliffs and the Sooke River, with the pipe that had suddenly turned aquaduct crossing at a height of about a trillion miles. It was definitely far enough. There was no escape save across the concrete pipe, which was say four feet in diameter, slippery with moss, full of holes, and, as pipes tend to be, round. I was already tired from a long day, it had been wet, I of course had 40 pounds of camping stuff on my back, doing a pirouette to turn around with so little traction and absolutely fatal consequences for a slip seemed more dangerous than proceeding. But if I crossed that river I better find something good on the other side or I'd never find the courage to cross it again.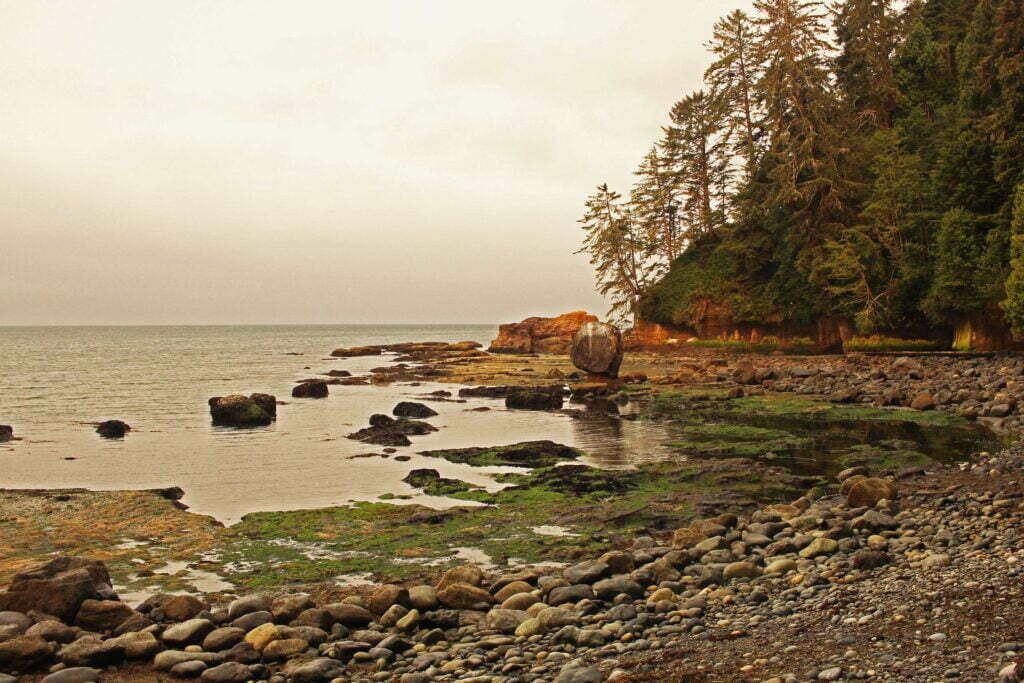 The Juan de Fuca Marine Trail is a 47-kilometre back country backpacking trail, along the south coast of Vancouver Island between China Beach (west of Sooke) and Botanical Beach (a 45-minute walk south of Port Renfrew), paralleling British Columbia Highway 14.
No, you're thinking of the West Coast Trail. The West Coast Trail is half-again as long, filled with vertiginous ladders, cable cars, and boat rides, and about ten times more famous. The Juan de Fuca Trail is the West Coast Trail's misshapen bastard brother. You can do them both in one huge trip, connecting through Port Renfrew, but there's no doubt who the alpha dog is.
At time of writing I had never done the West Coast Trail. So I did the Juan de Fuca Trail, and my choice was pure practicality: the three-day August long weekend was already coming, and I'd worked enough overtime to win a fourth. The recommended time to spend on Juan de Fuca is four days; for us ordinary Joes the West Coast Trail takes seven. So on Wednesday I was booking buses and a night in Victoria, on Thursday I was on the move, and on Friday I was hiking.