I am a train enthusiast who hates flying. If I can reasonably take the train, I shall, and if it's not reasonable I might do it anyway. Especially when hiking: you can't fly with stove gas or bear spray, never mind checking your backpack and wondering if it'll meet you on the other end.
This is not a politics post, but it starts that way: the National Post's Chris Selley recently reposted a July 2022 article about Environment Minister Steven Guilbeault's rash promise to "cross the country by rail listening to people's ideas about climate change," reminding us of the Liberals' 2019 campaign promise to "partner with VIA Rail to make [camping at national parks] accessible and affordable for more families."
Neither trains to national parks nor a whistle-stop eco-tour happened, because Quebec-Windsor elites don't know what the rest of Canada is. 95% of Canada has less frequent, less reliable, and slower passenger service than before the First World War. The High-Frequency Rail plan is peeling off the parts of Canada's passenger network that get attention into a public-private partnership and the rest of the country will do what it can with a roll of quarters and 70-year-old train cars. When a politician says "I'll take the train to Banff, how long could it be, six hours?" he's not even lying, but ignorant.
Which is funny, because the trains are responsible for the mountain parks. The Canadian Pacific Railway built many of the trails in Banff, constructed hotels and tea houses, and literally opened Yoho's Twin Falls with dynamite, but you're not taking the train to Yoho anymore unless you work on one. In 1991's The World of Lake Louise, one of Don Beers' iconic Canadian Rockies hiking guides, he laments that "passenger train service is confined to weekends in the summer months. The trains stop only at Calgary, Banff, Kamloops, and Vancouver; the rail station at Lake Louise is closed." In 1991 this seemed like an unbearable cutback; in 2023 we shout "RETVRN!"
You can still get to national parks by train. The adventurous can do a little more. Here's what there is.
National Parks You Can Reach By VIA Rail
Parks Canada offers many things besides national parks, of course. There are national historic sites, national marine whatevers, national whatever reserves, more types of entity than you can shake a stick at. This post considers only areas that might be interesting to outdoorsmen. I have mostly left out provincial parks: because I'm not as familiar with those outside of British Columbia, because they're mostly not relevant, being made up of "spare land" far from rail-driven development, and because I have a deadline to keep.
Jasper National Park, Alberta. If you're coming from western Canada you really should. From Vancouver it takes about a day, and you're dropped off right in the middle of downtown Jasper. The Jasper train station is a real thing, with a shelter and phones and staff and car rental on-site. If you're not driving, it's almost the most convenient way to do it: the alternative is to fly into Edmonton and take the Sundog Tours bus, which while faster is not usefully so. Flying and busing is technically a same-day trip but you won't arrive in time to do anything, whereas on the train you arrive spruce and ready for action in the morning or early afternoon. Usually. I wouldn't recommend this if you actually live in Edmonton, since the westbound Canadian leaves at literally midnight, but for a lot of hikers this train actually works pretty well. Even the lowly two departures a week aren't that big a problem, since from east or west that train arrives on Saturday which is probably when you wanted to arrive anyway. Moreover, Jasper is the only town in Canada west of Winnipeg served by two different trains: there's also service from Prince Rupert/Prince George. Be warned the Canadian is regularly delayed by freight trains and can be hours late even over as short a distance as Vancouver-Jasper, so only a brave man has firm plans on his arrival day.
That's it. That's the list. If you want to visit Jasper by train, do it soon: the Canadian was canceled entirely during COVID without any politicians kicking up a fuss on its behalf. Canadians make fun of Americans for being a "car culture" and not doing mass transit, but even in much-maligned flyover country Amtrak has more frequent, more rapid service to many more places with more modern equipment that has legal priority over freight trains: Canada is doing worse in every respect.
It's not because VIA doesn't do the best with what they have, though. The passenger cars really are 70 years old but they're amazing, and are recently refurbished to standards that exceed any business-class flight. Service on the Canadian is generally very friendly, when the gear works. Even coach-class travel, while it requires spending a night sleeping in a seat, is comfortable and fun. A shortage of working equipment has been one of VIA's woes on its long-haul routes, and the threat of high-frequency rail turning VIA into a stump of an organization that can be lopped off when convenient is real. It's no exaggeration to say that one year soon rail service in most of Canada might just end and you'll be stuck with the cattle-car treatment at the airport, or possibly the bus.
But there are non-VIA Rail options! Admittedly, they aren't practical for everyone, but they'll appeal to some.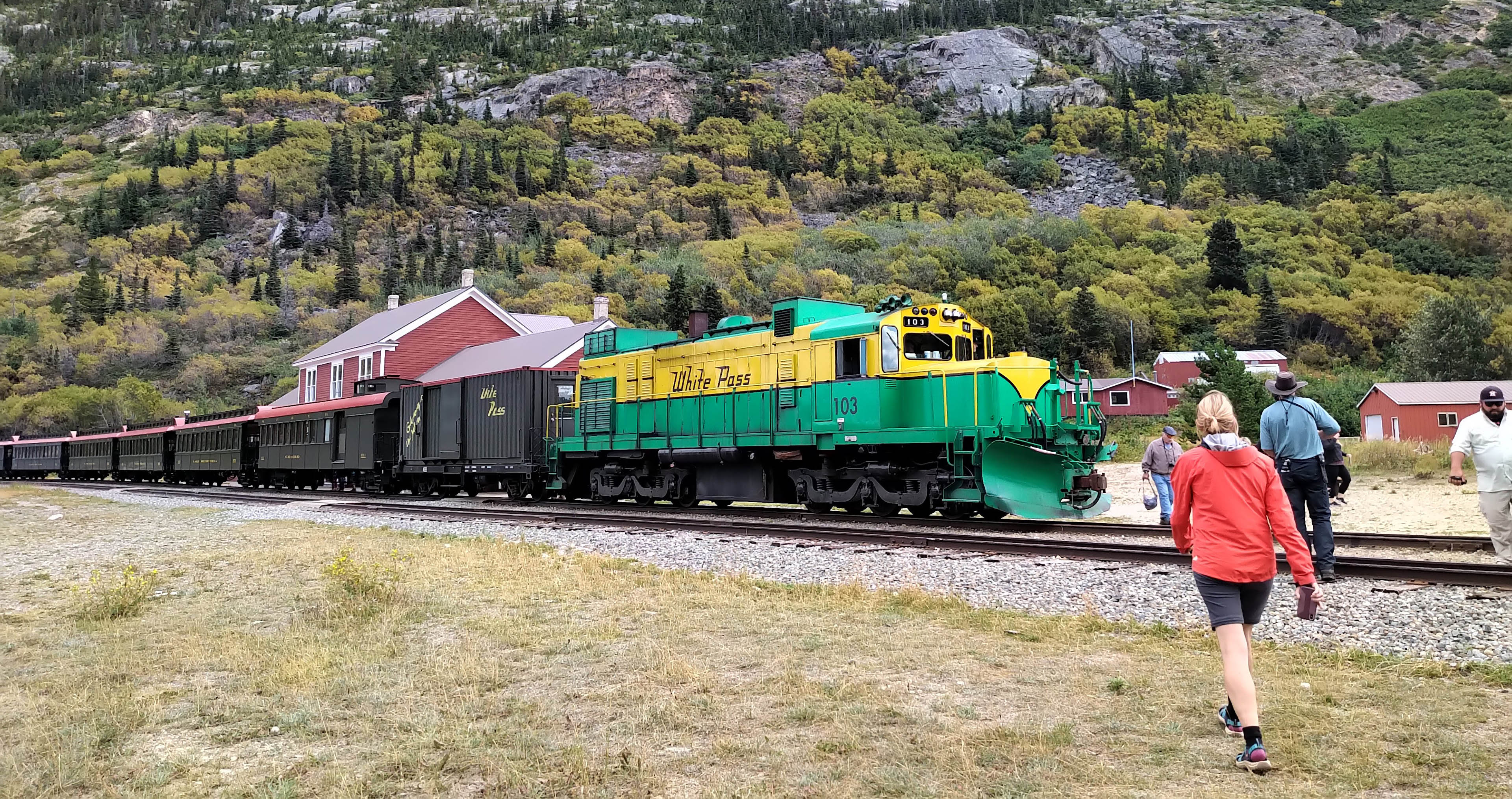 National Parks You Can Reach by Trains Other than VIA Rail
Chilkoot Trail National Historic Site, British Columbia. As a rule I'm not counting national historic sites but I'm going to make an exception for the Chilkoot Trail because it's a world-renowned hike. The White Pass and Yukon Route has long offered service between Skagway, Alaska, and Carcross, Yukon, with a stop at Bennett, British Columbia, and after a multi-year COVID suspension is promising to bring it back for August 2023. Bennett is the northern terminus of the Chilkoot Trail and is not accessible by road1, so most hikers whose means don't run to a float plane take this train at least once. Skagway has good ferry and air connections to major cities. Carcross is the middle of nowhere, and not recommended, but the WPYR runs a bus to Whitehorse and then you can go anywhere you want2. The fares aren't bad, the schedules are convenient for hikers and, since the railway sees only passenger traffic, reliable. Customer service is good. I've done this and you should too. Unfortunately the train is largely run for cruise ship passengers (it is literally owned by a cruise line), with hiker service as a welcome side hustle. The cars are wooden heritage units with bench seating, which is fun for train nerds but probably uncomfortable for normies, and there is a regular piped-in stream of commentary that I for one find infuriating. It remains indispensable for Chilkoot hikers.

Banff National Park, Alberta. It's true! From Vancouver, can take the train to Banff or Lake Louise just like the grand old days! There are two to three departures a week on the Rocky Mountaineer, and if you're taking the lowest class of service you too can experience the grandeur of Canada's mountain parks for prices, in peak hiking season, starting at two thousand and two hundred of your hard-earned Canadian dollars.

One-way.

Plus tax.

I have never done this. I would dearly like to, but unless I somehow marry a female train-hiking nerd (?!) and this is our honeymoon I can't imagine I ever will.

If the Rocky Mountaineer is by chance too common for you, you might consider chartering the Royal Canadian Pacific, with tours between Calgary and Banff starting at a mere $14,000 per person. Also, where did you get your money, and can I have some?
National Parks You Can Reach by Train + Bus or Something Almost Reasonable
Wapusk National Park, Manitoba is not actually very near Churchill, Manitoba, but expeditions either start from Churchill, and go by sea, or use the services of a licensed guide based at Chesnaye, a railway point some 40 miles south. There are no roads and the only overland transport to either point is the train from Winnipeg if permafrost hasn't swallowed the track that day. Although the train is only the beginning of the logistical challenge of exploring remote Wapusk, and you can fly to Churchill if you're that sort of traveler, if you're trekking or bringing in your own canoe this is the only national park in Canada where some degree of train travel is almost mandatory.

Banff National Park, Alberta. As mentioned, VIA Rail does not run to Banff direct anymore. However, it does run to Jasper, and from Jasper in the summer you can connect straight to the Brewster Express bus without spending the night in Jasper. This verges on a trip you might make even if you weren't an insane train nerd, because while it's slower and more expensive than flying to Calgary and taking the bus to Banff (or Lake Louise) directly, and while it follows up a 20-hour train ride with almost a five-hour bus ride, it's a bus ride in a comfortable coach down the Icefields Parkway, which is something a bit special.

The catch is that the bus leaves Jasper two hours and 45 minutes after the train arrives. That connection, when you're riding VIA Rail in the west, is a bit tight. The Canadian is only occasionally more than two hours late from Vancouver to Jasper, but "only occasionally" is still "sometimes." So you have to be pretty brave to make this move.

I'm doing it in July.

Thousand Islands National Park, Ontario is sort of all over the place, but some of those places are near Gananoque, where you can rent a kayak and which is easily reached by VIA Rail's regular Corridor service.

Rouge National Urban Park, Ontario is a Scarborough city park that the federal government maintains for some reason; it's readily accessible from Toronto, or a two-hour walk from the nearest GO Transit station. I feel silly even counting this.

Fundy National Park, New Brunswick is about an hour's drive from the nearest train station in Moncton, which wouldn't normally get it on this list, but it can be reached on foot by the sort of adventure that hikers might like. The Dobson Trail, from the Moncton suburb of Riverview, runs 58 kilometers into Fundy National Park. From there one can explore the park and return by thumb or on foot, or hike the popular Fundy Footpath trail towards the village of St Martins, which is a reasonable 45 minute taxi ride from Saint John and more regular transportation. This is definitely an adventure, but the good kind, and so I list it for the enthusiast.
Interesting Parks You Can Reach Primarily by Train if You're a Lunatic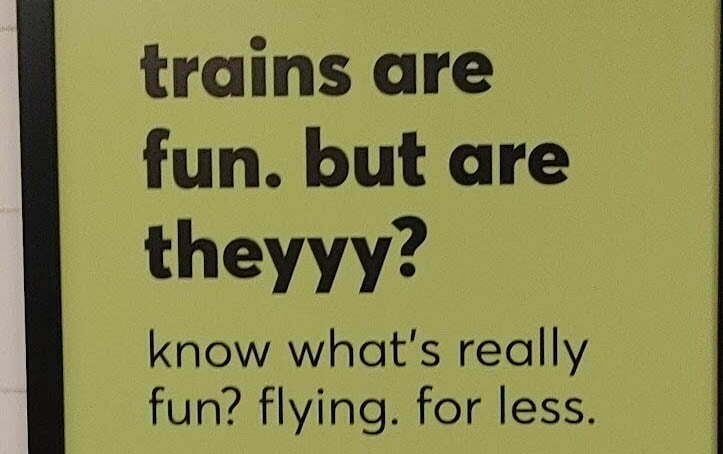 If you need to think about whether you love trains enough to do this, you don't.
Pukaskwa National Park, Ontario. I've got no choice, I'm going to have to embed a list in this list.

Take the Canadian to Sudbury Junction. Two departures a week. Allow three and a half days from Vancouver, arriving on a Friday or a Tuesday, or seven hours from Toronto, arriving on a Sunday or a Wednesday.
If you thought "Sudbury Junction" sounds suspiciously different from "Sudbury," good eye. Get from Sudbury Junction to Actual Sudbury by cab, a two-hour walk, or a 70-to-90-minute city bus trip.
Take the train from Actual Sudbury to White River, Ontario. It leaves on Saturdays, Tuesdays, and Thursdays at 9 AM, so whatever you do you're spending at least one night in Sudbury to pull this off. What joy. And yes, you read right, there are two passenger trains that go through Sudbury and they each leave from different stations that aren't even close to each other, because we are a country that takes our transportation infrastructure very seriously.
Arrive in White River around 5 PM. This is an eight-hour trip on old Budd Rail Diesel Cars, wending your way up the Canadian Pacific mainline through the Canadian Shield; definitely one for the train connoisseur.
Spend the night in White River. This trip is only getting better.
Take the Kasper Transportation bus from White River to Marathon, an 80-minute bus ride. From Marathon you're about eight miles from the park, which is well within taxi range or even a walk, if you're hard enough. Marathon, Ontario is a railroad town, but the passenger train doesn't run there anymore.
Do your hike and then probably go home a different way.

Mount Robson Provincial Park, British Columbia. Not a national park, but a major destination, and this is too stupid an idea not to put on the list. You can see Mount Robson from the Canadian, weather-dependent, but there's no stop there (the tracks are on wrong side of the Fraser River from the visitors' centre so this isn't just bureaucratic obtuseness). Everyone who goes to Mount Robson drives, or hitchhikes, or hikes in from Jasper. The nearest train stations are Jasper, Valemount, and Harvey station in Tête Jaune Cache, none of which are even a convenient cab ride away from Mount Robson itself. If you are taking public transit to Mount Robson a normal person will use the Thompson Valley Charters scheduled bus, which stops there between Edmonton and Kamloops a couple times a week.

However. This is not the part of the post for normal people.

Mount Robson's Moose River route is a seldom-maintained path, used by masochists and Great Divide Trail hikers, between the North Boundary Trail in Jasper National Park and the Yellowhead Highway. The trailhead happens to be on the train line, on the correct side of the Fraser River. There's no scheduled stop there, but the Jasper-Prince Rupert train passes it, and VIA Rail advertises that this train will stop at a random mileage marker on request if booked in advance. I have never tried this, have never heard of anyone trying this, and have never called to see if VIA Rail would actually do it. I'm burning to do the North Boundary Trail but will probably wait until I can hike out through Berg Lake on the standard route. But if this is your inclination, there it is. Tell me how it goes.
Parks Trains Could Easily Be Run To, If the Government Wanted It…
Outside the Canadian Rockies, there are fewer of these than you might guess. National parks tend to be distinguished by not having ever had much industry or agriculture, whereas the train is associated with both. Canada's also torn up thousands of miles of track, cutting off parks that once might have gotten service again. Still, there are still some cheap wins to be had, if anyone with power wanted them.
In the Canadian Rockies, the Canadian Pacific mainline runs through Glacier, Yoho and Banff National Parks and within spitting distance of Mount Revelstoke. Indeed, as mentioned above, CP is largely responsible for those parks being the outdoor destinations they are. Field, BC is both the visitor centre for Yoho National Park and a major CP divisional point.

While Pacific Rim National Park Reserve, British Columbia has no train service, the town of Port Alberni has a direct ferry to Bamfield, home of the West Coast Trail's western terminus, and does have an old train line that people have wanted restored for decades. The right-of-way is intact but the government will never do this.

Pukaskwa National Park, mentioned up in the "you have to be insane" section, is less than seven miles from the CP mainline at its closest point. Run a bus from there and you're golden. Building a spur into Pukaskwa would require bridging the Pic River, so it would be more than an afternoon's work, but it's the sort of job nobody thinks twice about for a road.

Forillon National Park, Quebec, easily reached from the town of Gaspé. The train between Montreal and Gaspé has been "suspended" for ten years due to the degradation of the track, which sounds a lot like a death sentence, but the line has been taken over by the provincial government and repairs are being made. There's still no timetable for a through line to Gaspé, and still less for VIA finding enough equipment and money to actually run service if the track is repaired, but this "suspended" service has a better-than-usual chance of returning in our lifetimes.
You are definitely not allowed to hike out to the highway at Fraser along the train tracks. Definitely not allowed. People do it but you're definitely not allowed.