It's summer in Vancouver, British Columbia. The weather is sunny and perfect. It is a statutory holiday. Somehow you hanker to visit Grouse Mountain, one of the city's premier outdoor attractions. Maybe you want to watch the lumberjacks, or see what you'd look like if you were standing next to a bear, or eat the worst poutine in Canada. We're not here to judge. But you know that the gondola up the mountain is going to be both crowded and, at a minimum $59 per person, expensive.
You could hike the Grouse Grind but on a long weekend you'll spend 90 minutes climbing stairs with your nose in an ultramarathoner's crack. Alternate trails will be only a little better. Looks like you're doomed to expense and inconvenience.
But what if I told you that there was another way, a back door into Grouse Mountain that's in fine condition yet for half its length is visited only a few times a day? And all it takes an entire day spent hiking nearly thirteen miles, climbing a mountain up mud and a mile-long boulder field, and crossing a wide, deep creek on a precarious log jam?
Ladies and gentlemen, the Hanes Valley Route.
It must be Vancouver's premier one-day thru-hike. You take one of a few buses to just outside Lynn Headwaters park, load up on goat cheese at the general store, and follow your preferred path to Norvan Falls. This far the trails are busy, but then you cross a beautiful steel bridge over Lynn Creek and win a few hours to yourself. Weave through the forest for a bit, plunge down from the easy trail to the hard one, and start hiking. Fight your way up and up, through stone and mud, and then down and down through infuriating mobs of inflamed tourists, and once you're in the Grouse resort area you can gondola down for $15 where the city bus can whisk you back to Lonsdale Quay in air-conditioned, chauffeured comfort. It's close to perfect1.

Hanes Valley, Dominion Day 2019
Day's Distance: 12.5mi (20.1km)
Day's Elevation Gain: 4150.3ft (1265m)
Maximum Elevation: 4316.9ft (1315.8m)
Hiking Time: 06:01:31
Speed: 2.1mph (3.3km/h)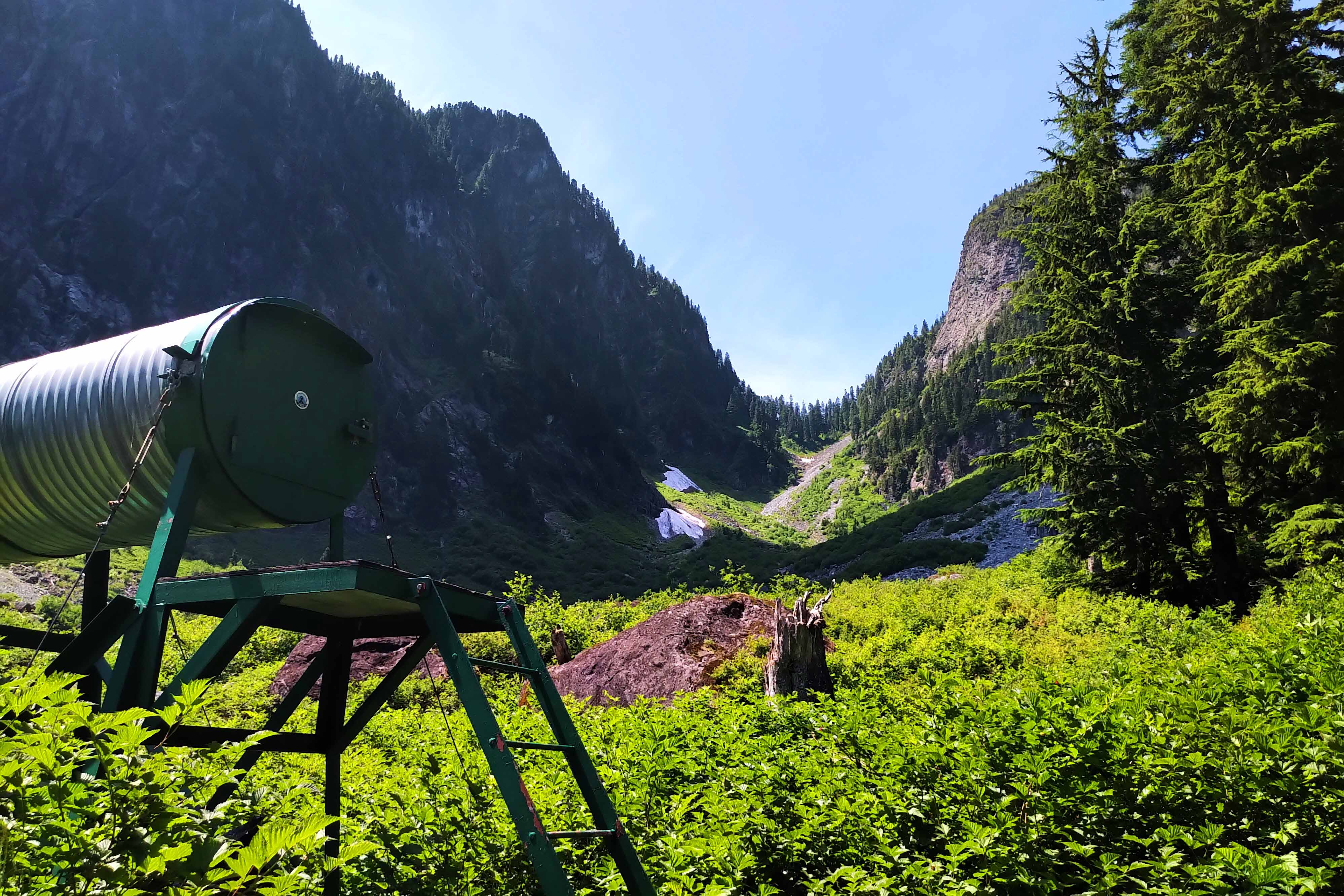 It is fairly long, difficult, and tiring. During the winter and spring Metro Vancouver closes this trail due to spectacular avalanche risk, and snow lingers across parts of the path into July. Despite multiple posted warnings about the challenge ahead, North Shore Rescue never lacks for customers in the Hanes Valley. Visitors pass through the relatively benign trails of Grouse or Lynn and underestimate what's coming. Unlike, say, Coliseum, Hanes Valley does not bar your route with obvious obstacles early: if you manage the chancy Hanes Creek crossing, you have an obnoxious and steadily uphill but non-brutal hike up until the wall of boulders, when your work begins in earnest almost all of a sudden, and if you make a mistake or realize you can't do it, it's almost a nine-mile backtrack to safety.
It took me around an hour and 40 minutes to hike the four-and-a-quarter miles to Norvan Falls via the low-effort Cedar Mills and Headwater trails, slowed down by six-wide families and frolicking doggos making friends. Though an afterthought here, this is an agreeable, family-friendly walk and Norvan Falls themselves are a great destination. If you're in Vancouver and haven't been you should go. It's busy on nice weekends, though, and if you're doing one of the backcountry routes in the park you won't have much time to loiter for more than a snack and some photos. You should be saving your time, and as much as possible your energy, for what's coming next.
Once you cross the bridge at Lynn Creek you see an extremely imposing sign, put up by the parks board, which reads:
CAUTION

You are entering the backcountry with many natural hazards.

Travel in the backcountry requires appropriate skills, equipment, clothing and footwear.

Be prepared!
Glumly you tighten the straps on your pack and make sure the bear spray is where you can reach it. Setting your jaw, you stride off into the woods, on paths that, actually, are a whole lot like what you just experienced heading up to Norvan. Rooty, but clear and well-marked. Artifacts of old logging, and more recent celebrating, pass you by. The chief risk is that human and animal activity have left several braids in the trail, and if you get caught between markers it's possible to go off-course, but use your common sense and know when to backtrack and you'll have no problem.
Eventually, after nothing more onerous than scrambling up some tree roots, you reach another sign, a map, and a deluge of flagging tape next to a sign that says "Hanes Valley." You've come this far easily enough, so you turn gaily to the left (the right-hand path leads to Lynn Lake). Had you squinted at the map you'd have noticed that the part of the trail you just passed through was marked blue, for intermediate, and what follows is yellow, for difficult.
Immediately you bomb down the side of a hill onto your third Lynn Creek crossing of the day. The first was (depending on your point of entry) on one of a number of extremely well-made front-country bridges. The second was the steel suspension bridge at Norvan Falls which looks like it'll survive any storm short of the apocalypse. This third crossing is on a treacherous logjam, involving a scramble onto and across across a mess of logs that can be diabolical when wet. The creek braids into two channels here. The first looks crazy to ford at any time but the logjam, while a pain to get onto, appears stable and wide. The second maybe can be forded, and the log crossing is a single old, stripped, rounded tree trunk. Except in a real drought the logs are recommended. If it looks like it might be wet outside bring a pair of microspikes, like you'd use for snow, to grip the damp wood, or suffer the indignity of crawling on your hands and knees.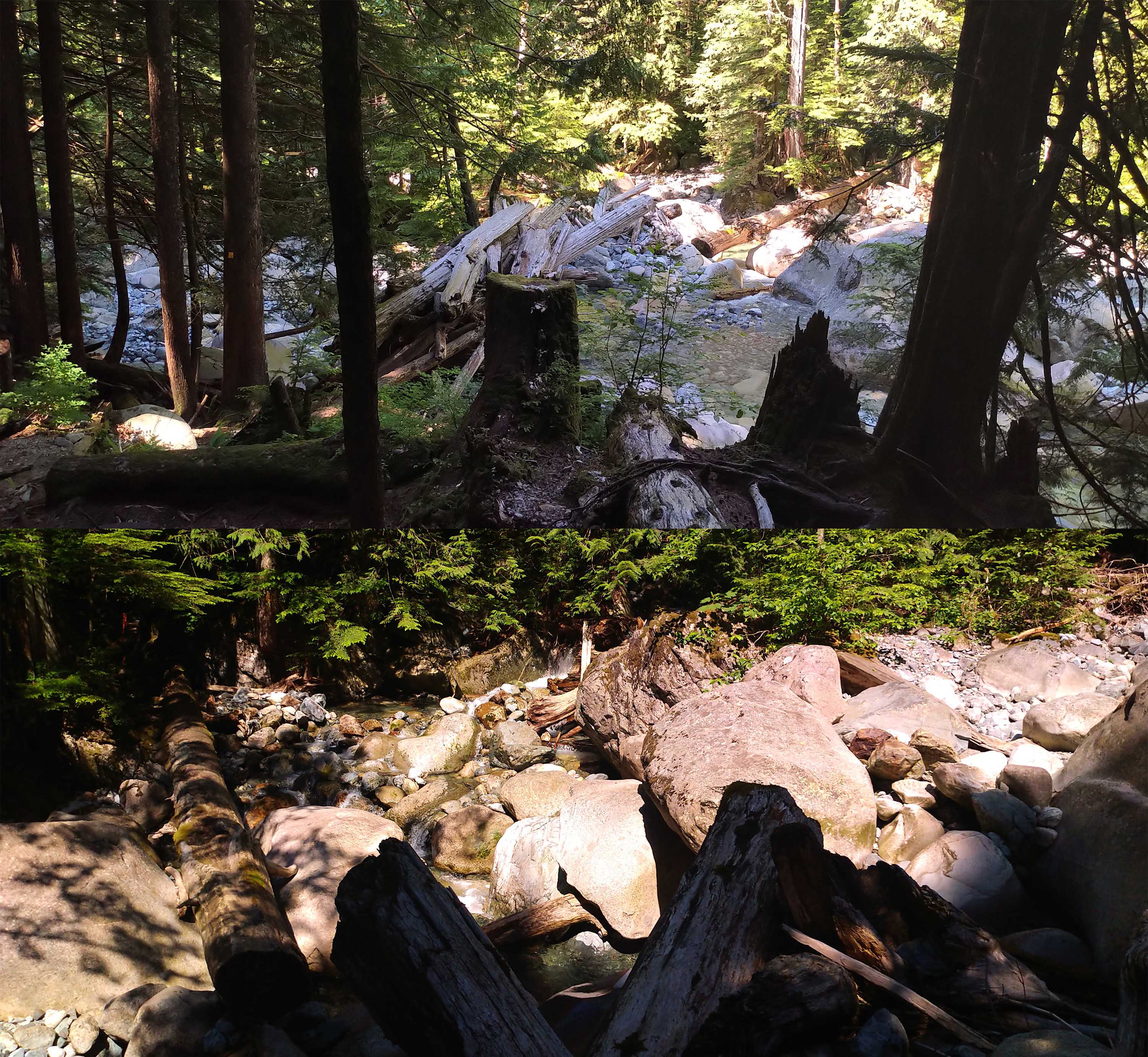 Having crossed that, you pull yourself up an eroded slope and resume ordinary Vancouver hiking, which is to say forested and uphill. You ascend steadily through what you were explicitly promised would be a valley, and rather than the mountainous, flower-speckled meadow you were hoping for, you have second-growth conifers as far as the eye can see. Hanes Creek tinkles audibly to your left, but most of the time it's out of sight and far downhill, mocking the thirsty with its elusiveness. At least you get to enjoy a steady 700-foot climb through what starts as dirt and finishes as mud, and as you progress the trees shrink and open up here and there, granting you a few views to the south.
Remember what you're accomplishing on this hike. You're hiking into Grouse Mountain through the back, which is to say you're looping behind Mount Fromme and the Goat Mountain ridge and reaching the col between Dam and Crown Mountains, a seven-times-damned curse on Crown hikers but a blessing to us. This is an area of ridges, foothills, and passes; it's not the placid Lynn Canyon at all, and you're not going to get out of here without pretty much climbing a mountain.
As you proceed you walk more often through waist-high brush and swamp underfoot, which is a good thing: it means you're approaching the end of this leg. You'll know when the tide's turned, because after all your trudging and a splish-splash crossing of Hanes Creek, you will burst out into the open, where North Shore Rescue has set up a helicopter pad and a cache. Another map is posted to let you know that, yes, you are indeed in the woods, and off to your right the creek burbles, happy and accessible. This is a gem of a spot. You can look down the line of the creek towards Goat to admire what you've already accomplished, and gaze up at the dizzying stretch of stone that promises such joy ahead. Stop for lunch and fill your water bottles. The creek here is the last reliable water until the Grouse frontcountry and you have a lot of thirsty work, often without much tree cover, coming up. And admire the view. You are in a good place.
Once you've eaten and tanked up you better get started. The first stage is short and seriously uphill but under the trees, with boulders to your left. Before long though you break out into the open and begin the boulder climb for which this route is most famous.
The route is well-marked all up its length with cairns, flagging tape, a handful of poles, and, on one lonely tree, a single square trail marker. Pay close attention to those guides, because there are a few possible routes and you don't want to climb the wrong way and get cliffed out in front of Crown. That said, the cairns don't know which rocks are best to step on, and an unthinking beeline from marker to marker is ill-advised. Pay attention, go slow, trust your senses. Always be looking ahead, except when you stop for a break and look behind. This boulder field covers slightly over a horizontal mile and takes most parties at least an hour.
At first it's a field of quite large boulders that test your balance more than anything. It looks dreadfully intimidating to the uninitiated but, if you're even moderately fit, confidence follows quickly with practice. Most of the stones are large enough, or buried enough, that if you keep your eyes open and test dodgy steps before putting your weight on them, you can make as good time as the rock-hopping and the gradient allows.
But the middle portion is loose, small, sliding scree, where every step has the risk of making stones slide and sending you slipping down a mountain. This, here, can be careful, painstaking work, especially early in the season when paths may not be beaten-down or obvious yet. There are usually no hand-holds at any angle worth the name, and while the slope is not steep enough for a slide to necessarily be serious it's certainly never fun. Keep your eyes open and move slow. In general you trend left, towards what looks like a debris chute in the middle of the boulders, and once you've crossed it larger rock reappears near the end, giving a bit of relief. This section is often called a "scramble" but that's overselling it: it's just a long, slow, steep, sliding, unforgiving drag, with hands used for balance over shifting stone. This is going up, mind you, as every single guide including this one will recommend: descending this, especially if it's even a little wet, is best left to people with very good knees and plenty of experience already.
It might be tough while your calves burn and you stop for breath but try to enjoy each step. It's beautiful the whole way. There's more beauty to come atop Grouse but it's shared with dozens, maybe hundreds, of fellow visitors. Hanes Valley is for very few. On July 1, a statutory holiday in Canada and about the most perfect hiking day imaginable, I saw three other parties in the Hanes Valley section: four runners coming the opposite direction (Vancouverites will run any trail), a quartet sucking wind and dragging ass before they reached the helicopter pad, and a pair of athletic women who hopscotched positions with me a couple times. What you see in the Hanes Valley, you earn.
Finally, approaching a well-marked entrance into the trees, you'll start to hear voices from ahead which aren't an echo. When you haul yourself up a five-foot, 90-degree mud slope by tree roots, you'll know the boulders are over.
The mud wall is so steep, so slick, and so worn down that I had to scramble around it, but from that and more uphill on a trail rather than boulders you hit a sign, in fact an intersection: the meeting with the Crown Mountain trail. If you have the game and the time turn right to conquer Crown: there's a hell of a lot of work ahead if you do but you'll have a day hike you can brag about. This account is by a tubby man so I turned left towards the arrow labeled "Skyride." Bliss!
Wrong! Fool! Wrong! Wrong! The worst may be over but there's still plenty of bad! Remember scrambling up the boulders, looking left towards your future path, and seeing only a mountain in your way? What, you thought there'd be a tunnel?! You get a few minutes of broadly-flat strolling and rock-hopping, with very attractive looks back to Crown, then up you go.
It's somewhat easier than the boulder field. Dirt rather than boulders, with the bad stuff in spurts rather than a long drag. The worst spell has permanent chains fitted for its length, though you can do without. This section is moderately popular, though strenuous, and popularity always takes the rough edge off these trails. But it's muddy, making a mess of your hands and clothes and you're probably getting pretty tired. You might resent it, if it wasn't such nice country. Every rest break is to be cherished, a chance to look back and around (if you wonder how Crown Mountain got its name visit and find out). Mercifully you don't have to summit anything, but you do get something like 99% of the way up Little Dam Mountain, not that the formal top is worth a detour except for peak-bagging purposes.
The trails atop Grouse are a tangle of ridges, peaks, alternate routes, and eventually tourist tracks. But signs abound and I doubt that anyone skilled enough to get here from the Hanes Valley will get lost. Follow the steadily decreasing distance markers towards the Skyride, almost literally being funneled downhill. Eventually you'll hear the sounds of whooping frontcountry visitors slashing through the trees on zip-lines, see the grotesque most-likely-stationary windmill that allegedly keeps three lights on or something, pass over and beneath the pipes that feed the resort water, and at last, after a steady, sometimes slippery descent, you'll walk past a backcountry notice board onto the broad track that leads you into civilization.
From there, of course, the real stress begins. Sweating, stinking, and fatigued, dropping from "blissed out over views" to "shoving past unmoving six-man columns of awful people." One hates to be rude but wandering around Grouse Mountain on a busy afternoon, exhausted after a long grind (or even a long Grind), makes elitists of us all. Go if you don't believe me. International tourism was a mistake.
Assuming, as is probably safe, that you won't have the energy to hike down the mountain on the dull, steep tracks, you'll buy your ticket for the gondola down, get in line, stay there for a while. Maybe you'll get lucky and someone will bring a plate of that horrible, smelly poutine onto your car, as happened to me. In many ways it is the most trying part of the day, and even if you don't stop for water or snacks it's certainly the most expensive2. Worth it, though. The Hanes Valley route is tremendous, and leaves you with a reminder that you should return to nature as quickly and as often as possible.
GPS statistics are never totally accurate but in this case even less so. My GPS struggled on this trail both times I tried recording it: the first trip it started tacking on distance while I was motionless in the boulder field and ended up off by about three miles, the second trip it went insane on the Cedar Mills/Headwaters/Norvan Falls segment we've done a hundred times together. Since the two periods of error don't overlap I combined the two GPX files into one Frankentrack and that's what you see here. Apart from a dip in elevation that didn't really happen because my GPS altimeter was not calibrated identically after 22 months, it should be pretty accurate. But I don't like it.