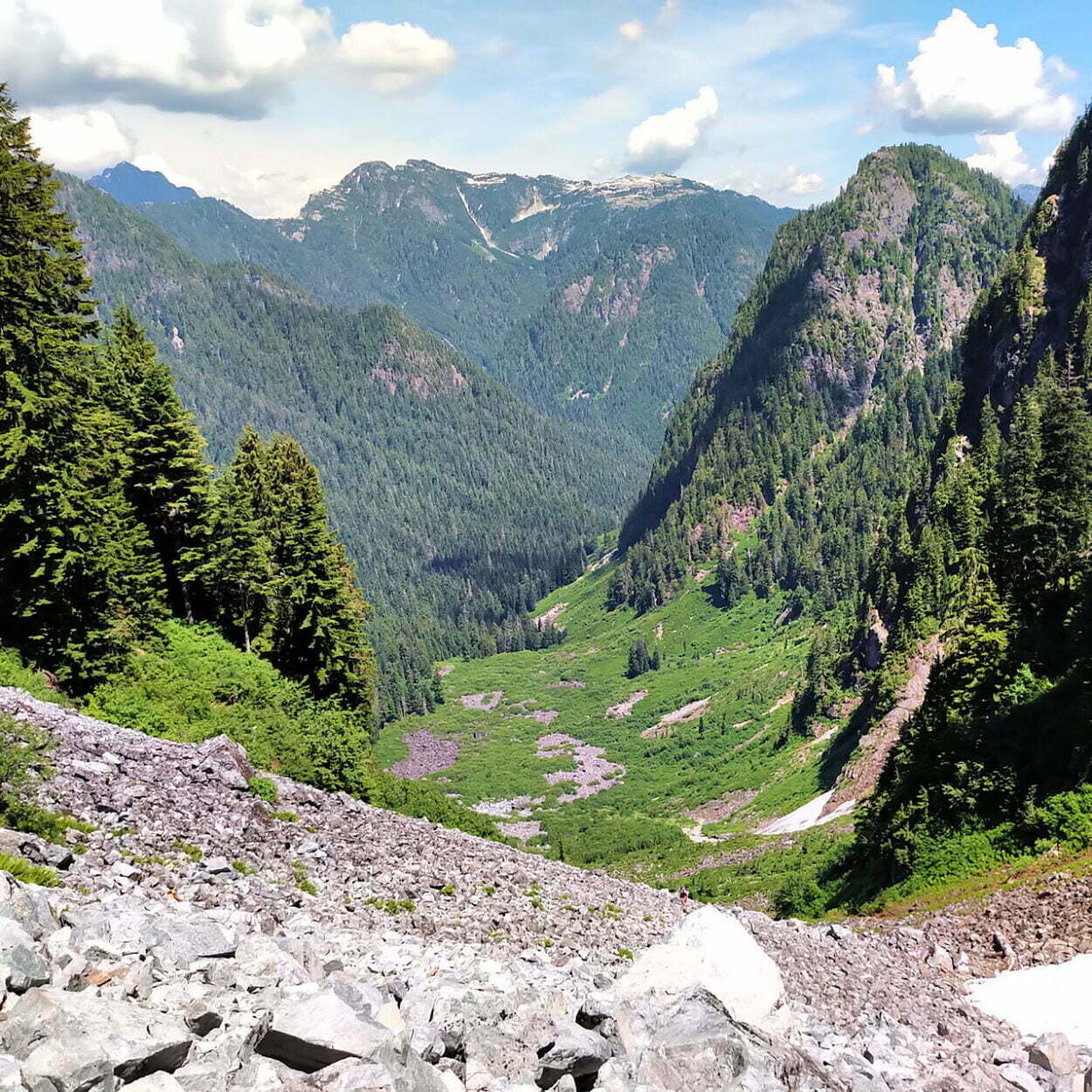 It's summer in Vancouver, British Columbia. The weather is sunny and perfect. It is a statutory holiday. Somehow you hanker to visit Grouse Mountain, one of the city's premier outdoor attractions. Maybe you want to watch the lumberjacks, or see what you'd look like if you were standing next to a bear, or eat the worst poutine in Canada. We're not here to judge. But you know that the gondola up the mountain is going to be both crowded and, at a minimum $59 per person, expensive.
You could hike the Grouse Grind but on a long weekend you'll spend 90 minutes climbing stairs with your nose in an ultramarathoner's crack. Alternate trails will be only a little better. Looks like you're doomed to expense and inconvenience.
But what if I told you that there was another way, a back door into Grouse Mountain that's in fine condition yet for half its length is visited only a few times a day? And all it takes an entire day spent hiking nearly thirteen miles, climbing a mountain up mud and a mile-long boulder field, and crossing a wide, deep creek on a precarious log jam?
Ladies and gentlemen, the Hanes Valley Route.
Ben will hike to your inbox! New posts and nothing else.
I spend a night or so a year in the backcountry of Golden Ears Provincial Park. British Columbia's Lower Mainland knows all about Golden Ears; the vehicle-accessible campgrounds sell out most nice weekends, day use areas resound with visitors, and the official trails are well-trafficked almost for the length of the 150,000-acre park. It is a huge place that draws a huge number of people.
As well it should. This park inspires awe. Forest, subalpine lakes, haunting valleys, beautiful creeks, and mountain views. The only thing missing is solitude, which admittedly is important. Yet the backcountry campsites are gems which, while hardly hidden, are less well-known than they should be. A feature of these trips is people who ask "can you really camp back here?" Yes, and most affordably; there are a number of BC Parks-approved sites and the permit runs $5 per night.
With a car the backcountry sites at Viewpoint Beach are accessible even to parties of Cub Scouts, and Alder Flats is not so far that you can't get bring a two-four of beer. Without a car, Golden Ears Park becomes a proper trek. In 2019 ParkBus will drive you to the Gold Creek parking lot, the jumping-off point for the backcountry, for $49 return1. Better than a cab, but not cheap, and the ParkBus only operates on Saturdays meaning that if you want to camp you'll need to make your own way in or out.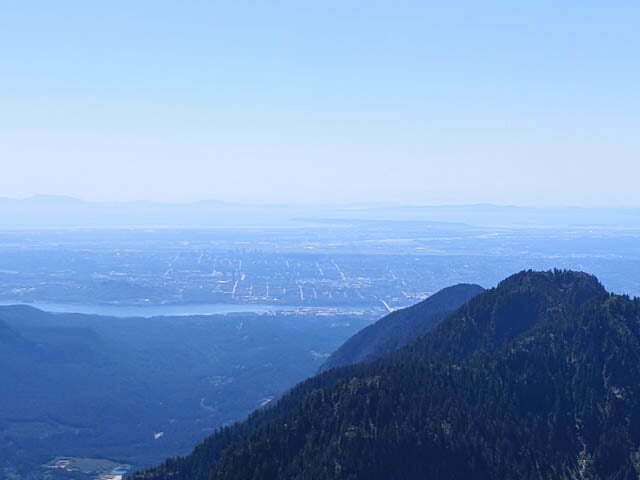 Vancouver has two types of hikers. There are those who put on Crocs and wander around a lake on a path that might as well be paved, go up a flight of stairs, pat their fat old dog, and say "that was a good hike." Then there are the people who voyage into places shown on the map only as "Bad Idea," dropping sentences like "after a brisk fourteen miles through waist-deep poison ivy I ascended the cliff to Mount Hopeless and ate an entire box of After Eights." The first group writes tour guides and fills up buses, the second group writes trip reports and fills up message boards. Damn the lot of 'em.
What about us normies? Those who don't mind being sore the next morning but react to the word "bushwhack" like the fat old dog to "vet"? Our stories are lost, not impressive enough for the survivorman and too try-hard to the weekend stroller.
Today I defy convention. On a sunny Sunday in July I took my first shot at Coliseum Mountain, in Lynn Headwaters Regional Park on Vancouver's North Shore. Lynn Headwaters is one of my favourite places in the world. It has trails for all: ones you can wheelchair down, ones with a bit of a climb, ones which tax all but the very fit, and routes with mountain traverses and alpine challenges that the park would not dare to advertise, for fear of great reeking heaps of dead tourists. If you like company, head into Lynn Canyon and get booty-shorts tight with people taking iPad selfies on a suspension bridge that's more biomass than structure. If you like solitude, Lynn Headwaters can provide even on weekend afternoons. It is a little patch of joy.
Coliseum Mountain is, with the justly-famous Hanes Valley trail and justly-ignored Lynn Lake, one of three hikes the park calls very difficult. You can seek out tougher routes in the deep backcountry but for a tubby guy in 27-degree weather with a heavy pack full of crackers Coliseum is certainly tough enough to be getting on with. It is a long way horizontally and vertically: more of both than I had ever hiked in a day before. Is it worth it?
Oh heavens yes.