Until this past Labour Day Garibaldi Provincial Park was one of the many obligatory outdoors spots in British Columbia which I had not visited. There's always some more exciting way to spend scarce vacation time, always some reason to go elsewhere. For non-drivers it's certainly accessible, but a bit of a hassle. It's notoriously crowded, of course, and you can see quite a lot of it any given sunny weekend by searching Instagram. The real outdoorsmen swear by its true backcountry, and the cross-country skiing is said to be excellent, but I lack the game (and the 4×4) for those. So it stayed vaguely on my "I'll get around to it" list for a long time.
This year I finally knocked quite a lot of it off. Parkbus offers service to the Rubble Creek trailhead, access point to Garibaldi Lake, Panorama Ridge, and the Black Tusk, every weekend. From there one can do a day hike, or even an overnight there-and-back (this, I believe, is the only Parkbus destination out of Vancouver with both Saturday and Sunday service). But if you want to experience more of the park then you can hike out the Cheakamus Lake exit and down the access road to the #20 Whistler city bus run by BC Transit, and from there ride into Whistler itself, from which, even in the post-Greyhound era, any of several intercity buses can whisk you back to downtown Vancouver in touristy comfort. It looked too practical to allow of any excuses.
I don't think I'll be back, at least not to Rubble Creek. I hear people say that the West Coast Trail is crowded, well, I liked it a lot. They've had to slap stiff overnight quotas on the Chilkoot Trail and I liked that too. So the crowds didn't scare me, even when I got up at 5 AM the first day campsite reservations were open and saw that, of the 50 sites at Garibaldi Lake itself, half were already booked. Maybe they should have. There were plenty of compensations but it turns out that, after all, there's such a thing as too busy a backpack for me, and Garibaldi was it.
Day 1
·
Day 2
·
Day 3
Day's Distance: 6.2mi (9.9km)
Total Distance: 6.2mi (9.9km)
Day's Elevation Gain: 3107ft (947m)
Maximum Elevation: 4495.4ft (1370.2m)
Hiking Time: 02:15:14
Speed: 2.7mph (4.4km/h)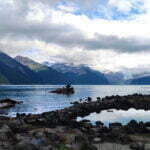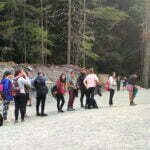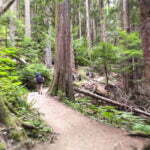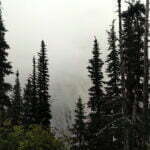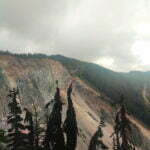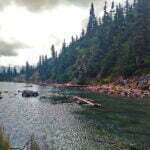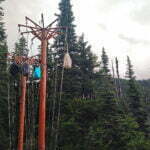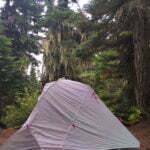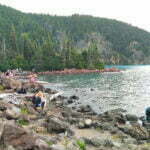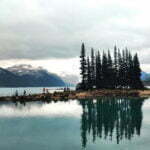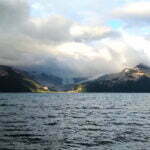 My plan was to leap off the Parkbus when it arrived at Rubble Creek around 9 AM and hike to Garibaldi Lake, the most prominent of the park's many party pieces, the first night. Camp there, enjoy the scenery. The second day would be taken up by the long hike between Garibaldi and Cheakamus Lakes, with my campsite the more distant spot at Singing Creek, the end of official trail. Along the way, if the weather was fine, I'd bump off Panorama Ridge, maybe the most Instagram-friendly destination in British Columbia. Then, on Labour Day Monday, I'd hike out through the Cheakamus Lake access road, catch my bus, maybe enjoy Whistler townsite a bit, and come home in plenty of time for work the next morning.
Unfortunately, at least in the first day, I'm not sure I've ever enjoyed a hike less.
I know. Garibaldi, Labour Day long. But I live in Vancouver. I've seen things you people wouldn't believe. Tourists starting illegal fires on the shoulders of the Gulf Islands. I watched jetsam glitter in the dark near the Lynn Valley suspension bridge. I thought I was used to this kind of thing but all my confidence was lost, like tears in the rain.
The hike up to Garibaldi Lake itself, frankly, is probably lousy even on a beautiful day where there's somehow nobody on it. The Parkbus itself is a $45 ride on a ratty, off-duty school bus, a three-hour tour of the Sea-to-Sky Highway huddled up with your backpack on the leather-style benches of childhood, making a passage much less comfortable, and quite a bit more expensive, than the tourist coaches zipping up and down the highway every hour of the day. The skies were grey and the experience disagreeable, but even so at the trailhead I was in high spirits. Backpacking is fun, I'd listened to my Charlton Athletic win 2-0 at Reading against the odds, and though sometimes harrowing to drive the Sea-to-Sky is a fine highway to passenge.
By the time our bus crawled up the parking lot was filled halfway to Squamish, but see here a big advantage of the Parkbus, as we snaked through the acres of cars straight up to trailside, popping out like the very pictures of privilege. My morning coffee was coursing through me and I could have used some alone time but the line for the two outhouses was eleven deep. No matter. I am a man, we have certain advantages disposing of coffee on the trail, I'd wait until I was alone and deal with things then.
Haw haw. Alone? Forget it. I wouldn't be alone for a day. The real sign of danger was not the outhouse queue, not the parking lot, not even the heavily-booked campgrounds the day bookings became available. It was the two park rangers at the trailhead, stopping every hiker who looked like he might be staying overnight, checking your reservation against the list, and then checking your ID against the reservation to deter scalpers. Every site in the park campgrounds is reserved and even deep backcountry users need a permit in advance. At one time, it seems, there was a booming secondary market, and precautions have been put in that you won't see at a Paul McCartney concert.
You start climbing switchbacks immediately out of the parking lot and it sucks. There was not a single view, just endless switchbacks through endless forest, with signs advising you to "please stay on the trail" by obvious short-cuts taken by many an inconsiderate hiker in the past, present, and future. The path is wide, clear, and easy apart from the fact of the ascent itself. Walk past trees, dirt, and mushrooms, uphill, for hours. There is the Barrier, much-spoken-of on park signage, a colossal rampart of volcanic rock so close to collapsing that the area is a special Civil Defense Zone and camping is forbidden in its range. Highly impressive, but almost always hidden behind the trees and hard to see beneath the clouds when it isn't. The entire way up, I got maybe a view and a half.
There were also people. So many that I couldn't stop for my slash in dignity for twenty minutes despite hiking way above the pace. Worse, they were everyone's least favourite kind of hiker. You expect so popular a trail to draw the inexperienced, sure, but I hate to call it "amateur hour" because amateurs try their best, develop their skills, and think about others. This was douchebag hour. The slow-moving groups slogging line-abreast the width of the trail and not budging until they stopped for their break every mile were the least bad. There were switchback-cutters galore, and the level of entitlement it takes to cut an incredibly-busy, erosion-prone trail despite dozens of signs telling you specifically not to do so made my head swim more than the altitude. There are people carrying ridiculous little bear bells, ringing the way up the trail as if the seven-mile-long seething mass of humanity won't deter a bear but those might1. Multiple people walked along with music playing from outdoor speakers, and that's a level of sociopathy which puts even bear bells to shame. On two separate occasions I walked past a middle-aged man just shouting, each time in some foreign tongue, bellowing what were probably complaints at their hiking partner. Good God! People who've never ascended a vertical kilometer in one go always underestimate how far it really is and you could see tempers flaring all along the trail. Most folks were fine, of course, but the asshole-to-decent-hiker ratio was as high as I've ever seen it.
Even the Quarry Rock tourbuses didn't carry this many shitty tourists. It's a long, tiring climb, but I didn't dare stop for a rest because I knew, as soon as I did, Xi Jin-ding-a-ling would cut a switchback and start staggering the width of the trail in front of me again, forcing yet another tedious overtake, or those shits blasting rap into the woods would get within earshot. But don't worry, there are more such pricks ahead of you anyway, and because the trail is so switch-backy I could often hear speakers going ahead of me, behind me, and to either side. Do not go here. It's not worth it.
From the junction with the Taylor Meadows trail the hiking gets much easier and Garibaldi Lake itself, even under the clouds, is genuinely that beautiful, no Instagram filters needed. Helm Glacier, across the way, is as dramatic a backdrop as you could ask for, and Panorama Ridge is easily seen when the clouds part. But you never have even a foot of it to yourself, and aircraft roar overhead. Peaceful contemplation of nature's wonder is impossible.
But what about the campsite, which I reached after one of the briskest two-and-a-quarter-hour hikes of my life? Garibaldi Lake campground is enormously built-up. The outhouses run two abreast and are a storey up, to allow rangers to fix the inevitably-fouled composting toilet. They are filled with notices asking you, in several languages, not to defile them, and also trash and torn-up toilet paper confetti. There are three cooking shelters and the bear poles are positively ornate, with clips for your food bag if you didn't bring a carabiner. A handsome permanent ranger station up the lake caters to those in trouble. The campground itself is a maze, and none of the sites offer more than a moderate view, mostly being forested and, very occasionally, slightly private. There are even a very few platforms which must be more precious than gold on very rainy days. Having beaten most of the crowd I picked what I thought was a very good, out-of-the-way site, and once I'd set up I found a gully where previous hikers, disdaining the three minute walk to the outhouse, had repeatedly crapped on bare ground, put their toilet paper on top, and covered it with a rock. For the rest of the evening I mostly sat there reading, occasionally venturing out to see if the lake was less crowded (it never was), and listened to couples breaking up under the strain of the hike.
Great God that was an awful place.
Day's Distance: 16.2mi (26km)
Total Distance: 22.3mi (35.9km)
Day's Elevation Gain: 2444.2ft (745m)
Maximum Elevation: 6405.5ft (1952.4m)
Hiking Time: 06:47:16
Speed: 2.4mph (3.8km/h)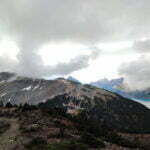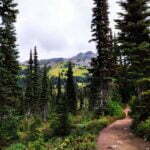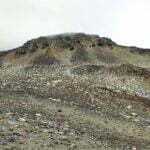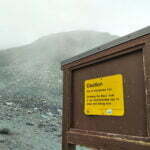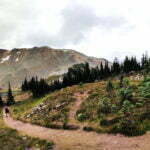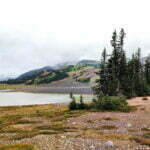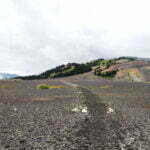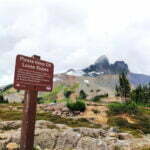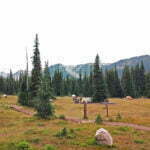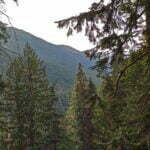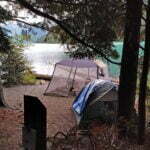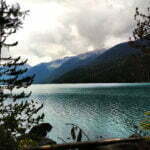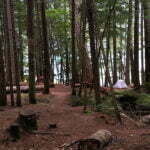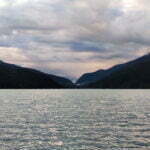 Happily, the next day was some compensation. I awoke feeling better. The day revelers were gone, and while a full 50-pad campground is never silent, this was improvement. It had rained overnight and in the morning the weather was partly cloudy, adding appreciably to the brilliance of the surroundings, though from the lakeshore Panorama Ridge itself looked sadly clouded-in.
I woke around seven, later than I'd have liked—not through keenness but consideration. I'd brought my white gas stove along on the trip, a fine MSR Dragonfly, maybe the best all-purpose campstove in the world. Any white gas stove will be more economical than a canister stove; the gas is cheaper and, as you pour the liquid you need into your fuel bottle, you never need to worry about carting along half-full canisters to use up. The Dragonfly itself is efficient on fuel when properly set up, works beautifully in the cold, unusually for a liquid stove simmers like a dream, and is easy to use with a little practice. I prefer to bring it on any trip that I'm not flying to; airport security frowns on liquid-fueled stoves unless they are new or very thoroughly cleaned indeed. It has one disadvantage, which is that in a crowded cooking shelter it is loud compared to anything in the world. There were a couple parties of young women in there, quietly making breakfast on whisper-silent modern JetBoil stoves, and I apologized sheepishly before roaring my portable blast furnace into life, drowning out conversation for as long as it took me to heat up my oatmeal.
Everybody was lovely and understanding. I wound up apologizing a lot.
Away obnoxiously late, 9:15, and despite early promise the day is clouding up again. At first there's enough sun in the east that, optimistically, I put my solar-powered tent light on my bag to charge, but it doesn't last. There's no rain and temperatures are perfect: a good day for distance, of which I have plenty to get, but not great for panoramas.
I don't feel the need to conquer Panorama Ridge in the cloud just to say I've done it, but perhaps skies will clear. And the early hiking is lovely. I see two groups of day hikers coming in already as I leave: they must have risen very early indeed, and hikers who get up that early tend to be excellent, polite people, going to a little trouble to see nature on their own terms. These groups are perfect gentlemen. My spirits rise further. Turning up the side trail from Garibaldi Lake to the Black Tusk junction, I am, unexpectedly, alone. Day hikers who want the Black Tusk or Panorama Ridge go through Taylor Meadows, which has the same elevation gain (obviously) but is far easier. While this shortcut is another wide, well-constructed, perfectly-maintained trail, it appeals only to people who are following my precise itinerary and few are. It's healthy, switch-backy work on the ascent, again, but I'm high enough that the trees open from time to time, and for almost two miles I am alone.
The trails meet at a place called, even on the official BC Parks map, "Outhouse Junction." The outhouse has seen better days, being a teetering, uncloseable wreck without toilet paper, but if you were wise enough to pack your own it serves its purpose. Here my solitude ended, and at the map kiosk I helped a couple Panorama-bound day hikers figure out what was ahead by learning to read contour lines. I felt like I'd done my good turn for the day until their third straggled up, blasting country music from his loudspeaker.
They pass soon enough. Feeling limber with Panorama looking cloudy, I decide to bump off the short but sweet trail to the Black Tusk viewpoint. Actually climbing the Black Tusk is a job best left to proper mountaineers, which I am not. The trail, as always, is crystal-clear apart from a couple short debris fields that call for either patience and skill or a GPS to pass accurately. It is a steady uphill plod through dirt, stone, and streambed, at a good grade; no switchbacks here. From below the approaches to the Black Tusk look like a city park tilted 45 degrees, with picturesque copses of conifers spaced out by broad grasslands. Up close it is more complicated, the "grass" being shin-high shrubs and the labour plenty stiff for such a short trail, but after not too long I stood at the official trail end, with its sign warning you not to go on further. Plenty do, of course, and there's a little bit of a hike left over slippery, sliding shale if you choose before you reach true mountaineering territory. For me, with my heavy backpack, a bitter wind, and clouds closing in around me, the maintained trail was good enough, and I basked in the view for a few minutes before retracing my steps.
The descent is smooth enough and then it is time to make up some miles. The trail through Helm Pass is used by all sorts: those attempting Panorama Ridge, those camping at Helm Creek, trail runners doing in a day while I'm doing in three, but though it was busy on Labour Day Sunday it had nothing on the hike to the lake. Nothing at all. The hikers I met were altogether more enjoyable: few bells, no more loudspeakers.
It's not spectacular, but it's pretty and varied. Heading north it is a steady descent from Helm Pass, where the Panorama trail splits off ("maybe another day," I thought, without much conviction), and you head down the subalpine, over nearly a mile of black, volcanic pebbles beside an unhealthy looking lake and the Cinder Cone, the origin of which in both name and geology could hardly be clearer. It's easy and interesting, a happy combination. Past Helm Creek camp, with its platforms in a handsome meadow, already crowded by afternoon but a good place to stop if you're booked there and the weather's not severe (it looks awfully exposed to me). Then the increasingly steep downward hike back into the forest towards the Cheakamus River. Going up it might well be worse than the Garibaldi Lake ascent was: longer, higher, at least as steep. Carefully stepping down the slopes and switchbacks is bad enough, but you're in for that no matter how you descend; you're in the mountains, my friend. But the trail is still very good, with huge, painstakingly-dug ditches to channel the runoff and firm dirt surface. In spots the trail markers seem to have no relation to the summer trail, and my first thought was "they rerouted the trail but didn't move the markers;" it's merely amusing rather than confusing since you can't get lost. Then I remembered the cross-country skiers, to whom they are perhaps very valuable. The snowfall here is said to be some of the greatest in Canada.
The bridge over the river is a gorgeous thing of steel, then there's a short climb and the hard stuff is done. The Cheakamus Lake trail is "easy street": open to bikers, though I saw few, popular with families and casual hikers with vehicles capable of handling the potholed access road. Not nearly as popular as Garibaldi Lake itself, not by a long chalk, and for a tiring traverser just what the doctor ordered. Cheakamus Lake campground itself is close enough to the parking lot that I saw one group had dragged in a wheeled cooler, and another had brought one of those heavy, not-as-portable-as-all-that bug shelter/awning things. Canoeists and packrafters were well-represented, and there were several anglers trying their luck; the lake is said to offer decent trout fishing, and licensed anglers can keep what they catch in the lake up to the BC limit.
For reasons I forget I had chosen to camp at Singing Creek, a further two-and-a-half miles from Cheakamus Lake campground. There's no reason not to stop at Cheakamus Lake if you like: it's pretty and spread out along the shore, meaning you'll have a place to yourself as much as you ever will in this park. But upon arriving at Singing Creek I didn't regret my decision to go further. That extra two and a half miles makes it that bit more isolated. I had it to myself when I arrived, and though another group came up the place was not full (on Labour Day Sunday!). It is very pretty, and while wooded you always have a fine view of a very fine lake. Bear hangers and outhouse, more primitive than Garibaldi and devoid of toilet paper again, but clean and usable. The views are not as spectacular as Garibaldi Lake, but they are excellent in their own right; less showy, with no hanging glaciers or panoramic ridges, but more human. There's the opportunity for a good swim if you can stand the bone-chilling cold; there were many amusing yelps from those who tried. You can enjoy the place in your own way. Unbelievably, I had found something like peace.
Day's Distance: 9.2mi (14.9km)
Total Distance: 31.6mi (50.8km)
Day's Elevation Gain: 657.5ft (200.4m)
Maximum Elevation: 2994.8ft (912.8m)
Hiking Time: 03:05:00
Speed: 3mph (4.8km/h)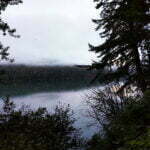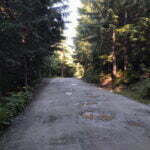 Of the trail out, there is little to tell. The day started out with fog over the lake, very pretty, and I got away in good time. It's about four and a half miles from Singing Creek to the parking lot, and while some of them are tougher than other ones and it seems in spots like good bear country, there was never anything much to worry about. I retraced some of my steps from the day before, making better time when I was not so tired, and as I hiked out I saw more groups hiking in, catching the tail end of the long weekend for some modest adventures. You still get tourists out this way, for sure, and at the bridge across the river I did see a couple gazing up at the switchbacks towards Helm Pass wondering if this was really such a good idea. But it was a different, more peaceable crowd, for sure.
Busy enough, and the parking lot was still full. But since I hadn't parked this didn't concern me, and I went another four and a half miles down the access road towards the city bus. Heading out this was a long, somewhat boring walk. If I was walking in, I'd have been entertained by a steady climb of something like 800 feet, which I would say justified doing the hike in the direction I did it. On the way you pass all sorts of "marvels": a suspension bridge, which I didn't see, accessible by a short side trail, and many signs about experimental forestry, comparisons of different clearing techniques, to entertain those who are entertained by that sort of thing. I passed it all by. There are many local trails to entertain those seeking their own way around town, but I stuck to the road. And at the end, large signs labeled "Train Wreck" point to the famous site of a 1950s freight derailment, one of those "hidden gems" that was so popular the authorities built a suspension bridge to save the hordes of sightseers and graffiti artists from having to trespass on railway property. I quite like trains, and the wreck would have made me sad, so I didn't go to that either. On the bright side the sun had come out, just when I didn't need it.
Instead I took the #20 bus into town and hobnobbed with the rich and famous, enjoying lunch on a patio where my backcountry stink would not offend them. I caught the coach into Vancouver and arrived home in time for dinner. Nothing was simpler, or more satisfying, about my trip to Garibaldi Provincial Park than leaving it.
There is no authority on Earth who will ever tell you that bear bells work. When tested, bears seem at best to ignore them and, if unused to the sound, to be curious, which is the exact opposite to the reaction you want. Even manufacturers of bear bells tell you that, when hiking in bear country, you need to make plenty of noise apart from your bells, which makes them superfluous. They serve solely to bother your fellow hikers. Do not bring bear bells.