I have a bad head for heights. Earlier this year, in the Sooke Potholes Provincial Park on Vancouver Island, I got to show it off spectacularly. On the second day of a backcountry backpack through an area with no official trails, I found myself walking atop the Sooke Flowline, an abandoned water main that once provided drinking water to the people of Victoria. This was intended; missing my turn was not, and with the trails obscure and sometimes unmarked I was lost in spite of my GPS. I didn't worry at first; I knew the Flowline led to the highway, from which I could not be far, so I stuck to the route rather than bushwhack in an area of valleys and cliffs.
This was a mistake. The pipe soon turned from nicely winding along the ground to perilously perched increasingly high above the forest. Fewer people come this way (because it's wrong), so the slippery moss growing atop the old concrete was becoming more hazardous. Where there was no moss it was only because a falling boulder had punched a hole in the pipe. It was uncomfortable but not actually dangerous, until suddenly it really, really was.
I don't clearly remember the context. The ground had been getting further and further away, then it was gone. Replaced by cliffs and the Sooke River, with the pipe that had suddenly turned aquaduct crossing at a height of about a trillion miles. It was definitely far enough. There was no escape save across the concrete pipe, which was say four feet in diameter, slippery with moss, full of holes, and, as pipes tend to be, round. I was already tired from a long day, it had been wet, I of course had 40 pounds of camping stuff on my back, doing a pirouette to turn around with so little traction and absolutely fatal consequences for a slip seemed more dangerous than proceeding. But if I crossed that river I better find something good on the other side or I'd never find the courage to cross it again.
I did cross it, and I did find something good, and I got out and it was fine. But I learned a couple useful things. One, it's not possible for me to be literally "scared shitless" because if it was I would know. Two, although I'm fine in mountains, steep boulder fields a kilometre and a half up, and suspension bridges, when hiking my fear of heights can still be an obstacle.
So that's how I found myself hiking the West Coast Trail, 47 miles of beach and forest and up and down just north of my old friend the Juan de Fuca Marine Trail, between the Vancouver Island communities of Port Renfrew and Bamfield. The West Coast Trail is famous for its beauty, its rugged remoteness, its immense popularity, and for its ladders. Dozens of ladders, all across the trail, up to a hundred feet high, climbing sheer cliffs, where one slip means certain death, in one of the rainiest climates in the world.
I might be an idiot. I got vertigo just from the Google Images search. But, with a week of vacation left in my pocket for 2017 and the Juan de Fuca Marine Trail already under my belt in August, I browsed Parks Canada's website just for fun and found that, almost unbelievably, this highly popular trail had one precious opening to depart from the Gordon River trailhead, by Port Renfrew, on September 16. So I booked it, and I went, and this is what it was like. This is 11,000 words long, and will mostly be of interest to friends and family, but might also have some tips if you are planning a trip yourself. (It certainly has one, a very big one that I could have used in your place.)
Just like last time, this is based off a diary written at the time, then cleaned up and tied together after the fact. All figures are from my GPS watch and should be considered both approximate and "as the Ben runs," except for the distance remaining, which is approximated from Parks Canada's official trail map based on the day's campsite. Since the official kilometre markers don't include things like getting up and down from your beachside campsite, nor potential detours, your hike will always be longer than the official distance. That said, my GPS is prone to occasional fake news and everybody's path is different.
Day 1
·
Day 2
·
Day 3
·
Day 4
·
Day 5
·
Day 6
Day's Distance: 9mi (14.5km)
Total Distance: 9mi (14.5km)
Distance Remaining: 37mi (59.5km)
Day's Elevation Gain: 1873.4ft (571m)
Maximum Elevation: 1014.4ft (309.2m)
Hiking Time: 05:03:22
Speed: 1.8mph (2.9km/h)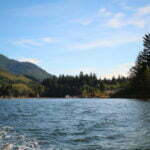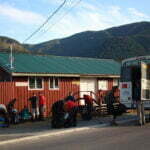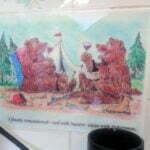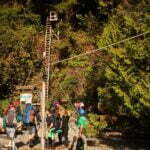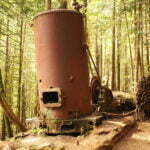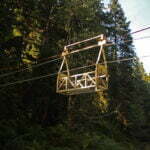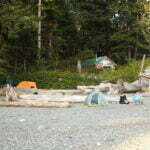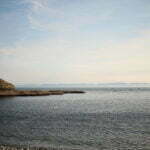 If you read my Juan de Fuca Marine Trail diary, you know what the bus ride between Victoria and Port Renfrew is like. So I won't repeat myself much: the TrailBus is a great service, allow three hours to Port Renfrew (and much much longer to Bamfield), there's no cell signal much past Sooke, logging roads, narrow bridges, "oh let me guess you're from Germany," same ol' same ol'.
It could be a simulacrum of the Juan de Fuca experience until you actually arrive in Port Renfrew. The Juan de Fuca Marine Trail is run by BC Parks, who ain't shook by a lot so long as you pay your camping fees and don't burn Vancouver Island down. The West Coast Trail is run by Parks Canada, who are rather less laissez-faire.
First off, holy God this is expensive. Parks Canada charges a bone-bending $184 per person just to hike the thing: $127.50 in trail fees, a non-refundable $24.50 to make the almost-obligatory advance reservation (TicketMaster thinks Parks Canada needs to dial it back), and $32 in mandatory ferry fees. This is exclusive of national park entry fees; when I hiked I had a free Canada 150 admission but a modern traveler who doesn't qualify for a government immigrant subsidy will need a Parks Canada Discovery Pass, and that's another $70 per adult.
Day use is free, but unless you have a boat there's not a heck of a lot to do. On top of the government's squeeze, the costs of transport are no joke: the TrailBus round trip cost me $143, plus one night in Victoria is virtually obligatory and two are recommended1. Then there are the opportunities to spend money on the trail (oh yes), and the wisdom of carrying a couple hundred bucks in case you need to make a mid-trail departure.
Pricey though it is, Parks Canada is still obliged to place a limit on overnight entrants of 75 per night. And those 75 slots are usually booked solid months in advance, because Germans plan.
Second, the Feds make you jump through their hoops. Daily, at 10 AM and 2 PM, each main trailhead at Bamfield and Port Renfrew hosts an hour-long orientation. There is Powerpoint. At the Bamfield end, there is a scale to weigh your pack2. Attendance is mandatory. Our orientation was given by a friendly ranger named Carolyn. She knew her subject and was eager to share. She also, I suspect, had a curriculum set by an Ottawa bureaucrat far from the actual job of safely getting up and down a 47-mile trail.
So Carolyn had some useful tips. We were at the 10 AM orientation, and would hit our trailhead at Gordon River by around noon. The first campsite, Thrasher Cove, was 5 kilometres away through what was billed as rugged terrain. The next, Camper Creek, was a further eight still-tricky kilometres from that. Most people, Carolyn told us, take about as long to hike the first 5km as the next 8. Sunset is at 7:30 and stumbling across tree roots and rocks on an unfamiliar trail by headlamp is generally considered dumb. So if it takes you about four hours to get from Gordon River to Thrasher Cove, stop for the night because you won't make it to Camper Creek before night. If it takes you two and a half (here Carolyn smiled and said something like "you're amazing and…"), you may as well push on to Camper if you're feeling it.
This was much better advice than Parks Canada's 2017 trail guide, which simply says:
Hiking from Gordon River to Camper Bay in one day is not advisable. Plan to camp at Thrasher Cove. Statistics show that most accidents occur later in the day in this area.
Three more unhelpful sentences would be hard to find.
Carolyn also gave us the week's weather, and kindly taped Tofino's tide tables into Parks Canada waterproof maps for us; with that and a watch, you have everything you need for navigation3. A map on the wall detailed recent wildlife encounters, down to the wasp nests, and we got the drill for big scary animals.
She also treated us to a ten-minute lecture on tsunamis. If the Big One hits, as in this part of the world it someday will, follow the Tsunami Route signs from each campsite to high ground. You have 20 minutes to gain 20 vertical metres. In the event seismologists detect the Big One before we feel it, the search and rescue helicopter will fly over the beaches, try to get your attention, and drop a message in a specially-labelled tsunami bottle which I guess says "stop reading this crap and find some up." In a pinch tsunami, unlike black bears, cannot climb trees. Wait 24 hours after the last tremor before returning to lower ground. I live in Richmond, where the contingency plan for the Big One is to slide into the Georgia Strait and die, and this lecture still made me anxious.
Silently judging my fellow-hikers had been the part of the orientation I'd most looked forward to. Results, even for as sanctimonious, judgmental, and prickish a hypocrite as I, were disappointing. You read in trail guides of people venturing onto the West Coast Trail with nothing but a folding bicycle, a grocery bag full of potatoes, and $7.33 in Canadian Tire money to buy a tent en route, but I had nobody nearly so entertaining. Some people had skimped on the pre-hike reading, but there was no sign of the dangerous-to-himself-and-others novice idiot. Carolyn seemed to expect the worst: she asked, since we were heading north, should the water generally be on our left or our right. We all thought she was kidding, until it was obvious she expected an answer4. In the event, I bet the guy from this group who had the biggest fail on the trail was me, so that will teach me to judge. (It won't.)
Freed from Tsunamania 2017, we adjourned to the neighbouring dock where, at the top-ish of the hour, Butch would ferry us across the Gordon River to the trailhead. Butch was an old jovial fellow who'd been moving people like us for a decade. He also had a monopoly from the federal government which guaranteed him $16 per head, times seventy-odd heads per day, times the 152 days of the hiking season. The trip is approximately ten minutes. Per hour I bet ol' Butch does okay. His workspace was exactly the mess of equipment and gas a good boat shack should be, but he has a gorgeous wooden sign much nicer than anything to be found in Parks Canada's office.
We wedged ourselves aboard Butch's boat and sped for the trail. The trip was short and scenic. On the far shore, a short reach of rock and tree with one long-ass ladder. Butch sank his bow into the beach, dropped a ramp off the front like a World War 2 landing craft, and in the best Saving Private Ryan style we… slowly got to our feet and trudged, in an orderly but lethargic manner, onto the sand, to mill aimlessly about the forecourt of a week-long trail.
There were a few parties who had hiked from Bamfield and were now eagerly waiting to board the Butchmobile and get off the trail, brimming with pleasure and the latest trail conditions (dry and fair, my friends, dry and fair). We had every excuse to stop and gossip, and took them. Overhead stood that fucking ladder. It was a hundred feet high, more balanced on the cliff than mounted onto it, and dead vertical.
I didn't like it. Nobody liked it. The guy next to me said "I wasn't scared of heights before, but I am now." Thanks, buddy.
I was the second one to go up, concentrating determinedly on my feet, maintaining three points of contact at absolutely all times. Athletically, even for a tubby guy fresh on the trail with 40 pounds of backpack, it was nothing special5. Mentally? About halfway up I Realized What I Was Doing. My knees shook, and I made little noises. The ladder, like all of this length, is a series of 2x4s nailed together and cradled against the cliff by short wooden trusses. I said "cradled against," not "built into": the only fixed points are the top and the bottom. This means apply any torque as you climb, which unless you are the God of Symmetry you surely will, and the ladder turns with you. In principle, apply too much torque and one of those trusses slips or breaks and you fall and Butch scrapes you off the beach with his landing ramp. This is disconcerting.
At the top there was a generous wooden landing. I dismounted gracefully, throwing myself off the ladder head-first into some railings and clawing my way onto level ground like the last survivor of Fort Nowhere. There were some Germans at the top. They were not impressed. Fair enough, since they were coming the other way and this ladder was their last rather than their first.
From this point the actual hiking began. The trail was dry, broad, and hardly muddy in the least; a joy. There were spells of loose stone underfoot, and short scrambles over exposed rock varied by happy lopes down easy paths over simple tree roots. A steady uphill took enough energy that you noticed you were hiking but was hardly worth the buildup. The remaining ladders to Thrasher Cove were few and docile, and the standard of wooden constructions varied but ones you really needed were between "good" and "perfect." The West Coast Trail is said to be toughest in these first two days out of Port Renfrew, but in my books this was nowhere near as tough as the worst day on the Juan de Fuca Marine Trail. Counting that ladder, I got from Gordon River to Thrasher Cove in a relaxed hour and forty-five minutes. (Carolyn, call me!)
Of course, with the sun shining and nothing but success under my boots, I went on to Camper Creek. Carolyn's counsel let me down here, but I sort of expected it to. The Gordon-to-Thrasher section reminded me of the Baden-Powell Trail in North Vancouver between Lynn Canyon and Deep Cove: tricky, takes some thought and some fitness, but if you know it and are comfortable with stone you can haul a pretty substantial amount of ass. From Thrasher to Camper is what I would find to be more typical of the West Coast Trail: hoary old tree roots sticking up across narrow trails, old blowdowns obliging you to pick your way through, narrow and painstaking crossings of gorges and creeks by log. It is physically possible to cross this section quickly, but probably ill-advised.
But difficult? No, I wouldn't say that. I had fun, and settled down to Camper Creek well-satisfied. It's a cute little campground on the ocean (as all of them are), with a very few spots under cover but a multitude of cute, obvious little sites, highly worth the modest effort to make it.
Day's Distance: 7.8mi (12.5km)
Total Distance: 13.7mi (22km)
Distance Remaining: 32.3mi (52km)
Day's Elevation Gain: 1086ft (331m)
Maximum Elevation: 729.7ft (222.4m)
Hiking Time: 04:47:35
Speed: 1.6mph (2.6km/h)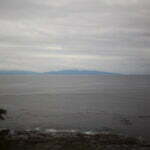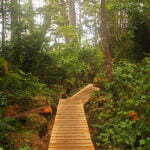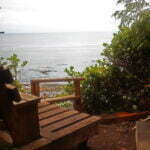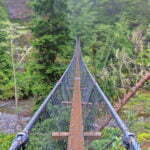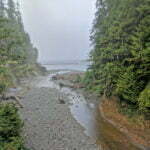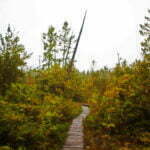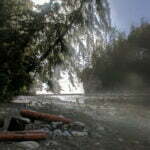 Part of the reason I'd wanted to hustle on the first day was the weather forecast. Saturday was pretty and beautiful; Sunday and Monday called for rain. Ranger Carolyn assured us it would be about 10 millimetres, which in this part of the world is hardly worth a sentence, but even so greasy ladders and boardwalks are no fun so I hoped to make day 2, said to be the end of the tough hiking, as chill as practical.
As a British Columbian this would not be the first time I'd seen the rain. But this leg of the West Coast Trail has the majority of the ladders. Not since Vince Russo's salad days have there been so many tense ladder moments as between Camper Creek and Walbran Creek. Short, long, up, down, old, new, near-90°, near-45°, the variety was as tremendous as the quantity.
I won't be coy. The ladders were awful. The guides tell you that the ladders are big, long, and come in bunches. You can infer, using logic, that if the federal government maintains a ladder in a rainforest the slope is probably disagreeable, and that in even light drizzle worn wooden rungs are liable to become slippery.
Here's what they don't tell you. First, down is worse than up. Up is harder work but not exactly brutal, there are regular landings for rest, and you know all about the rungs you're about to put your body weight on because you see them first. You can look up from the bottom to make sure nobody is coming down, then start climbing with your eyes fixed forward and a determined expression. Going down you have to feel your way, with your feet. Trusting that the rung is present and correct, unless you are capable of looking down with much more focus than I am.
They don't tell you that the ladders were built at different times to different standards, so some are pristine and some have arcs worn into the wood where a hundred thousand hikers have stepped before you, rungs so weathered and abused you can see nails working themselves loose as you balance on this thin piece of pine 50 metres up a fucking cliff. They don't tell you that, when a ladder is at a fairly shallow angle and you're carrying a heavy backpack, you need to keep your centre of mass vertical which means that when descending you're practically doing pushups each step down, and should you lapse and descend with your centre of pass parallel to the ladder, you (or at least I) will wind up dangerously unstable and literally clinging to the brittle structure, slithering down by pathetic inches, trying not to scream.
They don't tell you that the ladders have fucking camber. They twist towards, or away from, their slopes, in any dimension you like including time. They don't tell you that especially on older ladders the rungs are spaced unevenly, so when you are going down and trying to feel your way down there's often no rung where it ought to be and you get to put your weight on a foot that isn't on anything yet. They don't tell you about rungs up against the cliff so packed with soil or structure that the step you saw could be a lie and you'll be clinging on by your toes unless you shuffle over. They no more than hint about rungs that might be missing, and if I'd hit my first and only one of those going down rather than up I'd still be there.
Sorry to hit the italics like a schizophrenic's lamppost newsletter, but that was tailor-made to ruin me. I take no pride in admitting this but if you dislike heights it's only fair that you get the straight dope. The worst part is not physical, not by a long chalk. And if Sir Ranulph Fiennes can be scared of heights, so can we. Moreover, knowing the ladders were behind me were a psychological barrier against turning back if some crisis occurred later. I was operating under the Willy Wonka Principle: "Can't go back. Got to go forward to go back. Better press on."
That said, at least for me, it did get better with experience. In a couple days from this point I would take a very, very long set of vertical and near-vertical ladders out of Tsusiat Falls. I have no particular memories of them, unlike in these early days. I wouldn't say it became fine, but it became less conspicuously not fine. Practice, in this as in all things, makes perfect, and voluntary exposure is the only way known to successfully fight a phobia.
I got my money's worth on that exposure too. The rain, you see, far exceeded Carolyn's predicted drizzle. It was a proper West Coast soaking, the sort that beats through your waterproof layers even under the cover of the forest. After such a dry spell the downpour gave the Wet Coast Trail (ho ho ho)'s infamous mud bogs some teeth, and as a bonus the ground was so hard before the rain hit that water pooled ankle-deep everywhere. I stopped briefly at Logan Creek to take pictures and recover from ladders, and by the time I was moving again I had frozen solid. The world was mud and water. Boardwalks, blissful mile enhancers when dry and reasonably intact (about half the time), became slippery devils but also all that saved me from wallowing in black lagoons.
Walbran Creek is further than it looks on the map—indicated, it's somewhere before kilometre 53, but in the flesh the turnoff is somewhat after. But any distance feels far in such a storm. At Walbran I sought desperately for a sheltered campsite. Most of the action was either on the beach or under sparse cover; the forest sites had massive puddles in the dirt right where your tent would go. Nobody else had yet arrived from either direction, so there were no social cues to follow. Trudging up the shore beside the wide pool fed by the creek and supposedly favoured by swimmers in happier times, I found a mostly-sheltered location up by the tsunami escape route, dry under trees. Good enough.
At the last minute before I left home, and I mean I got out of bed to do this, I decided to bring my tarp, swapping out some rope or something for room. It came in handy now, I put it up awkwardly in the branches, and got a certain amount of shelter to set up my lightweight tent. Out of the actual rain, but ice cold, I set the tent up, carried it out, and staked it where there was room, further up the beach than a not-too-old fire pit, rocks visibly blackened. In record time my sleeping bag (mercifully dry-ish; it's down) out, my pad inflated, changed into a dry, sky blue undershirt and long johns, and crawled in to feel sorry for myself.
The rain came down for a couple hours yet. A thousand seagulls on the pond outside squawked like schizophrenics. Otherwise I was alone, for hours. On a trail as busy as the West Coast Trail this seems impossible but, if you hike as early-and-hard as I'm in the habit of, you frequently roll up to a campsite by yourself and experience solitude you never expected. Sometimes this is nice. Sometimes the rain hammers away and this sucks. I try the AM radio but I get only one station and it's a financial services infomercial. Even the weather stations are out of range. On the Juan de Fuca Marine Trail I'd be listening to the Mariners.
I am bored with rain. I eat my lunch protein bar in the tent, which creates a critter risk but they can have me. It is damp but my sleeping bag holds up. Time passes. I read, write the first draft of this entry. Cozy and half-dozing, I try to convince myself the rain is dying down. Eventually, and this must be around 4 PM, I realize I'm right. In the past few hours of diminishing downpour the pools have apparently been soaked up in the forest and dozens of tents have popped up, but none next to me on the creekshore. Had I been a slower hiker I would have had my pick of many fine sites in the thick of things; instead I was quick and arrived at precisely the wrong time when all the popular sites looked uninhabitable. He who was last shall be first and all that.
I wander around in my long johns, doing outdoor tasks, probably traumatizing people but my only pair of pants is unbearably wet. Soon the sun comes out, and I surprise somebody sneaking a guilty dart by the creekshore. The rest of the evening trends sunny and glorious, because God loves me and wants me to be happy6.
Day's Distance: 8mi (12.8km)
Total Distance: 20.2mi (32.5km)
Distance Remaining: 25.8mi (41.5km)
Day's Elevation Gain: 216.5ft (66m)
Maximum Elevation: 596.5ft (181.8m)
Hiking Time: 04:47:35
Speed: 1.7mph (2.7km/h)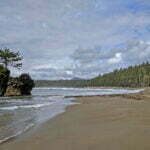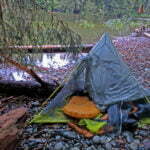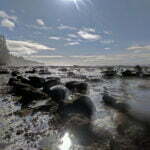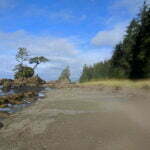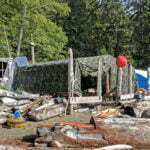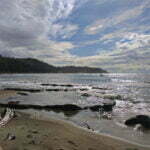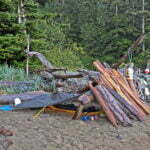 Keen readers of day 2 will recall that I camped by a pond well away from the traffic, at what sure looked like a real campsite. People had been there, the fire pit hadn't washed away, the high tide marks were safely distant. I checked all this in the rain on Sunday afternoon. I am not, or so I thought at the time anyway, a careless idiot.
So at 1:30 AM, tossing and turning as usual, I put my hand on my pillow and noticed it was wet. Suspecting a leak, since it was raining like hell again, I turned on my light and found my worldly goods sloshing around in an inch-and-a-half of water as I became one with the pond.
This was potential disaster. My camera was already swimming7 but for now I was personally dry. It was still raining, so that wasn't going to last. Staggering into water as deep as my bare ankles, I upped stakes in record time and tried to shift my tent up the tsunami path to higher ground. Two poles shattered, simultaneously and spectacularly, ripping terrific gashes through the frail tent fly.
Ten minutes earlier I had been enjoying complacent thoughts about how, as long as I'm warm and dry, life is okay. Now I was neither, and not likely to be either any time soon.
Imagining how Werner Herzog would narrate my stupid death, I dragged my heap of sodden nylon practically onto the trail. Propping the poles on each other any ol' way gave the tent enough shape for me to squirm into its carcass with my sleeping bag and pad. The things I needed to live, like my pants, were roused out of the water and put on my camp chair, which was in the pond beneath my tarp and turns out not to float. Anything else was a Morning Ben problem.
Have you ever curled up under a dead tent in a down sleeping bag during a rainstorm? Don't. My body was wet, my clothes were wet, my breath was moist, there was no circulation as the tent material literally clung to my face however I rolled, my once-not-too-wet bag was soon almost sopping wet. My watch tells me that it dipped to 10 degrees Celsius in the tent, which is hardly the Everest Death Zone, but it felt cold enough. Thank God the rain died down as the night did and I was able to snatch an hour or two of feeble sleep.
Shivering in the ruins, I thought with bitter irony that I'd have been better off not noticing and sleeping in a pool all night, floating loftily on my air mattress, than breaking my tent so completely. But I was wrong: at first light the pond had grown even more. Putting on my wet pants and soaked boots through violent shivers, I topped off the ensemble with a wet shirt, my down jacket (wet), and briefly considered adding my fleece before noticing that it had been in the puddle and was basically a saturated sponge. I scooped what of my goods I could see from the ruin and packed up. The poles were snapped clean through in a couple of places. In principle I could just about imagine how I'd tape them into some sort of shape, then tape up the tears in the fly. Carrying tape-fixed poles up and down ladders and through the brush seemed mental, if I could help it, but I did have my tarp, and tarp camping is a thing people do. I mean I never had, but what better time to start?
The pond had swallowed the beach I'd come down so I shoved my way up the tsunami access, onto the trail behind the cable car, and back down around into the popular camping area where my food was locked up. I made breakfast and exchanged condolences with a woman who had forgotten some oatmeal in her backpack. The mice had chewed through and gotten to it. She was in a good humour, I bemoaned her bad luck.
I had no idea that Walbran Creek might flash-flood on me. In hindsight I was, sort of, warned. I'd used three trail guides preparing this trip: Parks Canada's official resources on their website, 2015's Hiking the West Coast of Vancouver Island by Tim Leadem, and the latest, 2016 eighth edition of David Foster and Wayne Aitken's Blisters and Bliss. Parks Canada had nothing useful to say, Leadem warned about potential flash floods between Michigan Creek and Darling River on the other end of the trail but said nothing about Walbran. Foster and Aitken, however, whose guide I actually brought with me, did say that:
We have witnessed a third of the camping area [at Walbran Creek] washing away during a heavy rain.
This is a less-explicit way of saying "Walbran Creek flash floods" than I could recognize in advance, though it should have been enough: nobody else made the same mistake as me that night. Bitching about my stupidity Gossiping to people later on the trail, including the lighthouse keeper at Carmanah Point, I learned that this was by no means unknown among veterans. So I write it down for my fellow rookies. During heavy rain, Walbran Creek flash floods. Literally the entire shore will be under water. Camp in the forest away from the creek or on the sea-shore if there's any possibility of serious downpour.
Anyway, there was still some hiking to do. After breakfast the day turned more-or-less sunny, and maybe it was genuinely easier or maybe I was just glad to be on the move, but on the Juan de Fuca Marine Trail I had hated beach hiking and here I found it one of the easiest experiences of my outdoor life. Soft sinking sand was boring, but there were long stretches of hard stuff that made me speed along. There were no ladders, no tree roots. Landmarks, including the glory of Carmanah Point Lighthouse, were visible for miles off, giving a real sense of progress. In mid-September the creeks were low and made easy wading. And the scenery was fantastic. Just fantastic. The beach itself was beautiful. The look from the beach was beautiful. You turned around and saw where you'd passed from a different angle and it was still beautiful. Jagged spires of stone rising from the surf, the roar of the Pacific unbroken by landmass as you left the Olympic Peninsula behind you to the southeast, the great breakers. A lighter put ashore six Australians in wetsuits for a spot of surfing in this middle of nowhere. I saw their point.
Monique's, the legendary mid-trail burger bar and the greatest tribute to cuisine capitalism this side of the Times Square Olive Garden, where people are charged $25 for a cheeseburger and pay gladly, had already closed for the season. Somebody, presumably one of the family, was manning the ramshackle set of shacks, tents, and solar panels in case somebody needed help but the grill wasn't going. Luckily Carolyn had forewarned me of this, in her only accurate prediction to date, and I moved on undisappointed.
Instead I waited out the tide at the Carmanah Lighthouse. The lighthouse is run by a live-in team from the Coast Guard, resupplied by helicopter, and among their responsibilities is lending emergency aid to any hikers in crisis who get that far. I was uncomfortable but, with the sun out, not in an emergency: I borrowed some of the lighthouse's lawn to begin drying my goods. The lighthouse keeper I spoke to was friendly and eager to help (she gave me her name but I failed to retain it); provided me with the latest weather forecast and asked me about my trip. I told her about my tent, she sympathetically told me about other flash floods on that beach she'd heard of.
"I wish I'd come through here first," I said.
On the lighthouse-keeper's suggestion, I did the final mile and a half along the beach to Cribs Creek long before the tide tables said I should. She was right, though it took some easy scrambles over stone and driftwood.
For my first night of tarp camping I was apprehensive and looking for the perfect site. Fortunately, I found somebody had already built a substantial driftwood wind break which offered almost perfect protection from every angle except above. Spreading my tarp down from the top of the wind break made a lean-to too short to sit up in but seemingly fairly weatherproof. Rain did come, as thick and heavy as last night, and I looked at my disconcertingly open shelter with a bite of the lower lip. But my tarp could hardly have been better, the wood windbreak did the rest, and though intense the rain passed in a couple of hours. Once again the late-afternoon arrivals could set up in the sun, but this time I didn't have to feel jealous as I'd done the same thing. I went to bed facing the threat of nothing worse than drizzle. Surely, surely, I was in for a full night's safe sleep.
Day's Distance: 11.7mi (18.8km)
Total Distance: 30.4mi (49km)
Distance Remaining: 15.5mi (25km)
Day's Elevation Gain: 1207.3ft (368m)
Maximum Elevation: 608.9ft (185.6m)
Hiking Time: 05:40:38
Speed: 2.1mph (3.3km/h)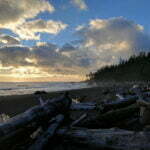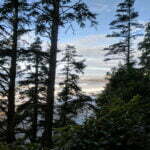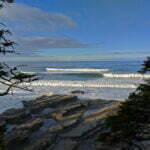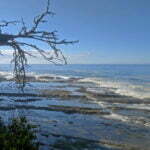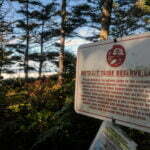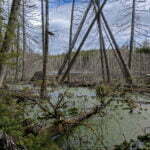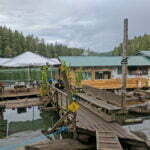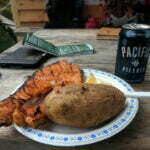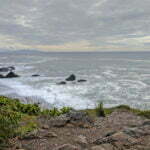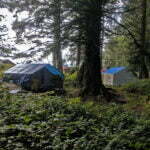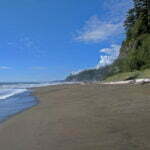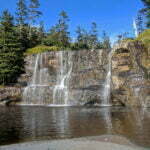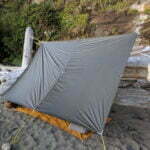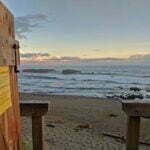 This was one of the most beautiful days of my life. Choosing a photo to headline this entry killed me.
Not that I didn't pay in advance. It was drizzling insignificantly but noticeably, and around midnight I noticed that the beach campers were stirring slowly to life. There was noise, conversation I couldn't make out, headlamps. A light sleeper as always, and more anxious than usual, I asked the void if everyone was okay. They seemed to be, but there isn't all this activity without reason.
Then the Germans who had camped in front of me came to my lean-to. "Hey," he said (or something approximating this, it was midnight), "the tide is really coming up. You might want to move."
The advantage of camping with people. I was way above the high-tide mark, practically in the forest, and ought to have been safe, but the surf was aggressive and once burned, twice shy. After pacing the beach and fretting for a few minutes (thank God the rain was light), I cursed up a storm, shoved my sleeping bag and delicates into their waterproof stuff sack, and climbed up a two-foot ridge into the forest, where I located an acceptable patch of soft ground between tarp-friendly trees.
In truth I wasn't too broken up about moving. "Better safe than sorry" struck me as an excellent principle about then, and I'd already noticed my wooden shelter had little air circulation and an unwelcome smell of urea. It also turns out that tearing down and re-erecting a tarp camp does not take a lot of time or effort. It was pointless, in the end: the next morning I came down and saw that the high-tide mark was still short of my old site. A group had elected to brave the tide and was fine. But I bet I'd had a more restful night than them, watching the waves nervously until high tide at 1:30.
This was predestined to be a long day. Between Cribs Creek and the next official campground, at Tsusiat Falls, is 16 and a half or so kilometres according to the map. In between is a "luxury camping" experience run by the Dididaht, but at a reported $100/tent/night ain't nobody got time for that.
The halfway milestone of the trip is crossing Nitinaht Narrows by boat (again, you paid the government monopoly fare when you registered). While the difficulty is disproportionately on the southern (Port Renfrew) side of the narrows, the distance on either side is nearly even and this is where you get to start using the other half of your map. Much more importantly, the Port Renfrew side boasts "The Crab Shack," another opportunity to spend surprising amounts of money on normal people food. Unlike Monique's, the Crab Shack was running, and for $37 I got a fabulously simple barbequed salmon filet, a baked potato, and a can of Pacific Pilsner which, apparently, is a Prince George microbrew. From a picnic table on the ferry dock you eat, drink, chat, watch the dogs scurry about entertained by their owners, and see boats come in with the crab and fish for which a hiker will soon pay what, on reflection, seems like a pretty reasonable price. The salmon was good and I am told the crab was better. I almost paid $57 by accident but the guy called me back because two of my twenties had stuck together, so there's service too. There was the pleasure of talking to a party of Franco-Winnipeggers, come over from the Bamfield side; I carefully avoided starting arguments about curling. The only trouble was that four days of hiking turns me into a bit of a cheap date, and I am glad I did not risk a second can of beer.
Oh, right, the hiking. There was good and bad. The bad: since the beach route between Cribs and Dare Creeks involves climbing a steep slate face that I'd spent an evening watching trouble southbound hikers, I took to the forest. At first this was fine. Pleased by my success, and knowing that the beach route later on involved dangerous surge channels that I wanted no part of, I remained in the woods when I could have turned out. What I got was a half-mile or so of unrepaired blowdowns, arm-before-face demi-bushwhacks through the brush, and scrambles through tree trunks. Vancouverites might think of the unmaintained walk to Kennedy Falls, but worse. Though shorter. It was an awful interlude, and only a relatively flat grade saved it from being the Worst of Vancouver Island Hiking.
That aside, the usual frustrations were more than offset by unusual beauties. Any risk that I would develop a complex at camping next to water after two early-morning wake-ups was canceled out by gorgeousness. The walk to the Nitinaht Narrows is partially on the beach, mostly through a forest that stretches out, languid, light, and open, or closes in, or disappears entirely in sand dunes. The Cheewhat River is crossed by a remarkable suspension bridge in the middle of nowhere. This is Tolkien's Greenwood the Great: vast, varied, and friendly, the sun smiling like a friend even through mist and cloud. (Maybe in the rain it's Mirkwood.) As always after the rains of the past two days there was mud (just assume there was mud at any point for the rest of this post). Water can run short, as the Cheewhat is tidal, and the day is long, but that's the worst you can say as far as the Nitinaht Narrows.
The Nitinaht Narrows, incidentally, is the only official mid-trail entrance or exit point. You can make arrangements with the ferry operator to catch their last sailing out (for a handsome fee, of course), up Nitinaht Lake to a small village of the same name. Supposedly there's a motel and the TrailBus can be reached by a 7 kilometre hike up a gravel road, but with no cell service it's an awfully tiny place to start improvising. Even after an hour eating and drinking I was the only traveler from the south, but the boat operator was amenable to sailing me alone, and I enjoyed a private trip across the Narrows to the hole-in-the-forest dock on the other shore.
Those "luxury camping" sites I mentioned earlier? Turn out to be square fabric huts with tarps for roofs and wood-burning stoves. There's weather in which I bet $100 seems like very fair to get your group in one of those, but this wasn't it.
The Bamfield side of the Narrows was a muddy slog, short on views, long on tedium, the sort of thing you rush through to get to the good bits. The Tsusiat Falls, my destination for the night, are a very good bit. Even in September the Falls are broad, twinkling curtains of diamond, only slightly ruined by the gulls battering it and the brackish taste. The beach is wide with plenty of room for campers, which is good since many stop, and I secured a spot up a few feet of sand cliff, right next to many many feet of limestone cliff, a perfect location to stretch my tarp out at a 45-degree angle. Not that I needed it, since it was so beautiful and sunny I was able to dry my sleeping bag out.
The cliffs were more than dramatic: they proved a fabulous echo chamber for the pounding surf. On a night like this, where the tides ran high, the roar bounced off the limestone and became genuinely loud, the ocean closing in from two sides. The sound could be confused with a gale-force wind, and a couple times in the night I stirred fretting about a mighty gust before I noticed it was dead calm, and remembered. The night was also cold, with condensation inside my tarp, but I was warm enough that if not for the noise I'd have been comfortable. It was depressingly late before I remembered I had brought earplugs.
Day's Distance: 8.8mi (14.2km)
Total Distance: 38.5mi (62km)
Distance Remaining: 7.5mi (12km)
Day's Elevation Gain: 853ft (260m)
Maximum Elevation: 590.6ft (180m)
Hiking Time: 04:04:47
Speed: 2.2mph (3.5km/h)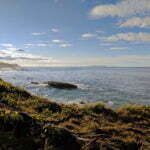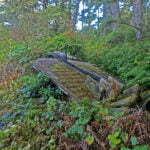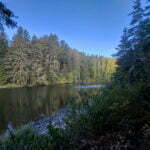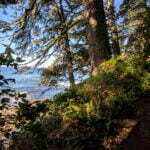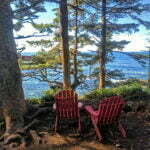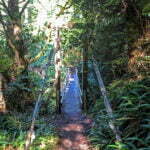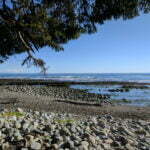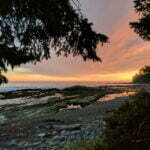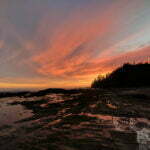 Since I finally have a crisis-free entry, I'm afraid I'm going to take a moment and talk about… number twos.
The West Coast Trail boasts the gold standard of outhouses. The one at Tsusiat Falls could be used on a postcard, with a view that vindicates all of us who like to do our business with the door open. They are clean, safe, and up-to-date composting toilets, meaning that within the creature's unspeakable guts microorganisms reduce the dreadful sludge to something bearable. This works great! They even reek less (though still, y'know, enough). The only catch is that if you feed it anything inorganic, for instance a tampon, the composting stops and two brave men with rubber gloves and not much to live for have to Go In. But I don't use tampons personally, and you shouldn't throw that stuff down ordinary outhouse holes anyway.
This is all very well, if boring. So why am I telling you this? Because these swank joints do not provide toilet paper.
Once, the West Coast Trail was behind the curve here, but now they are ahead. Why? Because, while BC Parks has started yanking the toilet paper rolls out of their popular backcountry facilities, Parks Canada will provide wood chips. (Except at Cribs Creek, where they were out.)
These wood chips are small and soft, not the big hard bastards you smoke meat over. They are normally meant to be thrown over your waste after completion, but if you're used to toilet paper being on-hand they are also available for emergency sanitation. Cleaning yourself with them is possible. But it tends to be… piecework, if you follow me.
I did not realize this. I brought enough toilet paper for an emergency or two. Savvy trekkers bring enough for routine. Be savvy. I bet this goes triple for women: male privilege is a hiker having a slash on a tree.
That is almost the only crappy note of the day, for the hiking was so easy I find I have little to say about it. There were more tall ladders than any point since day 2, but my experience with worse served me in good stead. The hike from Tsusiat Falls to the Klanawa River had some muddy steep bits but holy God it's day five get used to that. Bridge 30, bang on the 17km marker, was out, but crews had built a perfectly workable detour. Even a tide-enforced trip through the forest between Tsocowis Creek and Darling River offered nothing worse than some short hills, the usual mud, and plenty of scat from a highly human-habituated family of black bears said to be in the area.
Unfortunately, by taking this forest trail rather than waiting for the tide and taking the beach, I am told I missed a large, reeking whale carcass. What a shame.
There was only one challenging spot. A trademark of the West Coast Trail, along with the ladders and the moisture, is its four cable cars spanning major water crossings. Backpackers haul the cable car over to a rough wooden platform, climb in as safely as practical, hurdle at speed halfway or so across the river, and painstakingly drag themselves hand-over-hand up a rope for the other half. I passed the first three cable cars, at Camper Creek, Cullite Creek, and Walbran Creek because there was no need for them. The fords were calf-deep at worst.
The Klanawa River, wide and deep, was an unmistakable exception. It is also the longest cable car on the Trail, and Parks Canada asks that only one hiker uses the car at a time. Regardless they are emphatically designed to be used in pairs, with one steadying the car and helping to pull and his comrade travelling while pulling his own weight. As usual I was doing this trail solo, and while that's not unheard of on the West Coast Trail, it is unusual and the others seldom leave advice. So here is one man's:
Solo West Coast Trail Hiker Without Much Upper Body Strength's Step-by-Step Experience on the Klanawa River Cable Car
Leave your backpack on. Parks Canada says that you and your partner should remove your backpacks and, while one of you holds the cable car steady, the other loads the baggage in the centre of the car. You have no partner. That cable car is a hundred pounds or so of tubular steel and gravity is telling it to leave you right now. Holding it up to the platform and manhandling a 45-pound backpack aboard is, for most of us, a three- or four-handed job. So keep your backpack on and be careful. Actually, be careful in general.
Pull the cable car over from the middle of the river. One rope will make it closer and one rope will make it further away. Do make sure you're pulling on the right one. It is much, much harder pulling as the cable car approaches the platform and ascends more steeply. I was fairly tired after that bit and I wasn't even aboard yet.
Using your arms to hold the cable car to the platform, hook a leg over the side, then the other, then once your centre of gravity is aboard, release your grip while that hundred pounds of tubular steel tries to escape. Basically you end up holding the cable car by your legs and the platform by your arms. I could not think of a better way to pull this off. If you can do this safely and gracefully by yourself, I want to see video because you are a liar.
Ride the cable car down as far as gravity will take you. This part is fun.
Begin torturously pulling yourself the rest of the way across. This part is awful. It's much harder pulling the weight of the cable car plus you and your backpack, and in a narrow steel cage your leverage stinks. The good news is that two people only have it a little better. Wear gloves, if you have them, and remember that especially on the final "uphill" a rest break is counterproductive: you exert more energy than you might expect keeping the car from sliding back into the middle of the river.
Pitch yourself, with your bag, out of the cable car at the earliest possible opportunity. The dismount is another great reason for the soloist to keep his backpack on while doing this. You're going to grind it out, endure the grind of dragging this cable car up, hold it to the platform, set your bag out, then follow yourself? Who are you, Doctor Octopus? Riding from the Port Renfrew side to the Bamfield side in the middle of September, there was enough of a clear grass run-up to the far platform that I was able to give up 95% of the way across and hurl myself over the edge of the cable car like a failed stockbroker. I recommend doing that.
But seriously, ford the river if you possibly can. The Klanawa looked pretty impassible while I visited, but you might get luckier. Check. Even a pretty considerable ford is liable to be less risky than soloing that cable car. Quicker, too.
Again, none of this applies if there are two of you. But for a soloist this is a fair bit of action. There was trail gossip that, around this time, another soloist was caught on this cable car with one leg in and one leg out, couldn't hold on, and took a nasty tumble. The consequences for underestimating the forces involved here could certainly be evacuation-provoking.
I considered making a sort of ersatz quickdraw to easily hold the car in place but it would require hooks or carabiners large enough to grab a 2×4 and strong enough to support maybe four hundred pounds. Knotty boys might tie the car to the platform until they leave but a) Parks Canada specifically forbids that, b) if it's raining that sounds like even more suck.
Other than that the hiking was brisk and easy. Through the forest one sees many lovely viewpoints, and the loveliest of all has an inappropriately grim history: the overlook to the site of SS Valencia, an infamous 1906 shipwreck. At least 117 passengers drowned within sight of the shore despite some survivors reaching shore and concerted rescue efforts from multiple ships. Valencia's loss helped spur the creation of what would become the West Coast Trail, and more than a century later no trace of the wreck is visible. The viewpoint is, however, remarkable, both for its beauty and for the severity of the terrain that helps one understand how such tragedy happened so close to shore. Parks Canada has put a couple of its red Adirondack chairs by the bluffs, and it's a fine spot for a rest on a nice day.
At the bluffs I met a couple hikers who told me interesting stories about the human-habituated black bear ahead, who had chilled rather casually, not interfering but far from frightened, ten feet away as they got their food out of the bear cache. At Darling River, where I prepared to take to the beach, a couple trail guardians warned me that the bears had been on the beach ahead but they'd spooked it into the woods. I crossed the whole beach without meeting them. After finishing my hike for the day and setting up the tarp a couple of women, passing me from the Bamfield side on their way to Darling River, doubled back because the bear was back on the beach and they wanted to let her finish up. It turns out I was apparently almost the only man on the trail that day who didn't have an encounter with those bears to report. The same thing happened to me on the Juan de Fuca Marine Trail, where a family of black bears were mere feet from the trail until I went by, then they were nowhere. I am large and frightening, especially with six days' stubble, and in bear-friendly areas I tend to make noise, stamping and shuffling and singing David Bowie songs. I am not very downhearted at missing out.
Michigan Creek, my spot for the night, is the "last" (from my perspective) official campsite on the West Coast Trail. You will logically deduce that, from the opposite direction, it is the first site, a healthy seven and a half miles from the trailhead and separated from the next sites from a tidally-restricted beach walk. It has the reputation for being fabulously busy, so naturally I pulled up at 2:30 and there was nobody around. In light of the well-reported bear risk I admit that I carried my tiny pocket knife in my pocket just in case ("take that, blackie!" I'd shout as I lightly shaved some hair off his back). But of course in the end I was killed and eaten and this diary was posted by a ghost.
Day's Distance: 7.7mi (12.3km)
Total Distance: 46mi (74km)
Distance Remaining: 0mi (0km)
Day's Elevation Gain: 1230.3ft (375m)
Maximum Elevation: 738.8ft (225.2m)
Hiking Time: 03:03:17
Speed: 2.5mph (4km/h)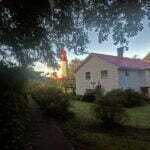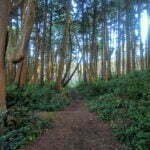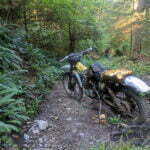 For my sins, I wear strong glasses. When hiking this is inconvenient in many ways: sweat, fogging up, dirt, muck, the risk of them slipping off my face and falling into the abyss. But there was one interesting advantage in this last night.
It was a typical backcountry night for me, which is to say that if I tried to sleep on one side my shoulder hurt, if I tried to sleep on the other my neck hurt, and if I tried to sleep on my back I couldn't. Waves were thrashing the beach, late-comers were moving around with noise and headlamps (like many other sites, Michigan Creek starts to fill up around 6 PM; how do you physically take seven hours plus to hike seven and a half easy miles?). So sleep was hard to come by under my tarp. It was a clear night, and as I rolled around I saw the sky speckled with indistinct blobs. I put on my glasses and there was the Milky Way, the limitless universe unblemished by even the implication of human existence. By putting on my glasses I was, almost literally, turning on the lights.
A nice way to spend the last night before my Smooth Walk to Victory. The final seven and a half miles from Michigan Creek to the trailhead at Pachena Bay, near Bamfield, are reported—accurately—to be among the easiest on any Vancouver Island backcountry trail. The statistics will show you that there's some up and down out of creek valleys and around impassible headlands but the grades are all moderate and the net labour fairly piddling. There's some mud, because I mean it's the West Coast Trail, and I think there was one bit where I had to put in a very small amount of effort because of a reroute around some blown down trees. It was absolutely trivial.
A three-hour hike, sunny and easy. After what preceded it, it was almost boring. Pachena Lighthouse was pretty, but less so than his brother at Carmanah. I heard plenty of marine mammals from within the forested trail, but opportunities to look were few. I'd left early to be sure of arriving at Pachena Bay in time for my 1 PM bus, and arrived two hours early.
At Pachena Bay's nicely-situated Parks Canada office I deregistered with a woman named Sarah who was far too pretty to have to endure my 6-day stink at close quarters for long. I made some calls from the pay phone (!!!), got a place to sleep in Victoria, confirmed that the bus would have a seat for me, and lazed in the sun. The village of Bamfield was six more kilometres away and, having been there on a class trip fifteen years earlier, I was curious to see the place. But there wasn't enough time to hike up and look around meaningfully before my bus arrived. I could have taken a taxi for $20, but, well, I wasn't that curious.
So for a couple hours I sat at a picnic table on Parks Canada's lawn and basked in my laziness. A pair of hikers I'd run into days earlier trying to figure out if a stream was Cribs Creek (it wasn't) showed up, and we shot the breeze about the past week's hiking, previous and future trips, Into the Wild (every hiker likes Into the Wild), and the town of Bamfield. I said incredibly disobliging things, then Sarah said she lives there and likes it. Most agreeably of all, we got to play the role of Old Salts to the hikers who waited with us on the lawn to do their orientations and start their own adventures.
We veterans offered opinions on gaiters (exorbitantly helpful), hiking poles (I said no, others said yes), pack weight (it's better not to know), campsites (if anybody on that trail doesn't know about Walbran's flash floods it won't be my fault), and were generally super wise. They were all so young. Had we really been just as innocent, just as beautiful and naïve, in our long-ago childhoods of last Friday?
Conclusion
Notwithstanding one awful night and losing quite an expensive tent8, I enjoyed the West Coast Trail very much.
This may sound like a heck of a "notwithstanding." At the time my problems certainly caused me a great deal of anxiety. In hindsight, of course, it is all part of the adventure, since I came out safe and well. The reason for that is that I came prepared, packing along a tarp in case it came in handy. It did, and I learned a couple things from the experience. The weakness of ultra-light backpacking tents, the pleasures of skipping them altogether. On clear nights I might not bother setting up my next tent at all. It's not an adventure unless you get something to be excited about, and unless you come out slightly different than you entered. Hopefully my greater tolerance of horrible ladders will prove permanent, too.
Not that my preparations were perfect. For example, I read somewhere that I should bring chapstick. Being a man, I didn't bring chapstick. Bring chapstick. When you're hiking on the beach, the salt breeze dries your lips right out and a tube is really light, though it should go into the bear caches at night. The toilet paper issue has been remarked upon. But in general I did pretty well. I was never a devotee of gaiters, but after my Juan de Fuca Marine Trail experience I bought a good pair from Mountain Equipment Co-op, put them on at Gordon River, and didn't take them off for six days. They were borderline essential in deep mud and soft sand. Other little but useful items include stout gloves, for ladders and cable cars, earplugs, for echoing waves, and a waterproof notebook, for 11,000-word diaries.
The trail was much simpler than I expected and not nearly as difficult as the Juan de Fuca Marine Trail. Long stretches of the WCT, north of the Nitinaht Narrows, are positively easy. My Juan de Fuca day 2 total elevation gain of 3,326.7 feet was greater than any two days combined on the West Coast Trail. The West Coast Trail is overall in considerably better shape, with fewer opportunities to get killed. The ladders, while frightening, were less effort than switchbacks up and down those sheer slopes would have been. Despite your remoteness and the lack of cell service there are many, many places where you or your fellow hikers can call for help, and the trail is manned full-time by professional search and rescuers. In short the West Coast Trail is rugged, and no joke, but I think that being so popular among the tourist crowd has led to more unprepared hikers hitting the trail, being overwhelmed, and creating overinflated expectations9. Doing the trail in six days by no means strained me and I'd initially planned on seven. I came out with no injuries, not even any blisters, and no discomforts beyond tired shoulders. Of course six days of rain instead of two would make it tougher, but the worst day of rain I got was a bad one, on the worst possible day to get it, and conditions were a bit worse than my Juan de Fuca trek. I think I'm being fair.
The trail is exactly as gorgeous as everybody says it is. Moreover, there are so many good campsites with outhouses and bear caches that you can easily tailor your hike to your interests. The 32 kilometres between Pachena Bay and the mid-trail exit at Nitinaht Lake, for example, exposes you to glorious scenery ranging from fabulous beaches to memorable waterfalls and, with your choice of six campsites that are each postcard beautiful, is within the capabilities of almost anybody. Hike early and quickly, like me, and despite the trail's reputation for being packed with tourists you'll even get some privacy. Or find a nice private spot and camp randomly, permitted within most of the park, though you have to deal with your own sanitation and bear safety.
The only catch is that you have to plan well in advance. Next year's permits will probably go on sale in January, and premium dates on summer long weekends will be sold out within weeks. If you're flexible, I was able to get a random date in shoulder season five weeks in advance through sheer dumb luck, and if you have nothing better to do you used to be able to go down to a trailhead and be put on a standby list in case somebody no-shows10. But larger groups will have more trouble even if they're capable of such last-minute planning.
Because I'm trying to be honest, I have been quite forthright about my mistakes and my fears. But one of those fears is that I'll scare somebody who should be doing this trail off of it. On my last night at Thrasher Cove I talked to an extraordinarily friendly older fellow, Harv, who had come in from the Bamfield in with a group of four. He asked about my tarp, got my story of woe, asked with concern if I'd be okay overnight, offered me a spare quilt, offered me food. I was fine and knew I would be; his kindness was unnecessary, greatly appreciated, and typical of the sort of person you meet doing this. That's not why I mention him.
While we shot the breeze, he told me about an earlier hike of his. He'd been doing the West Coast Trail more than a decade ago, going south from Monique's with a bellyful of grub on their first sunny day in three. That route is a long walk on the beach and they stopped at a sandbank, stretched their legs, admired the world-class view, and got drilled by a rogue wave. Equipment lost or destroyed, everything they kept soaked through with salt water, and still nearly half the trail to go. A few years later, his daughters tried the trail, whereupon the same thing happened to them.
Implicit in this story is the fact that I met Harv on the trail for another crack, undaunted by an experience that probably seemed awful at the time. I see his point. I'd hike the West Coast Trail again, though I might prefer to have someone with me if only to help with the cable cars.