I don't usually hike big trails twice, but 2023 is shaping up to be a major backpacking year. Therefore I wanted to do something in May, to see where I was at and get my legs under me in advance rather than relying on classic Ben Massey hiking-myself-into-shape-in-the-Rockies. May means no mountain backpacking, or at least none I wanted to deal with. So hey, why not the West Coast Trail again? Besides, I had unfinished business from last time. I had taken safe, boring forest routes when I did the trail for the first time in 2017. I wanted to see Tsusiat Falls in their glorious full flow rather than the September trickle. I wanted to do more beach stuff, in particular the nasty route around Owen Point from Thrasher Cove to Camper Bay. I wanted to see a little more of the coast, in particular the ferry from Bamfield to Port Alberni, which I missed last time out. I wanted to not get my tent flooded out from under me. I wanted to have a little less anxiety, and a little more time to experience the beauty. There were even some souvenirs that I have started collecting since 2017 that I wanted to pick up.
Things did not go entirely according to plan.
In September 2017 I was in some of the best hiking shape of my life while in May 2023 I was flabby and not physically ready for a harder trip. I had forgotten some of the difficulties of the trail and neglected all pre-trip training and preparation. Whereas in 2017 I reached Pachena Bay in perfect condition, in 2023 I finished bruised and battered, but luckily not broken, with torn-up pants and chastened pride.
Which does not mean for a second it was not a wonderful, entertaining experience. Just a different sort from what I expected, and very different from 2017.
The West Coast Trail officially runs 75 kilometres from Port Renfrew, 90 minutes west of Victoria down BC Highway 14, to Bamfield, a fairly remote village on the edge of Barkley Sound. The trail is both popular and expensive. I paid $254.10 just to Parks Canada on reservation day, of which $160 is the fee to hike the trail itself, $56 are mandatory fees for two ferries collected by Parks Canada on behalf of the boat operators they've subcontracted a monopoly to, $26 is for the privilege of making the (also-mandatory) reservation, and $12.10 is GST because of course the federal government needs its taxes when you pay the federal government. That's without the cost of admission: a $73 Parks Canada annual Discovery Pass is the most cost-efficient option for almost anybody. You will almost certainly need a night in Victoria both before and after and that's an expensive place to stay with no good options for camping, so if you don't live on Vancouver Island add several hundred more dollars to get to and from the trailheads. Even to a Vancouverite it costs as much to hike the West Coast Trail as it does to hike at a more distant, more glamorous mountain national park.
The good news is that, unlike in a mountain national park, you don't book your entire itinerary in advance campsite by campsite, but schedule a starting day at an access point and make your own way as you go, camping where-ever you choose to stop. It is a very popular trip most of the year, but May is "shoulder season" and when I set out, on the Victoria Day long weekend, there were still spots available. Rain and wind are the terror of the West Coast Trail, and are as likely in June as May, but on a competitive trail like this you're booking your sites way before the weather forecast comes out and June sounds more like summer than May does.
Hikers in groups will sometimes park cars at both the Pachena Bay and Gordon River trailheads and do a nice long shuttle down the logging roads. I don't drive and hike alone, so this wasn't an option, but anyway it has always struck me as a pain in the ass. The logging roads, for those not accustomed to them, are terrible, and for those who are accustomed to them can easily be terrible anyway when a logging truck passes or it's raining. For me, the smart money is to hire the professionals of the West Coast Trail Express to give you and your gear a ride, at least between Pachena Bay and Gordon River, but if you don't live on Vancouver Island having them take you all the way to and from Victoria will be more cost-efficient and relaxing than renting a car or paying to take your own on a BC Ferry. There is also scheduled air service between Bamfield, Vancouver (YVR), and Nanaimo on Pacific Seaplanes, which is expensive but not much pricier than the all-in cost of bus-to-Victoria-night-in-Victoria-ferry-to-Vancouver, and a ferry between Bamfield and Port Alberni with Lady Rose Marine, very reasonably-priced and leading to easy bus connections to Nanaimo and points beyond. That was what I planned to do, though I didn't wind up making it.
The West Coast Trail is difficult. Getting over a pass in the Rockies is usually about as hard as the elevation plot makes it seem; not so here, where almost every step between Port Renfrew and Walbran Creek is hard-won. It should not be your first overnight backpack. I saw people this trip for whom it was their first overnight backpack. They were an inspiration to me. They made it, too. I would not recommend what they did if you could help it.
For the first few days in particular, my GPS-recorded distances do not match the official Parks Canada map very closely. Some of this is error on my end, with the forest making the signal wobbly and ladders doing odd things. But that does not at all account for the entire discrepancy. On the map, the trail is much smoother than it is on the ground. The track winds and there are are detours around broken bridges and soil erosion not reflected by Parks Canada's numbers which haven't been updated in decades. My GPS total of 54.2 miles or 87.2 kilometres is probably too long but the "official" 75-kilometre distance is simply too short. What I've done is used the day's distance to record what my GPS says I did that day, and the cumulative distance as the approximately official distance to each campground measured off the West Coast Trail map by my Mark I Eyeball. This will give you the fairest view I can think of, unless I want to hike the same itinerary ten times and average out the GPS results which I really don't. All hiking times are total campsite-to-campsite time for the day, including breaks (which were sometimes long). With the exception of the Camper-Bay-to-Walbran-Creek leg, where I deliberately went very slow, the estimated hiking times in my eighth edition of David Foster and Wayne Aitken's Blisters and Bliss were pretty good for a man in my condition, though that's not a guide I would recommend unreservedly1.
Day 1
·
Day 2
·
Day 3
·
Day 4
·
Day 5
·
Day 6
·
Day 7
Day's Distance: 4.9mi (7.8km)
Total Distance: 3.7mi (6km)
Distance Remaining: 42.9mi (69km)
Day's Elevation Gain: 1552.5ft (473.2m)
Maximum Elevation: 788.7ft (240.4m)
Hiking Time: 04:26:29
Speed: 1.1mph (1.8km/h)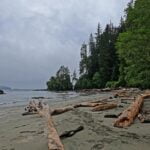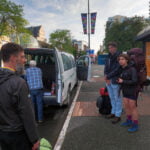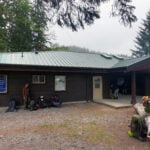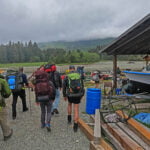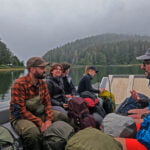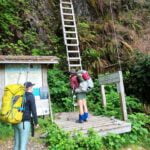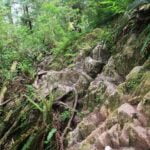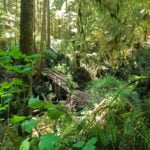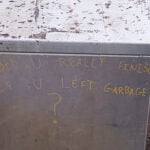 Once again I was up at the crack of dawn, stomach full of pepperoni and anchovy pizza, walking from my hostel to the West Coast Express stop by the Victoria Conference Centre. Once again I was there surrounded by Germans, a few folks on the way to the Juan de Fuca Marine Trail, and a man from Niagara Falls. Two of the Germans, named Stephan and Matthias, and the Niagara Falls guy, named Steve, all had big roller suitcases with them. I indulged in my favourite pre-WCT hobby of wondering if they were total incompetents planning to drag those things up and down the ladders for a week. But they all had proper backpacks (in the Germans' case very light, well-chosen ones) and nobody looked like anybody's idea of a buffoon. I would see much more of all three men in the next week and events would prove they were anything but novices, and when they piled the suitcases into the van and directed what Bamfield hotel they should go to, I realized that once again the only entertaining amateurishness on this trip would be my own.
So much on the way to the West Coast Trail had changed since I first hiked it. Victoria has changed, for the worse. Langford has changed, for the worse. Sooke has changed. Highway 14 is still mostly winding two-lane tarmac with single-lane bridges but more and more of it isn't, and there are big construction projects underway. The Parks Canada office was new to me; what had been once a ramshackle white portable is now a handsome hut sharing space with the neighbouring campground that has showers. Rather than the in-depth briefing of pre-COVID times, with its many cautions about tsunamis, I was e-mailed a Google Drive link to a video Powerpoint presentation about both tsunamis and COVID-19 that emphasized social distancing and the need to look after your own safety in an age of oh-so-terrifying disease. If someone needs to be evacuated because they suspect they have COVID, they'll take your entire group off, and presumably shove you all in hazmat suits on the boat before spraying you down with Lysol at whatever access point you wind up stuck at. Orientation was strictly scheduled and consisted of the parks lady asking us questions we should have already known the answer to before guiding us down to the boat.
Butch, the ferry operator, had a nice new aluminum landing craft, similar in style to the old Saving Private Ryan landing ship of years past but gleaming with novelty. He's clearly doing well. As I stooped to board it, my water bottle dropped out of my backpack and fell between ship and shore, landing with a "ploop" down at the bottom of the Gordon River, there to lay until a very excited then very disappointed fisherman brings up its bulk.
New trip, same old Ben.
This did not kill my mood on WCT Day 1 Part 2. That boat ride is always inspiring, filling me with the excitement to hike. Even the Big Ladder right at the start, still a terrifying leg-quaking one-rung-at-a-time climb for yours truly, was at least a familiar terror, one I remembered well and had accounted for. Hello again, fear of heights! Bonjour, monsieur terrifying-frail-feeling-wood-thing! Or I should say guten tag; crowded though European trails are I never have figured out why so many Germans flock to the West Coast Trail compared to all the other options in Canada. There was a Yukoner named Nick in my "class" this year, a family of Calgarians, a couple German kids I met later in camp, and for an entire week I was almost the only British Columbia resident I met.
It was a cheery, sociable crew of mostly first- and second-timers. Mattias and Stephan had tried to do the trail five years earlier, but Matthias had been injured mid-way and they were coming back to finish the job. Nick, from the Yukon, was out for his first time, but we'd both done the Chilkoot Trail and found common ground on that. Steve, out of Niagara Falls, was on his first West Coast Trail too but had done loads in Ontario and was full of social energy. They ranged from the ultralight to the heavyweight, and all looked well-able to look after themselves. If polled, I would have included myself in the "capable heavyweights," wrongly, for I am in fact a moron.
Here was what I did not think of.
First, when I hiked the WCT in 2017 it was September and the climax of my first year of backpacking. I had already been through the Sooke Hills, down the Juan de Fuca Marine Trail, up and down the Gulf Islands, and done a lot of day hiking that summer. I have never in my life been an athlete but that was me in prime hiking form. This year it was May, I had hiked maybe three times since finishing the South Boundary Trail the previous September, had done the square root of fuck-all for training, spent the winter coping with a breakup by eating like shit, and was back on the cigars. Two weeks earlier I had run (well, plodded) the Vancouver half-marathon, getting around with a poor but non-disgraceful time that was 15 minutes slower than my dad in the 60-65 age bracket2. 2023 Ben was even fatter than usual, to the point that the photos of me are embarrassing, and I was planning to hike myself into fighting shape on the Literal West Coast Trail. This was dumb.
Second, I had forgotten how horrible and hateful those first few days on the West Coast Trail are. I remembered some of the things I hated (ladders) but, like a woman two years after kid number one ready for kid number two, had lost the emotional sting of the pain.
Most of my summers lately have been spent in Jasper, and that park spoils us. Not because the backcountry in Jasper is better kept-up than that the West Coast Trail (it is about 1,000% the opposite) but because of geography. God gave us the Rocky Mountains to hike, paddle, climb, and ride horses through. There are mountains and passes and rivers and streams and grizzlies beating in the track for you. It's not always easy but it's natural. Those trails have been trodden, often for centuries, by people who wanted to go somewhere, and they were laid out for good reasons.
The West Coast Trail was born as the Dominion Lifesaving Trail, and was put in by His Majesty's Canadian Government because ships kept foundering in storms or smashing into rocks and killing everyone in what became known as the Graveyard of the Pacific. The January 1906 wreck of SS Valencia was especially tragic: the ship struck a reef within sight of shore, and while many were killed in a botched, frenzied attempt to load the lifeboats, a few men reached trail and faced a horrifying trip to find aid. The ship remained almost intact on the rocks for two days as ships arrived from Victoria and Seattle, but lacking modern unsinkable motor lifeboats they could pick up only a few survivors in relentlessly hostile conditions, and most of the surviving passengers and crew were killed as the ship collapsed and the waves washed them off the deck, to suffer horrifying deaths in full view of a rescue party that had blazed overland from Bamfield but, poorly equipped, could do nothing. Officially, 136 people died, including every woman and child on board.
At this point the government figured that southwestern Vancouver Island's primary import being waterlogged corpses was bad for commerce. They built several lighthouses, of which those at Carmanah and Pachena Points are most relevant to today's West Coast trekker, added a lifeboat station at Bamfield, and blazed a trail down the coast replete replete with telegraph and well-stocked huts so that shipwrecked mariners who reached shore had a fighting chance of survival in an almost-uninhabited, remote wilderness, and rescuers would be better-prepared to lend assistance. The trail was, therefore, an expedient solution to a serious human problem, not a "natural" trail. It is an area easier to travel in a small boat than by land, which rises and falls, is overgrown by rainforest flora at all seasons, where the beach is strewn with deep surge channels and headlands that are high-class wet scrambles even at low tide. It is hostile over there. It is not meant to be hiked, but it is.
My weather on day one was pretty good. After a week-long heat wave the temperatures were ideal, and while fog and cloud rolled low all day it never rained. Thank God. I had a rough day. I'd always been planning to go to Thrasher Cove on my first day, to see a campsite I'd missed the last time and assault the rocks around Owen Point on day two, but if I hadn't already decided it a day's hiking in my current form would have made up my mind.
Here's how it works. You go up the cliff, then you down the cliff, then you go up the cliff, then you go down the cliff, repeat repeat repeat, almost always steep, always really annoying, until my undertrained legs were shaking because of more than the ladders. I went slow, not the slowest and not dangerously slow, but plenty slow enough as my heart went hard and I caught my breath. A bridge was out at Log Jam Creek (a log fell on it), and the detour into the dry ford was not too bad, but when I was there I knew the turnoff for Thrasher Cove couldn't be far and really wanted it to be now. There was a pretty clear track heading shoreward but, luckily, I kept my head about me, took my pack off, and went up the cliff far enough to see a sign saying "Thrasher this way." So back down the cliff. Pack on. Back up the cliff…
At first I left my trekking poles in my backpack because I thought from experience that I'd want my hands a lot on day one. This idea didn't make it as far as the donkey engine because of all the slippery eroded loose surface I was dealing with. I took them out and almost immediately bent one. Ah, well. Up the cliff, down the cliff…
The (clearly signed) trail to Thrasher starts with an "up the cliff," which seems really unfair. Then down, down, down the cliff, obnoxious as ever, with broken old boardwalks hindering more than they help and five ladders of which four are tall. I was passed by a couple Parks Canada staff, on their way to Thrasher for reconnaissance and training, and nearly asked if they could wait fifteen minutes until I had a heart attack and needed them. "Nearly there!", they said, which they always say. Not long after I fell off the trail, and my backpack tried to go down the wrong cliff with me in its wake; I disengaged, keeping one arm under a shoulder strap, and dragged us both back up to the slender path.
Also luckily, at the top of the final ladders to Thrasher, I found a little plastic water bottle someone had littered. Handy for me! I scooped it up to replace mine at the bottom of the river, and packed it out all the way to Pachena Bay.
Then I took the ladders at zero miles per hour, stopped at every landing for a break, pushed on with the motivation of the bear lockers beneath me giving me a final surge, and set up an exhausted camp.
Thrasher Cove was a bit cold, windy, foggy, largely overcast, and cramped. The young German couple were the only ones to come in after me, and the lady in the group was so exhausted that I had to move my boots out of her way because she seemed hardly capable of stepping over them. It would have figured if I hated the campsite, like when I dragged my butt over Fiddle Pass in 2022 to find just loathsome camping on the other side.
But I liked it! It's quite a lot further away from the trailhead than the map claims, but you can still see Port Renfrew from your tent and it's a lovely spot. Not as grand as some of the later sites but confined, pleasant, and geographically interesting. I watched the tide come in from my chair, diarized, and apart form worrying how I could possibly keep my five-night itinerary with my legs calling me an asshole every ten seconds, was in good spirits. I swallowed all the water I hadn't taken en route with interest from the little but adequate creek, pitched my tent while the weather held through sheer will, and liked my life just fine. Even before dinner I was feeling a little better; always a good sign. Sand got absolutely everywhere. A fellow coming the other way told camp about the Owen Point route; he called it "in a word, 'very sketchy.'"
The evening was spent talking backcountry adventure around a pleasant fire with the group that had hiked in. Some of them were taking ages off for hiking this year. I was jealous and, with a tidal wakeup call coming, inclined to hit the hay early. So I did.
Day's Distance: 6.5mi (10.5km)
Total Distance: 8.1mi (13km)
Distance Remaining: 38.5mi (62km)
Day's Elevation Gain: 462.6ft (141m)
Maximum Elevation: 314.3ft (95.8m)
Hiking Time: 06:53:11
Speed: 0.9mph (1.5km/h)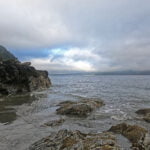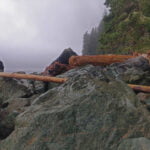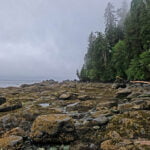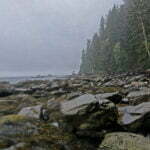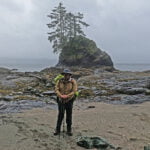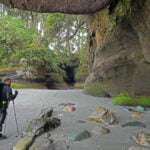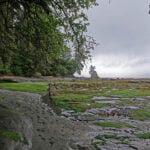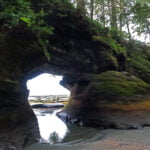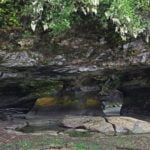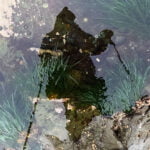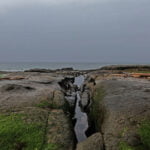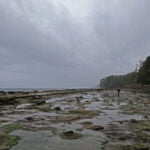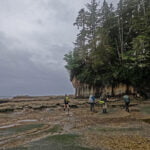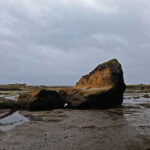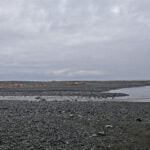 The night was wasted wondering what lay ahead, making me very tired for my 5 AM tide alarm. My starting date had been chosen partially because of this tide: Owen Point had been number one on my unfinished business list from 2017 and I'd wanted a nice, early low tide to give myself plenty of time to get around the 6-foot tide restriction at Owen Point. Tides, unlike weather, can be predicted well in advance with mathematical precision, but it did mean a lot of early mornings when I might prefer to be sitting in front of my tent being casual.
The time would probably come in handy. My day one performance had been deeply uninspiring, and for the sake of a five-night itinerary I would virtually have to make it not just around Owen Point but through some nasty ladder terrain to Cullite Creek, officially about 13 kilometres away. Everything was wet. My Garmin weather forecast gave a 0% chance of rain but it was sprinkling all morning, and a mighty fog left condensation everywhere.
I did not get to Cullite. I did not even get close. Before I was even at Camper Bay I knew that would be it for the day, and nothing ever gave me cause to regret that. Owen Point was a special experience, but also the hardest thing I've ever done backpacking (which is not to say it was the scariest thing).
Departure was in decent order, with a good breakfast, that little scavenged water bottle full but not nearly enough, and as much morale as I could muster, at 6:30. I was the first away but the others soon followed, first the Germans Matthias and Stephan, then the Canadians Nick and Steve, and were able to quickly haul me in. Almost all of the day's hiking was done bunched up in a five-man peloton and I was very, very glad to have the company. They were all fit, competent hikers, and I didn't feel I slowed them up at more than a point or two, so I didn't feel bad about finishing in nearly seven hours. Another German travelling ultra-light blew past us all, and I later learned he was going so light on food that he damned near put the Crab Shack's families through university and was getting donations from other hikers.
Leaving Thrasher Cove towards Owen Point, one almost immediately hits a horrendous-looking boulder field. That first field until you pass the Quarter Rocks is unusually severe compared to what follows, or the route would be almost unmanageable, but it's always hard, a nasty, slippery, difficult-to-navigate portion with steep, man-high climbs, few holds, slender paths where there are any at all, and rock so slippery that kelp starts to look like a grateful addition to grip. At one point Matthias very kindly hauled my backpack up a near-sheer six-foot climb, which probably saved me twenty minutes right there. All the same, it wore me out, and I slipped and fell, got up, slipped and fell again, and kept falling, probably six times in two minutes, until I realized I was so cranky that I had to sit on a rock and put myself in time-out for a few minutes lest I seriously hurt myself. As it was I got bruised to blazes, had torn a small hole in my absolutely brand-new raincoat, and was very blessed to suffer nothing worse. God looks after children and the foolhardy, and boy was I foolish, but after my break, I was better able to maintain my footing.
This was far from my first boulder field, but it was the worst. Every rock was wet, every step was an odyssey, every stride was unnatural and took thought, it was very slow, and very frustrating, and I don't precisely recommend it. I would not do it again. Once it was done, though, I was very glad I had done it. It was sort of a crummy day, not hostile but overcast and spitting rain with a good deal of fog, yet Owen Point is an amazing place. There are caves at the point that just demand exploration, seawater underfoot and all; calf-steep splashing beneath great sandstone arches, looking every which way in awe. The achievement I felt stumbling through that maelstrom of stones and driftwood, slipping all over the shop, climbing up and descending difficult obstacles again and again, made it almost worthwhile, and the preposterous white plastic chair some joker had popped up on the point gave the achievement just the right absurdist touch, reminding me that where I had nearly foundered, others could fly.
After the point itself came a pleasant interlude of bona fide shore walking along mostly-level, grippy sandstone shelf, some of the best hiking on the trail, which I spent thinking about the second of this route's two hazards. The man I'd spoken to yesterday had hardly dwelt on the boulders at all, but he'd been terrified by the surge channels: gaps in the sandstone carved by the omnipresent waves and tides into great finger-like gashes across your path. Sometimes thin, sometimes wide, sometimes short, sometimes deep, often ending way out towards the sea and leaving a trivial detour, sometimes reaching all the way to shore. On this stretch the five of us, still sticking together, crossed paths with a couple coming the other way. They promised us the best was yet to come. We promised the same to them.
I suspect that whichever of the boulders or the surge channels one hits first is the part one hates most. I found the surge channels plenty bad but not nearly as bad as the boulders. Most of them really are simple, even if you have to go out of your way. At low tide a few are perfectly reasonable to slide down into and climb up out of: I did a number of butt-slides on the sandstone and ripped the seat of my elderly hiking pants, which I figured beat ripping a leg off. They are awkward climbs (or slides) down, and difficult climbs up, but neither as bad as their bouldering equivalents. For a few, the best route is clearly to detour around. One particularly nasty channel takes you up into the forest, on a path that when we visited had rope assistance. At the peak of the detour there is a clear path up beneath buoys that leads to a well-trafficked clearing. It looks like it might be beach access "B," the first opportunity to leave the shelf for the trail after Owen Point (no beach access on the West Coast Trail is signed on the beach side, beyond the presence of buoys that might or might not mean anything), and indeed we scouted around the clearing for a while looking for the trail. Tracks proved we were not the only ones confused, but there is no trail and that is not the beach access. Beach access "B" is further along, guarded by a ladder. The correct route is to follow another rope back down to the shelf, and continue on the shore for a while, past more channels.
One particularly interesting channel is a challenge mostly because of the temptation: there are points where you can just about get across in a full stride, from sandstone sloping down to certain death onto sandstone that is also sloping down towards certain death. Matthias actually did this, and very smug he should have been on the other side while the rest of us invested in the lengthy, awkward, but safe detour around the channel through the brush.
What a long, painstaking few miles it was through the cold and rain. My water was long exhausted and I saw no obvious fresh sources. We got there, though, even bypassing Beach Access "B" when we unmistakably found it (the ladder was missing a rung and my vocal "fuck that!" may have turned the tide), being rewarded for our enterprise with more pleasant sandstone walking and few difficulties before the long, winding entry to Beach Access "A". I was parched by this point, and fell off the pace in the forest from thirsty weariness until Trixie Creek, which replenished both my fluids and my spirits a bit more than half a mile from Camper Bay.
Which ended, of course, with a half-dozen big ladders that I had totally forgotten about. Once down there was a cable car, where I opted for a trivial calf-deep ford but everyone else rode.
It was a tired, but not grumpy, Ben who staggered into Camper, entire body sore and blossoming with bruises, underwear sticking out through the seat of his pants, absolutely damned sure that there was no way I was going on to Cullite that day, and therefore no way I was doing this trail in five nights. I hardly had the will to make an easy bare-feet-and-Crocs ford of Camper Creek for firewood, let alone handle more awful ladders. It meant another bone-rattling bus ride to Victoria instead of the pleasant sail to Port Alberni I'd been looking forward to, but that was a tradeoff that seemed well worth making.
The evening was a pleasant one. I had brought an extra day's food so with the help of American cell phone coverage, I made the calls to get a bus and a room a day later than my originally planned exit. Nick got a fire going with our wet wood (trust a Yukoner). We'd been worried through the day for two later, slower groups, even convincing ourselves they'd see sense and go to the forest, but they did the beach and made it safe, sound, and justifiably proud. Matthias found me another water bottle (there are a few of those in the ocean, you might have heard), which I took as a supplement. I went to bed before eight, pulled out my Kindle for the first and last time all trip, read two pages, and practically collapsed.
Day's Distance: 7.6mi (12.2km)
Total Distance: 13.7mi (22km)
Distance Remaining: 32.9mi (53km)
Day's Elevation Gain: 964.4ft (293.9m)
Maximum Elevation: 393ft (119.8m)
Hiking Time: 07:43:14
Speed: 1mph (1.6km/h)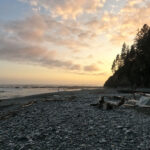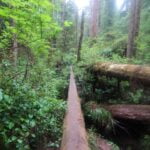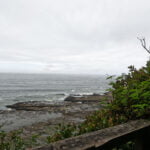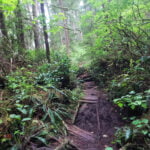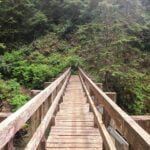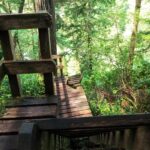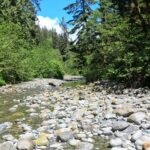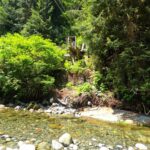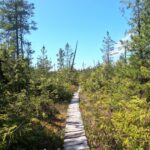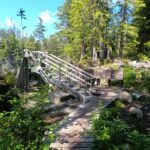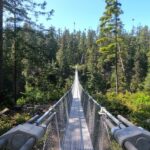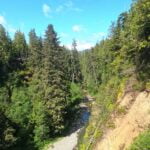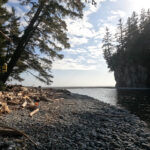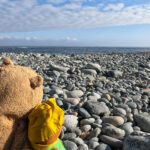 At first during the night my body was so sore that every time I rolled over it called for conscious thought. Gradually it eased to the point where I was able to toss and turn without thinking about it, which was good because I had a lot to toss and turn about. Ladders today. I remembered those ladders, so well. If day 2 of the West Coast Trail, 2023 had been mile-for-mile the hardest backpacking I'd ever done, day 2 of the West Coast Trail, 2017 had been the worst. It had been raining cats and dogs that day, as I'd gone down to Cullite and up from Cullite and down to Logan and up from Logan in terrible weather, constantly terrified not just of the loathsome ladders but of hypothermia, ending in my setting up camp in a badly-chosen spot by Walbran Creek, being caught in a flash flood, and destroying my tent (and soaking my copy of Blisters and Bliss, whose curled, battered bulk sat in my backpack this trip, reminding me always of the importance of good site selection).
True, the Logan Creek ladders were gone, replaced with a swank new suspension bridge. Everything was wet, again, when I woke up, but the morning clouds were breaking up before I started and there would clearly not be another downpour. Yet I was fully, totally anxious. "Dread" is an appropriate word. I was less fit than in 2017 and my ladder-hatred was just as powerful. On the bright side, I had felt worse than this physically, and there were no tide problems so I could take as long as I chose… and boy, would I ever.
The refrain of the morning was "I don't want to do this." Most everyone was out long before me; the German kids had a fire and took their time, and Steve from Niagara Falls was only a little bit behind me (and soon passed), but otherwise the camp was empty when I struck out at 9:30, and I wound up doing barely one mile per hour. I am too unfit for the West Coast Trail, I admit it.
However, God and Parks Canada helped me out. I had a sunny day. I had a miracle. I had boardwalks (sometimes) and the brand new suspension bridge over Logan Creek, cutting out ten or so of my least favourite ladders.
There were still lots of ladders, though! Ladders out of Camper Bay, which I again had forgotten about entirely. Bad ladders into Walbran Creek, ditto. A couple dime-store drainage descents which not even I really worried about. Most all, the ladders of Cullite. In and out. Huge, scary things with sketchy eroding rungs where even the landings are mossy, old, and too close to collapse; unappetizing places to rest.
If I searched my feelings I think I'd rather have done it in less than eight bloody hours but from the start my idea had been "get there alive, eventually." I rested a lot. My first stop was almost enforced, at a lovely viewpoint overlooking the Strait of Juan de Fuca complete with wooden chairs the park had installed not quite halfway to Cullite Creek from Camper Bay, a short but obvious detour from the main trail. It is a beautiful place, and marks the end (or, if you're going Cullite-to-Camper, the beginning) of the nice, new, near-perfect boardwalk. There is boardwalk after, thank heavens, and sometimes good long stretches through very picturesque higher-elevation wetlands that lift even weary hearts, but more often (by time) there are great bogs of knee-deep mud where you're looking for footsteps that aren't totally sunken as hints that stabilizing pieces of wood lie beneath, or taking weird, chancy detours.
Given that in 2017 I'd been doing this as a terrified death march I shouldn't have been surprised how little of it I really remembered. So I forgot all about, for example, the many sketchy-plus-plus log bridges. They are usually long, always old, typically have tricky, slippery mounts and dismounts, are scored with grip points underfoot that have to deal with smooth-polished knobs and broken-off pieces, and almost invariably dangerous. Some of them are basically optional, if you're willing to go through some trouble and a lot of mud, but not all. I took the first "optional" one, advancing six inches at a time across slick rotten timber with my poles scrabbling in front of me like an old man with two canes trying to make it to the bathroom in time, and as I did I saw a mucky-but-practical bypass trail a dozen feet below. "Oh yeah!" I said, in a sudden burst of memory. "I did this dumb thing last time too!"
Some of the logs are basically mandatory, so be prepared to be brave, but that wood is punky and unpleasant, with brush hanging out to grab at your poles and bag and several opportunities to slip and break your skull.
I made my slow way to Cullite Creek, rested up for the ladders, took them even slower, and had an endless bag-off break at the creek. I drank most of a gallon of water, ate a bar, and poked around the cute, though quiet, campsite. If I'd had wings I don't think I'd have minded staying at Cullite the previous night; only the hike over was the problem. The beach was probably a bit exposed if it got stormy but was otherwise a pleasant place. The sun was out and the water was delicious.
Another thing I forgot was the gratuitousness of the Cullite Creek ford. There are loads of great places to ford Cullite, rock-hops a child could do to easy shores, but none of them will get you to the trail. It proceeds straight up the ladders from the cable car platform and the bushwhack is hard to imagine. The ford itself at the cable car isn't bad either, but the landing on the western shore is a bear, with the cable car built up on an entrenched, tall platform that offers no easy stroll to the top. There's a silly old rope on the hiker's right that leads straight up a cliff but that's a red herring: the right thing to do is ford towards the platform, look left, and haul yourself up the embankment on a wooden support that offers just enough grip for man and pack to get over. From there, a little old ladder brings you onto the platform itself, and then the not-at-all silly big ladders start at once.
As I climbed, I heard then saw a couple people below me, coming up in my wake. There is no easy place on that stretch of ladders to pass: I just had to abandon rest for a while and go like snot, up and up, very tired, very unhappy, until I got to the top and fell onto a log, whereupon the fast-moving pair revealed themselves as the same two park staff I'd seen on my endless way to Thrasher on night one. I didn't feel so bad getting overhauled by people twice my fitness carrying a third of my weight, and we sat and rested for a few minutes, where they forced me to admit that bad though the ladders are, they're better than any conceivable alternative out here. They left ahead of me and, after the obligatory "almost there!", said they'd see me on the trail when they returned from Walbran Creek. "Yes you will," I said, and they did.
They also told me about the new Logan Creek bridge. I knew it was there, but not whether it had eliminated all of the old ladders or just some of them. "All of them," they said, and they were right. It is a majestic thing. On the Cullite Creek side there is a marvelous rest space; actually, the whole thing is marvelous. A wonderful, sturdy steel construction, way up high, with incredible views both sides. It made my day much easier, and I was very glad, but even apart from that it was impressive. I have seen no backcountry bridges quite like this. It is very high, and very solid, and seems fit to last for decades. I hope it does. It took Parks Canada years to build, and from the perspective of this trekker it was worth every last one.
My going was slow. Better spells on old boardwalk, worse ones in the mud. I was unhurried and taking short breaks about every mile, and knew at this point I'd get there, but it was long going, and then I did something that earned me a broken leg but didn't get me one.
It was a log bridge, of course. I could have gone around this one from the start but it would have meant diving into the mud and so low under the bridge I'd have to thrust my bag through the slime and follow. This seemed unappetizing, so I went over, only to see that on the far side, the descent was precipitous, with a couple slender, very well-rounded steps leading to a long drop. My thought in this case was to sit on the step and drop, so I threw my poles off the log, stepped down, slipped at once, flew forward with my feet out in front of me about six feet down, and slammed my left foot into a stray tree branch absolutely dead flat on, an ideal landing, so that instead of being smashed into pieces I literally landed on my feet in the mud. My foot bore a bruise the next day from how hard I hit the tree and I was astonished; not only was I not in need of evacuation, I was standing up and utterly unhurt. A miracle. What else do you want me to call it?
That was my excitement in a weary day, made bad only by ladders and length. It just took too long, but at least I arrived at Walbran with all my limbs intact, feeling no worse than I needed to.
I like Walbran Creek in the sun, it turns out. You may be sure I set up camp well away from the water, but when I went down for nostalgia's sake I saw no sites that seemed even vaguely suitable on the shore I camped at in 2017. There were no fire rings this time and I doubt anybody had pitched their tent on that bank all year. Higher May water may have covered up what in September 2017 looked pleasant and sandy, but I hope that tides and winter storms threw more stones up there to dissuade the next guy.
A few people came into Walbran from Thrasher, having taken Owen Point on their way; the new hot itinerary for people who take their shirts off because they have six-packs rather than because the shirt no longer quite fits, it seems. Oddly, I didn't encounter anybody coming from the Bamfield direction all day, which was unimportant but strange.
Given the parlous state of my fitness I was not exactly fired up for nine miles the next day to Cribs Creek, but at least the worst of the technical obstacles were now behind me. I didn't remember any ladders up to Carmanah Lighthouse but I guessed (correctly) that they'd be there, and there would be little mud and as little drama as I could possibly arrange.
The evening was spent around the campfire with Mathias, Stephan, Nick, and the two German kids (Steve had blasted through Walbran, as he said he might, and I would not see him for some time if ever). It was a lovely evening. The bruises on my left thigh from the boulder field looked hilarious, huge and black-red-purple as if I'd seriously hurt myself, but after all that hiking I could be pretty sure I hadn't. I reckoned I was less sore than the night before. I was optimistic, and as it turns out I was right to be.
Day's Distance: 7.9mi (12.6km)
Total Distance: 20.8mi (33.5km)
Distance Remaining: 25.8mi (41.5km)
Day's Elevation Gain: 319.3ft (97.3m)
Maximum Elevation: 206ft (62.8m)
Hiking Time: 05:36:23
Speed: 1.4mph (2.3km/h)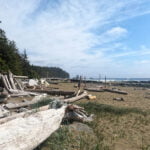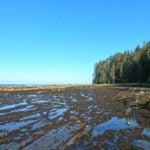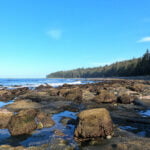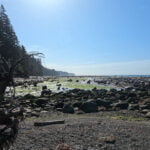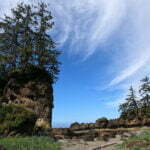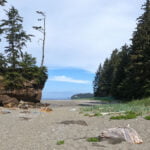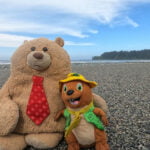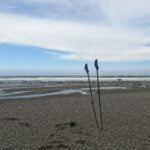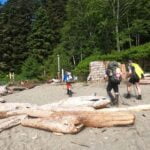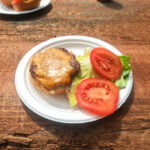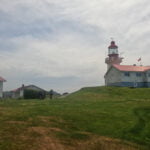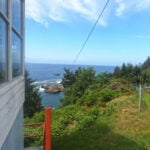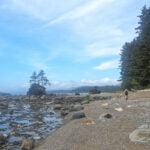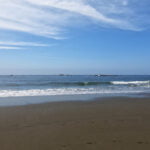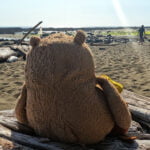 What a beautiful morning. While once again I had emerged from my tent at 1 AM to deal with a Walbran Creek liquid emergency, it was the sort to be disposed of with a happy sigh on some nearby driftwood rather than a life-endangering dance with the creek.
My goal was to be away by eight and I pretty much made it after a breakfast of "cappuccino oatmeal" that left me so full I struggled to finish. The sun was shining, the beach beckoned, I had remembered to bring chapstick this year, and so began a day of hiking with only three flaws.
There were three ladders up to the heights of Carmanah Point.

There were two ladders down. All little compared to yesterday, but…

At some point between Carmanah Creek and Chez Monique's, my map with its tide table fell out of my pocket. This would never have been a crippling loss since I could work with photos of other people's tide tables and I had it memorized well enough to finish the hike anyway, but it was still a hassle. Luckily Matthias had spare copies of both and gave them to me, because Germans plan.
That was it. What a splendid day of hiking, exactly what the doctor ordered. Almost all on the beach, which I love. It's not for everybody, and when I first tried beach hiking it wasn't for me. But this stretch has more than usually firm sand most of the way, a bit of walking on the sea shelf, and at low tides adds up to bliss. I think I came into camp fresher than I left.
Finding good sand to walk on with a heavy bag is much more art that science. It is usually below the high tide mark, where gravel turns to sand, and at any rate where the surface is packed down by day after day of endless waves, which is one more reason to hike with tidal time in hand if you can help it. If you must hike above the high-tide mark, which even at a low tide you sometimes will, the top of a crest is always better than side-sloping. The sea shelf, when it's reasonably open, is the best hiking of all, though you'll get your boots wet and need to take care about slipping. Taking one's time is nice because it's so damned pretty out there. Eagles, whales, loud and fragrant sea lions, interesting little tracks on the beach, amazing scenery with the fog finally lifting enough to allow views of the Olympic Peninsula just as we were hiking it away… perfection.
Steve from Niagara Falls had not been seen since he passed me on day two to Bonilla Point (a great-looking campsite, by the way, complete with waterfall) but he left a message in the sand for the group that had stuck together since the bus in, with our names spelled out with his trekking pole ending "WCT 2023." Pretty neat. He was far enough ahead that I never expected to see him again but it was a cool memento.
Once I realized that, for all my angst over ladders and rainforest garbage, my fat old body loved beach hiking as much as ever, the closest thing to a worry was fording Carmanah Creek. The guidebook says you can ford it June through September, so I was not terribly surprised to find my choice of ankle-deep splish-splash or higher-effort rockhop at the mouth in mid-May at low tide with weeks of little rain. Not surprised, but gratified.
Across the Carmanah I had a full half-gallon water break, during which the three survivors of our group from the previous day, Nick, Stephan, and Matthias, caught me up. I was glad for the water but the time off was wasted because, unlike in 2017 and in defiance of what a hiker coming up the day before had said, Chez Monique's was open! It looked very different from six years earlier, with the tents on the beach replaced with an open side, a bell to ring for service, and brand-new communal cedar bench seating. We rang the bell good and hard, you may be sure. The usual price was $25 for a burger and coleslaw, with a selection of bulk candies, potato chips, and soft drinks also available. They were out of coleslaw so for $20 I got a perfectly good cheeseburger with nice lettuce and tomato; not extraordinary, but in an extraordinary place, and in Vancouver I've paid more for less. I felt very pleased.
Then up to the lighthouse, up those three ladders (aagh), and through lightly-rugged West Coast Trail forest that was so much easier than the day before that I was grateful even in the moment. Carmanah Lighthouse is a pretty as I remembered, rising into view after Bonilla Point like a fairy-tale castle. with the grounds offering stunning views and plenty of braying marine mammals. This was the first year of the COVID epoch where the grounds were open to visitors, and while the lighthouse keeper didn't come out to say hi, a Coast Guard helicopter had arrived earlier in the day so she may well have been working.
By the time we were at the lighthouse I was about all rested out, so after a modest loiter I finished the day's hiking, enjoying the sea lions and the wonderful rock formations on the way to Cribs Creek. It was a site I liked on my first visit and still liked on the second, sitting and watching the tide rise through the great rock wall before the campsite. Remembering that the tide at Cribs gets higher than you think I nearly wimped out and sat up in the forest but opted for bravery in the end, pitching my tent on the beach and enjoying a good drying session so the morning mist could wet everything again3. I even had to put on a long-sleeved shirt because I was getting a sunburn. Sunburn on the West Coast Trail! Just imagine!
For one of the only times all trip, camp was crawling with people. It was an astonishing change. Cribs Creek is strategically located, with a long hike to Tsusiat Falls on the other side if you don't want to pay to stop at the luxury options en route, and will always be a busy one, but the trail had been relatively quiet all week and here were people coming from both points on the compass, packing the forest, crowding the beach like it was peak season. A fellow made a 20-minute video call from camp, wandering around talking and holding his camera to his face, and while I knew someday I would experience that I didn't like it when I did.
It was a wonderful evening to spend in camp. In no sense had the day's hiking been difficult, which had been just what I wanted. After three harder days than they ought to have been, my confidence had been low. That I could still hike well in good form when the conditions were right bucked me up. In the second half of the the West Coast Trail, I would need to make up distance, and it looked like I would be able to without suffering over it. The one concern was that I remembered astonishingly little about the day coming up to Tsusiat Falls, apart from that I should have had the crab rather than the salmon at the Crab Shack; I even dug into my waterlogged Blisters and Bliss for insight. Nothing too intense was promised. It seemed to me that the worst of my difficulties were now behind me. And they were!
Day's Distance: 11.3mi (18.2km)
Total Distance: 29.5mi (47.5km)
Distance Remaining: 17.1mi (27.5km)
Day's Elevation Gain: 849.2ft (258.8m)
Maximum Elevation: 269.3ft (82.1m)
Hiking Time: 07:22:45
Speed: 1.5mph (2.5km/h)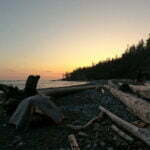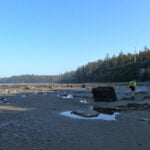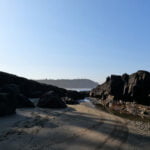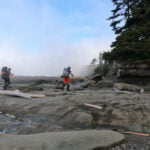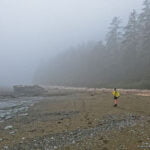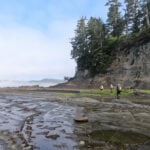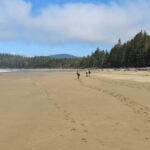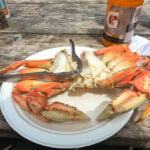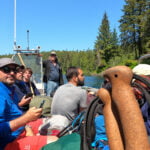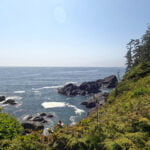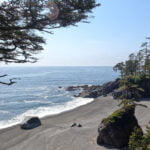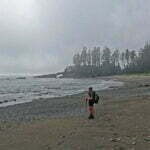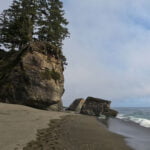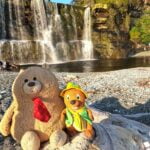 Out of the tent at 6:30 to another wonderful morning. People were already leaving southbound. The sea lions, with their growling audible in the tent, sounded to me like a bunch of grumpy fat hikers preparing to bang out eleven miles, but perhaps I was anthropomorphizing.
The reluctance to start was with me as usual. I knew the day would be a) long, b) more challenging than yesterday, though less than the days before, c) dry (with a 10-kilometre stretch of no water that starts so soon after Cribs Creek it may as well be 12), and d) varied, with beach and forest and boardwalk and ferry and mud. I tanked up on water and got away a bit after eight. Although I for one hadn't planned in advance to hike in a group that day, I finished tearing down just about at the same time as Stephan, Matthias, and Nick. They seemed to be waiting for me. So off with them I went.
It was such a long day, and had a bit of everything, but it was a day well-won. It left me drained in only the best ways and full of experience.
You ever have that feeling? It was a lot of hiking to go not that far over ground that was not particularly difficult. A fitter man would have been faster, but I stuck with the group all day and except maybe once or twice I didn't feel they checked their strides for my sake. And we did the hell out of that trail. We hit it hard. We scrambled boulders and looked down on the most imposing surge channel. We ate seafood and even though the tide was all wrong for the hole in the wall towards Tsusiat Falls we went down the beach and had a look anyway. We saw whales, sea lions, golden eagles, bald eagles, the result of a wolf or wolves vanquishing an otter. Last time through I spent a lot of time in the forest; this time I did all the beach I could. I felt very satisfied seeing the poo with a view that announced we had reached Tsusiat Falls.
It started almost on step one: Cribs Creek is guarded by a long stone barrier that is swept at high tide but at low looks like an imposing climb to the beach route. There is a tall ladder well-hidden in the trees near the beach which offers access to the forest route and appears to have a detour to the beach, but that's cheating, isn't it? Some people scrambled up the cliff, passing their packs up after them, but especially for a solo or heavyweight hiker the smart play is to board the shelf well to the south, almost right across from camp, where it is an easier rise and relatively simple walking along the stone to the beach where, when tides are right, you can have a great time.
There are boulders and sea-shelf to contend with, but compared to Owen Point they are very moderate. In fact they're moderate compared to a lot of the forest stuff. In 2017 I took an early beach exit and wound up in a hell of messy, quarter-cut fallen timber that strained my nerves hard, the sort of thing that on many trails would have been chainsawed by trail crews in a season or two but which, on the West Coast Trail, was apparently still just as bad going off reports from hikers coming the other way. Yes, the beach can be a trial, but take it as long as you can.
We passed by the bit of shelf where, on his previous visit in 2018, Matthias hurt his knee, leading to what must have been an awful trip to Nitinat Narrows and an early exit. He and Stephan stopped to mark the moment with photos and memories. It was a tricky couple steps down off a shelf but not bad compared to some we'd done, and having seen what a well-balanced rock goat Matthias is over a few days it brought home how much good luck and God's grace are the most indispensable elements to hiking anything of note.
On this occasion Matthias doubled back twenty feet to a safer descent. I followed him. Not long after we stopped for a moment and watched the whales show their backs through the ocean.
There was some concern about finding the right beach access before a man-killer of a surge channel waiting not long after on the north side of Dare Point referred to in Blisters and Bliss. One of the landmarks en route is an old anchor on the rocks which, in the rise and fall of terrain, we couldn't see, and the guide made it seem like you could easily overshoot the mark. It is not quite as simple as "count the buoys until you hit the right one" since some accesses are far better-marked than others, while at other times a buoy in the trees is just a buoy without further meaning, and we had a nice sea fog that obscured things just a little. In the event, while the exit from the beach was hidden until you were on it, it was obvious once you got there and within sight of the fatal channel, a solid black wall no sane man would ever consider descending. The ladders up and down were a nuisance, but not by comparison to the alternative, and the views at the top were extraordinary.
That detour is short-lived before more fine beach walking follows, for a time. It was all going great for me until we returned to the forest where a steady set of inclines did me in. Conditions were pretty good, and there was abundant, fairly new boardwalk as well as some lovely strolling through a beautiful tunnel of overhanging foliage, but there were enough rooty ups and downs and pain-in-the-ass sections like skirting Clo-oose Lake to sap my energy. As always in the forest my GPS recorded longer distances than the map so I kept expecting delicious crab to arrive sooner than it did.
Then it came. The Crab Shack has grown from what it used to be. Small wonder: that small restaurant gets plenty of traffic, some of the food they sell swims right up to them, and almost any hiker with the time and the means will stop. They have cabins (primitive, starting at $165/night), covered tent camping ($40/night), fresh baked goods (apparently the woman who bakes them bought a truck off last year's proceeds), souvenirs, and of course food. $40 for a crab with no side is a shade dear, but then you watch them catch your lunch off the edge of the dock, eat it, feel absolute culinary joy, look out at the wonderful surroundings, and feel a lot better about it. On the other hand, ten bucks for a baked potato, or ten bucks for a 355mL can of beer that can be $1.25 a throw from the 36-pack in town (and $13 for a tallboy) is very stiff. But the woman running the shack remembered Stephan and Matthias by name from their five-year-old adventure4 and shared stories from their stay, there are dogs, company, and it's a wonderful place to rest. They encourage people to linger, and book accommodation at their shack for the night: the last ferry across the narrows leaves at 4:30 PM and happy hour starts at five. If you have the scratch and the time it's probably a very convenient stop in the midst of what's otherwise a long day.
There was a young guy, part of a group of international students from the University of Victoria, who had borrowed shoes from the outdoor club and had seen the sole start to come off within the first mile of his hike. They were patching it up with duct tape, and borrowed more from those who had plenty. The Crab Shack offered to sell him a used pair of replacements hanging from the rafters for $40. It seemed a good deal to me but he stuck with the tape, not that it seemed to help much in the days to come, and very often one of his party would lend his boots to his buddy then walk the beaches barefoot.
We spent probably hours there, chatting with the hikers we'd come to know over the past days. I ate an entire crab, which was truly delicious if time-consuming and definitely better than the salmon, bought a Gatorade as much for the extra bottle as the electrolytes (taking a drinks container away from the Crab Shack is strictly forbidden for very sensible reasons of avoiding beach litter, so I hid it), sank two beers for $23, crossed on the boat, and got back hiking almost annoyingly late. Blasting uphill through the less-lavishly-boardwalked trail on the opposite side of Nitinat Narrows was easy at first, probably thanks to my hearty lunch, but the rugged (though not very rugged) trail got to me again, and we pivoted to the beach at the first opportunity.
It was high tide. Hiking the beach at high tide is always tiresome because you have to stick with the loose, crappy sand and gravel, sinking deep with every stride. We expected to be blocked at Hole in the Wall, a point where you shoot under an arch of rock to short-cut a tall peninsula, and if Parks Canada's map was accurate our tides wouldn't even be close. The soft sand wearied us. At one point the tide covered the beach entirely; we scrambled up a short, grippy sandstone shelf and pushed on. Upon reaching Hole in the Wall it was underwater. Score one for Parks Canada.
If you squint at the West Coast Trail map around Tsusiat Point, you'll see a short bypass option behind the hole in the wall, three little dots through the beach route. I had very grim imaginings about that little bypass, picturing awful old ladders or even ropes up a punishing grade, short, sharp, technical and cruel steps to chastize those stupid enough to miss their tide. When I glimpsed it from afar, with my glasses a bit fogged up, I thought I saw the very opposite: what almost looked like a line of white stakes like the banister to a front-country staircase. Reality was somewhere in-between these two extremes, but leaning to the happy side: an approach over logs to a trail with annoying steep bits but nothing worse that's over in a flash. Hole in the Wall was a special thing to see even if we couldn't pass through it. Beyond the bypass, the high-tide beach looked quite reasonable, save for a set of boulders with waves lapping against their feet at the nearest point, boulders which probably required a scramble at this tide and could have absolutely anything lying behind them, including some very ill-timed technical at the end of a long day.
I was the first to reach the boulders. I looked at them, looked beyond, swore as loud as I could, slammed my hiking poles into the sand, and went to wade into the ocean to die as the other hikers came up. What I had seen, of course, was that there was an easy walking path inside the boulders against the cliff and utterly smooth sailing beyond. When hiking in a group it never hurts to put on a show.
We took a break, then hiked the mile or less to Tsusiat Falls. It was busy, with a school group in from Pachena Bay having a great time, but there was still room to camp in front of the ladders. The falls were an even more glorious curtain of water in their full May flow. Everyone took a dip in the pool beneath them, which became the stream that was the only water source, but it flowed fast so I decided to filter it and not think about that too hard. Though we arrived late, it was early enough to enjoy a spectacular Tsusiat evening, and revel in a highly successful day of hiking.
Day's Distance: 8.6mi (13.8km)
Total Distance: 39.1mi (63km)
Distance Remaining: 7.5mi (12km)
Day's Elevation Gain: 584.4ft (178.1m)
Maximum Elevation: 249.3ft (76m)
Hiking Time: 06:00:59
Speed: 1.4mph (2.3km/h)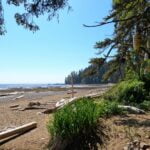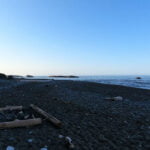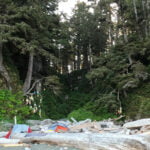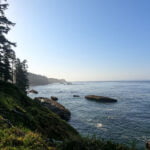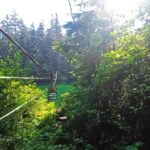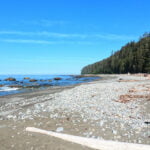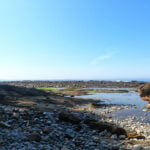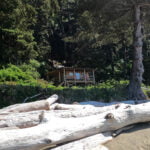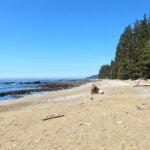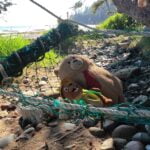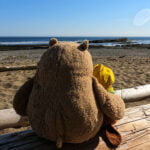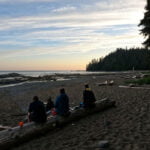 A beautiful Tsusiat morning, too.
Though I'd have little enough time to enjoy it. I talked to the other guys about the Klanawa River and its long cable car that had almost wiped out fitter, lighter 2017 Ben going solo. My plan had been to ford the Klanawa at its outlet, come hell or nut-high water. In 2017 I'd thought it unthinkable, but I've had a lot more river fording experience since then and, truth be told, I think I wanted to do one cable car that trip. One was enough, but as I'd been in a group for a few days I thought I may as well take advantage and do the cable car as a safe team, which meant an earlier start than I would otherwise have chosen.
Not a terrible thing, really. The catch on day six, besides some nasty-ish ladders and more than a mile of rough going to start the day, is choosing between Michigan Creek and Darling River. Darling River is 12 kilometres on the map from Tsusiat Falls, and 14 kilometres from the trailhead; Michigan Creek is 14 kilometres from Tsusiat and, as you will have realized, therefore 12 kilometres from the trailhead. Michigan tends to be crowded, Darling not. I had stopped at Michigan last time (one point for Darling) but knew Michigan was just gorgeous (one point for Michigan). Had I remembered that Darling River had a waterfall upstream I might have picked that, but maybe not: I was concerned about getting to Pachena Bay the next day well in time for my bus home and was inclined to suffer today to go easier tomorrow.
The hike begins with a wet walk to muddy ladders up past the bear lockers out of Tsusiat Falls. They are of the unpleasant and well-worn variety, and tall-ish though not the worst I would see all day by a long chalk. Moderately annoying, sometimes very pretty, walking through forest follows. It is a good heart-pumper, but hardly severe, and there were opportunities to make good time or even stop and enjoy the sights. The bridge over the Tsusiat River just upstream of the falls has some wonderful views of the vast Pacific. It was pretty fine hiking, despite some rigour, right up until the ladders back down to the Klanawa River.
It sounds so trivial, but what got me was not just that the ladders were long, but that one of them had a broken rung. I don't look down so well, and I don't feel very easy-going balancing on those things. It's a fear. Fortunately I was forewarned by those going ahead of me, which made a huge difference, but even so a broken rung going down a West Coast Trail ladder has always been one of my minor trail nightmares5. Lowering my three hundred pounds of hiker and pack down that extra step took a fair bit out of my nerve, and I cursed the ruined rung roundly as I passed, though not as much as the guy who was on it when I went I'm sure. The break looked recent, a this-season problem, and I hoped he had been okay.
From there, a standard sketchy descent to the river itself. A beach access to the best fording points at the mouth comes a bit earlier, and we didn't go look because we were pretty decided on the cable car. From a little further upstream where we saw the river it was wide but peaceful, but the depth was very difficult to guess. Had I been alone I would have attempted it, since the lazy river appeared to allow for backing up if necessary and it could have gotten pretty high before sweeping me out to die. Sometimes the river is even sandbarred over, during very low water; later I talked to someone who tried the ford a day earlier at low tide and went in up to his waist but made it. I was with others so we took the cable car. The "one at a time" sign I saw in 2017 was gone6 so we rode in the approved style: two in the cable car with packs off, two on a platform helping pull. I am here to report that using that cable car as a foursome is much more than four times easier than soloing it.
Klanawa River camp on the far side seemed like a very nice place, actually, but after saddling back up we set off down the beach. It was predominantly sinky gravel with a self of eroded sandstone that made for interesting viewing but damned frustrating walking. It was, in short, a slog with no alternative but grinning and bearing it, which we did through that supremely pleasant morning all the way to Trestle Creek. There we took on water and climbed more ladders, up, up…
In Blisters and Bliss the forest section between Trestle and Tsocowis Creeks is described as "like a walk to grandma's house." Both my grandmothers are pretty good walkers but I never went to their houses like this. Once up an annoying initial climb the trail is wide and fair, but there are thorny parts including but not limited to two out bridges with the detours being fair pains in the quads.
We passed several parties here, including another huge school group at the Valencia lookout. They had set out early and come from Pachena Bay so we did not begrudge them the use of Parks Canada's red chairs, though I'd have hated to deal with that huge crew at the ladders or the cable car. There's not much room on those platforms and it's not easy to let others pass even if you're polite enough to.
Then there's getting down. What fun. Last time at the turn to Tsocowis Creek I took the forest, and now I saw why. Those ladders are tall, sketchy, and much too well-worn: they buck worse than most and promise a quick death if things go wrong. They did not, this time, for me, and after six days I had something of my ladder stride back, but even so I had to pause and compose myself at the top.
An interlude about ladders
The ladders are the West Coast Trail's trademark, and almost any itinerary will involve them. There are ladders out of Pachena Bay and ladders out of Gordon River.
Roofers, derrick workers, telephone and power linemen, and most of my ancestors are entitled to skip this section in derision, but these are not everyday ladders. They are tall, made of punky wood, they are worn down, the rungs are getting loose, the trees encroach on them and snag at your pack and feet, they can have midair twists and all sorts of awkward angles from 45° to 90°. If you're scared of heights and/or unfit, they can be a lot; particularly with all the hiking either side of them that is by no means easy.
I am both unfit and scared of heights but have endured those ladders twice. It can be done.
The worst of all were those up and down Logan Creek, which combined all the worst features I just described in one horrible long segment without even the satisfaction of a water break at the bottom: these are now, mercifully, defunct. The second-worst are at Cullite Creek, which are old and much too tall but at least straightforward and give you somewhere to rest at the bottom between your labours. The third-worst ones are at whichever campsite you just went down to or left, or had the worst day on; except for the post-Tsusiat Falls beach sites they're always there, and they can always be a torment.
Here's what I found.
A confident stride, one rung per leg, takes some fear-conquering but is always quicker, less energy-intensive, and places less strain on each rung than putting both feet on a rung at once as if you're clinging on for dear life. I know, you are clinging on for dear life, but don't let the ladder know that.

Unless fit and fearless, down is worse than up. Up is more work, but the difference is pretty modest, and going up you can see where you're going without having to (gulp) look down. Your hands hit the rungs before your feet, and if one's not there you have ample warning. Skipping a rung is more a matter of contortion than pressing strength.

When climbing ladders at a shallow angle, keep your centre of gravity as vertical as possible. This is harder on the upper body but not nearly as hard as trying to slither down in line with the ladder itself.

It is perfectly practical, even for me, to do the ladders holding my trekking poles together in one hand rather than tearing them down and packing them away every time. (If you have small hands, your mileage may vary.) Use the hand opposite the landing at the top of the ladder, if a landing is present, to avoid snagging them on your way. I saw people hang the poles off their wrists by the straps but then they sway and you have less control, and they might well get underfoot, though it leaves your hand fully free.

The landing stages can be lousy break spots; the ladders themselves are even worse. Steel yourself to do an entire ladder chain at once with only the most minimal standing rests in-between rather than making optimistic plans to sit down comfortably halfway.

Sometimes flora or the truss holding a ladder to the cliff encroaches on the rungs. If you toe bad grip on your way down, move inward.

I did it twice. So can you.
---
Tsocowis Creek, once you get down, is a nice-looking campsite, though probably hard to fit on many itineraries. It has all sorts of room, wonderful views, interesting construction, and a very nearly new-looking patrol cabin. It sprawls, and water seems a bit distant from the action, but I'd recommend it if it's on your way.
From there we took to the beach. And what a beach it was! Cruel gravel and ridges of softball-sized sandstone. The sound of four hikers going caronch caronch through fields of sliding rock is absolutely one to be missed. The sea shelf offered few obvious opportunities until Darling River. It was getting hot, my watch thermometer recorded a high of 97°F (36°C) with scalding-hot sand, and between that and poor surface it added up to a rotten way to travel. In 2017 I traveled this part through the forest and missed seeing a great rotting whale carcass; in 2023 there were no such olfactory highlights, just two eagles flying out of Orange Juice Creek and a third perched on his tree and utterly unimpressed by us, lord of his domain.
Luckily this is a leg with regular water and we took a long drink at Darling River. We almost need not have bothered, because from there to Michigan Creek at low tide was a brisk walk along the seabed, no sinking, no heat reflecting from the sand, a smear of cooler water underfoot; just a short walk being careful you don't slip as you thread paths through channels and boulders that looked thick from afar but always had simple routes past up close. We were the first to arrive in camp and Michigan Creek is a fine place to have to yourself. Honestly, it's pretty fine to share too. Camp was not at all busy. The robins are active and a pod of grey whales cruised by very close to shore for some time. A washed up dead sea lion was also available. There was shade and leisure. Relaxation was on.
The evening passed in campfire, bonhomie, marshmallows, single-malt, farewells to people I'd seen hiking for six nights and didn't expect to ever see again. I had the early wakeup call, as the only one catching the bus the next afternoon, so headed out earlier than the rest for a hot but contented sleep.
Day's Distance: 7.4mi (11.9km)
Total Distance: 46.6mi (75km)
Distance Remaining: 0mi (0km)
Day's Elevation Gain: 1057.6ft (322.4m)
Maximum Elevation: 410.8ft (125.2m)
Hiking Time: 03:52:24
Speed: 1.9mph (3.1km/h)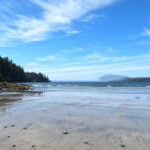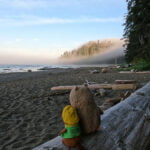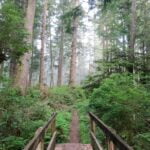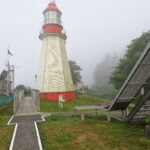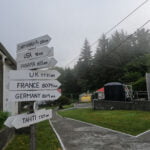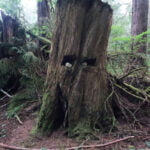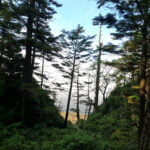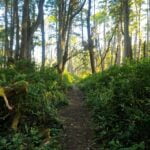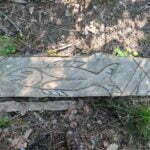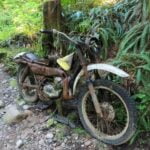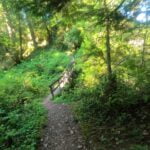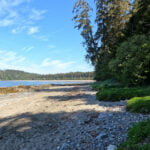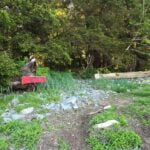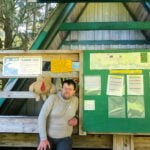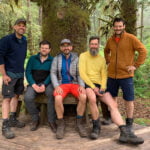 The bus to Victoria left at 1:45 PM. I'd wanted to be there at one pip emma so I could comfortably sign off the trail, give a brief report, buy my souvenirs, and get my stuff in six-hour-bus-trip order. The previous day it took us six hours to hike slightly further over somewhat tougher ground but in good conditions. Michigan Creek to Pachena Bay is said to be the easiest trail in the park; I think Walbran to Cribs is easier but you want to spend more time that day looking at things whereas the journey to Pachena Bay is mostly forest. Come the afternoon it was going to be hot, I was saddlesore, and easy though the hike is it is a hike, not a walk, with up-and-down, a few ladders, some tiresome bits. So I played it safe, allotted myself six hours for the segment, and planned to start too early at seven AM.
Tired though I was getting out of the sleeping bag, I had a nasty case of get-it-done-itis and breezed through my preparations. The oatmeal was flavourless, but the sunrise added some savour. People rose, we chatted, the fog rolled down the morning shores like a quilt beckoning me back to bed. The morning was wonderful, but I was ready on schedule, bade what might be a final farewell to those I'd been hiking with (again), and actually got on the trail right when I meant to.
This schedule was intensely conservative, but when it comes to a bus from the back of beyond it is better to be four hours early than four minutes late. What I remembered from last time out was that this leg was not very memorable. Not being sure what that meant, I played it safe but said that, if I got to the Pachena Point Lighthouse a sixth of the way into the day in much less than an hour, I'd know I was ahead of my required pace and could poke around a bit.
I got there in 40 minutes, the hardest 40 minutes of the day. Not hard. Mud holes, root climbs, huge steps, at one point a rope I didn't need up an obnoxious muddy slope, uphill a bit more than half the way. Most of the inconvenience this day is concentrated in the first mile and a bit, crawling up the cliff then, partially, down it. There was fairly fresh bear scat in the middle of the trail but there always seem to be bears in this section, and hiking alone I got to dust off my Rocky Mountain bear call.
At Pachena Lighthouse, one can start to see the comforts of civilization. The keeper has a garden, a nice house, fingerpost signs to many of the world's destinations, and a helicopter pad. He is utterly alone apart from the radio, the Coast Guard helicopters, and a million hikers a year walking on his lawn. The fog was still thick on the water so I'd imagined a lighthouse keeper of all people would be pretty busy but no, he came out of the little maintenance building anyway for a chat. We passed the time, no ships audibly sank into the Graveyard of the Pacific, all was well.
From the lighthouse to Pachena Bay, the West Coast Trail was at one point a road. You can still see and walk on old skid logs from time to time. This, I reckon, accounts for much of the higher standard of maintenance in this part of the trail. It's easier to keep up. The track is broader, the trees are smaller, the grade is less severe. At some point in the brown-and-yellow-sign days Parks Canada had the time and the capital to put in dozens of numbered bridges each carefully labelled "Bridge/Passerelle" because official bilingualism is very serious. In most of the park these bridges are unrecognizable; here they are common. When the old road did hit a patch of bad ground, you can tell because suddenly the trail is bad too.
It remains easy going. Bit of up and down into and out of drainages but quick work. There are opportunities for things to get muddy, light bog over fairly long stretches, and I somehow managed to have my midway break in the one part of the West Coast Trail with bugs, a creepy pit in the ground, and strange sounds around me that made the rest a short one.
Part of what makes this trail quick, as well as easy, is that it's kind of dull. I skipped the sea lion haul-out rock because of the fog and having seen plenty of sea lions already. Viewpoints are rare and not what I'd grown used to. It does not really encourage you to linger, really, though as forest strolls go it's pleasant enough. The best opportunities come both early and late: early at the lighthouse and the haul-out rock, late as you start to see Pachena Bay itself through the trees, a long, modest treat that tells you how close you are.
If tides allow, once you're well down the bay and so close to finishing you can smell it, take the little beach access at Clonard Creek and follow the gorgeous moon-like beach to victory7. You skip some ladders but that's only the second-best reason why. Pachena Bay itself is an understated gem but the beach is rather spectacular. Lovely boulders and sand extending in a great arc, confined by the bay compared to the limitless Pacific of days past, all the beauties of a wonderful backcountry beach but on a very human scale, very well worth walking and exploring for the trifling amount of hiking you have left. Watch for great big red signs and wood benches on the shore telling you where to go up to the parks office. I passed another huge school group, just starting out, all chipper and eager as they scarpered over the rocks.
At the handsome old A-frame trail office I signed out, bought my souvenirs, took off my sweaty hiking shirt that now had a cigar hole in it on their lawn, discovered my phone was missing, remembered using it as my alarm clock that morning, and in what I can only call a heated hiker-trash moment tore into my things, shirtless and sunburned, searching in vain for it until I noticed that I had taken it out about ten minutes earlier and it was sitting on a bench.
The staff boy at the trail office was clearly in training. I signed my name on his form and gave him the two trail updates worth giving: he wasn't much interested in the bear scat, nor did I expect him to be, but he did perk up a bit at the broken ladder rung heading down to the Klanawa River. I hope he wrote it down. The sooner that's mended, the better.
Then I idled waiting for my bus. There was kinda-sorta Telus cell service, and I walked around the lawn with my phone up picking up the signal. Someone shouted "Ben!" and I died of a heart attack. It was Steve from Niagara Falls, last seen blowing by me on the way to Cullite Creek, who I'd expected to be well on his way to town by now. He'd only finished the day before me, though, and stayed at Pachena Bay Campground, so we had a chance to catch up. He tied off three of my loose ends: could the Klanawa be forded (Steve forded it, though it sounded sketchy), where was the bear who pooped in the woods (Steve ran into him on the beach past Michigan Creek, and a good thing he did, because he'd lost his bearings and thought he wasn't at Michigan yet so that bear saved him some real angst in the headlands), and whatever became of the poor guy who broke the ladder rung (Steve did, and he lived).
Not long after that, Stefan, Mathias, and Nick came through at the ends of their hikes. They were bound for Bamfield for the night but their arrival gave us a very fitting coda of handshaking, posing for photos, and going out as a fivesome before two of us embarked on the soul-killing six-hour bus ride to Victoria. We rode in their smaller van, as passengers were few, and made great time: it turns out this was the one West Coast Express trip where I could have caught a same-day ferry to Vancouver if I'd tried, but I wasn't to know that in advance. Instead I was staying in town, at the same hostel as the others on the bus, so it gave Steve, me, and a woman who'd just completed the Juan de Fuca Trail and was full of Rocky Mountains stories a chance to go to the lounge and have all of two beers before hitting the hay at like ten.
We were very tired.