After two years of frustrated would-be backpacks in the Rocky Mountains1 2020 would be a winner. A half-dozen early mornings, scoring opening-day reservations for some of Canada's most-coveted campsites. Jasper frontcountry, Banff frontcountry, Jasper backcountry, Banff backcountry, provincial parks: processing and stress, HTTP 503s and duplicate credit card charges: all worth it to see great trails in peak season.
Take the train to Jasper, one night in the frontcountry, then two on the famous Skyline Trail. Bus to Banff, and three more nights up the Sunshine Village gondola, through the Assiniboine Pass, and down to the southeastern corner of Banff National Park via legendary Lake Magog. A trip worth the wait.
Then the virus came. VIA Rail, Canada's passenger rail provider, suspended transcontinental service for the year. So I had to fly into Edmonton, with associated problems moving fuel and bear spray, and bus to Jasper on Sundog. This meant a needless night at Wapiti, watching elk and ordering pizza.
On the Banff side Sunshine Village announced they, including the gondola leading to Assiniboine Pass, would not open for the summer of 2020. So an already-long day would be lengthened by a sketchy cab ride and a boring uphill walk. Then, in July, the bombshell: a nice lady from Brewster called and said that due to "extreme low demand" their Jasper–Banff bus would not run until September at the earliest2.
It was disappointing but one cannot be angry at small businesses trying to survive in a time of panic. Every thwarted booking, every reservation canceled, was refunded promptly and without hassle. Everybody was very polite, and the reputation of the Rocky Mountains' little transport companies and outfitters has only improved. But now I could either go to Banff and do Assiniboine Pass, or go to Jasper and do Skyline, but, with no connection between them, not both.
I chose Skyline. A mistake was made.
Skyline is Jasper's most famous backpacking trail. Men, women, and horses have been ascending it by a variety of passes since the area was first opened by Europeans in the nineteenth century. The books tell you it's 44 kilometres (27.3 miles) long and that, though half the walk is above treeline, it's only moderately difficult in decent weather. Hiked from south to north, the recommended direction, you drive (or ride in the Maligne Adventures shuttle) uphill to Maligne Lake, which means cumulative ascent for the entire hike is less than a mile. The trail is usually wide and easy to follow, with useful cairns above the treeline. Campgrounds are well-laid out and provisioned with bear lockers and primitive privies. Most parties allow two or three nights, with one practical for strong hikers. Those with more money than energy can have a comfortable overnight experience by stopping midway at Shovel Pass Lodge, near Curator campground, allowing light packs, a real bed, and a hearty breakfast just before the trail's one difficult section.
This accessibility does not mean overcrowding. There are only five small campgrounds on or around the trail and reservations are required at each, so the numbers are artificially kept respectable. And with all that time in the alpine, looking down to the Maligne Valley on the right and towards the Icefields Parkway on the left, with little rivers and alpine passes and frequent sightings of moose, bear, and marmot, it ought to be very beautiful.
Catches? First, being an easy, pretty trail in the middle of a popular national park, very well-timed reservations are required. The three most popular campgrounds were essentially sold out all summer within four hours of reservations opening.
Second, there is one difficult bit, called "the Notch": a short col rising above Curator Lake, only about 900 vertical feet but steep and on loose surface, with some thought required to find the route and a permanent snowfield that, at the height of summer, opens up just enough slippery stone to walk on the northern edge (the right-hand side, if hiking from Maligne Lake). It is not a brutal obstacle, not by any reasonable alpine standard, but it's tougher and quite different in character from anything either side of it.
Third, being in a mountain park and so extensively above treeline, weather is king. Snow can hit at any time of year, keeping the hiking season short and unpredictable. There are two "escape routes," the Watchtower trail down to the Maligne Lake road you took getting in and the Wabasso Lake trail to the Icefields Parkway, but neither is much-trafficked and the Watchtower trail can be cut off at the end by high water on the Maligne River3. Both of these escapes come just before the Notch, and the long alpine ridge it opens up to, which means, once you're over the Notch, if weather hits the only way out is through.
In COVID times just getting to Jasper was stressful enough. A few weeks earlier I had sprained my ankle and had gotten only one fairly half-assed trip all summer, which led pointless worrying. A four-hour wait at Edmonton International Airport with nothing open besides an overpriced hotel bar, then a five-hour bus ride with some questionable company, though the service was excellent. Norm, the Sundog driver, dropped me at my campground's gate though it was so far off the route that I hadn't dared to ask. At Wapiti4, my disjointed reservations were for two separate sites, but the helpful woman in the booth rearranged things to my perfect satisfaction. I pitched camp up in the twilight and the next day went into Jasper town, where masks were mandatory and every establishment scanned your wrist for the plague as you ritualistically followed arrows on the ground like medieval peasants dancing disease away, while an international assortment of tourists made all this effort even more pointless than it otherwise might be.
Wapiti's an acceptable base camp but a crummy destination. The mighty Athabasca River roars through a valley next to the campground, and you can reach the shore by scrambling down several sketchy old landslides, but trees block the scenery. Small RVs run generators and bugs seek your company. It's private enough, you're in the Rocky Mountains so it's pretty, there are modern conveniences including a coin-locked device charging locker, it's a very easy three-mile walk to town, and North Face Pizza delivers a good pie right to the campground entrance, so life could be worse, but don't go to Wapiti for its own sake.
Day's Distance: 7.5mi (12.1km)
Total Distance: 7.5mi (12.1km)
Distance Remaining: 19.8mi (31.9km)
Day's Elevation Gain: 1850ft (563.9m)
Maximum Elevation: 7262ft (2213.5m)
Hiking Time: 02:45:54
Speed: 2.7mph (4.4km/h)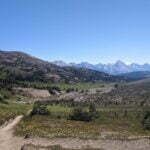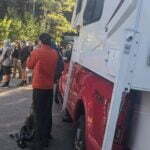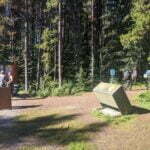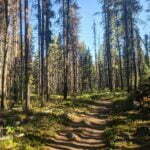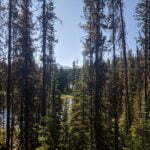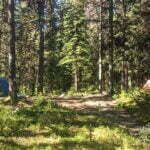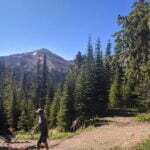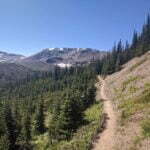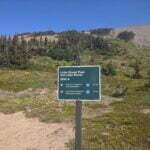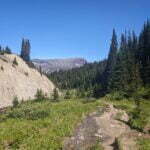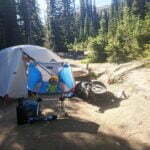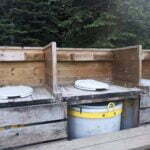 Hike morning, 9 AM, near Jasper's historic train station, on the Maligne Adventures daily shuttle from town to the Skyline trailheads. With me is the driver, and nobody else. Two other people were on this shuttle with me, but they turned out to be non-English speakers seeking an entirely different bus.
"Quiet one today?" I ask the driver.
"Oh no," comes the reply. "Wait until we get to the north trailhead."
He did not lie. In fact there were two buses positively filled with hikers and runners, submitting to wrist scans and pungent hand sanitizer, tugging on mandatory facemasks, then loading their bags in a heap and crowding aboard for a 45-minute ride with strangers. Social distancing was suspended.
The 45-minute drive to the Maligne Lake trailhead is itself scenic. You pass the Maligne River and Medicine Lake, see flora and fauna, watch the mountains and long, grim stands of dead trees. Skyline, despite being an obvious tourist hotspot, is surprisingly popular with locals: they come on for a run or for a couple days, chatting it up with their fellows. There's a fun vibe onboard, as there has been on every backpackers' bus I've ever boarded.
Then Maligne Lake, with dining, river rafting, sight-seeing, day-hiking, my last flush toilet for a while being cussedly repaired by an unlucky staffer, perfume, all the languages of the United Nations. On the unfashionable end of the colossal parking lot, the entrance to Skyline. There's a little stile telling you things about the trail you probably already got from the Internet and, on my visit, a sign warning you the access from the Watchtower trail was cut off. Start hiking, loser.
As far as Evelyn Creek, Skyline is a forest walk with pleasant and modest elevation gain. Short side trails will take you to Mona or Lorraine Lake; I walked down neither but the lakes looked pretty enough as the trail wove above. Past Evelyn it gets switch-backy, and bit-by-bit that is where you gain your day's 1,800 feet.
But what switchbacks! Clear, mostly broad. Long, gentle, but consistent, somehow not offending the natural lines of the mountain yet decidedly easing your way. Most popular trails show deep gouges where shitty people cut the switchbacks and bash straight up the hill. There is much less of this on Skyline because the switchbacks are just very nicely laid out. Cutting them would have felt like sacrilege.
I should say that, even by my impressive standards, I had packed very stupidly. My recently-injured ankle was braced up in a trail runner with only a teeny-tiny liner sock while I carried a load that included a chair, two battery packs for my gimpy old phone, a set of "plane clothes" to be preserved inviolate until I headed to the airport, and seven days of food just in case I found the last-minute path to Banff from here (because if the chance had occurred and I hadn't enough Mr. Noodles on me to take it I would have killed myself). So I appreciated easy trail.
What I should have done—what I meant to do—was take it slow and steady, guard my ankle, enjoy the scenery, remember that my campsite was reserved and the days were long. What I actually did was blast off to Evelyn at top speed, hydrate and apply bug dope5, then rocket up the switchbacks like an Atlas V, shedding sweat like solid rocket boosters and trying to overtake everything in sight. The sight of a backpack bobbing in front of me is a challenge, and the people passing me when I stopped at Evelyn6 was an affront.
Conditions encouraged bad habits. There were vile mud bogs others wasted time skirting; as a West Coast Trail alumnus (class of '18) I showed no fear. The bugs, the endless clouding stinging biting bugs, the bugs on a level that surprised even the prairie folk among us, were a constant incentive to keep moving. It was brilliantly sunny, and getting hot, and in case the heat got bad I wanted to be as high as possible. Everything except my ankle said "hustle," and my ankle stopped complaining after I beat it.
On the switchbacks I fell into a peloton as if this was a Grand Tour. With an effort I could pass the people ahead of me, but there were people ahead of them, and more ahead of them, surely a dozen or more at roughly consistent paces, which made an aggressive overtake feel futile. Young, old, strong, less so, ambitious, content, all strung out together until they dropped off. A couple runners attempted a breakaway, but they were caught by the pack before Snowbowl7. This was the only time where the trail felt busy, and even then not really, as the switchbacks were so long, the hikers were still reasonably few, and there were no boomboxes or bear bells in earshot.
The trees thin out, by by bit, and at every corner I thought "one or two more of these and I shall be in the subalpine." That is the trail's only flaw, for by its gentleness it teases your expectations, and the scenery is always just over the next ridge. When gradually the views started opening up the best ones were behind me.
Still, it was very fine, and I walked happily through Little Shovel Pass, which is worth seeing. My bus driver had said this pass offered views of Mount Robson on a clear day, which was manifestly impossible; a simple confusion of names. We've all done it. As soon as I got there I knew what he meant, but even so, in the bliss of the hike I made fun of him gently. "Mount Robson my aaaaaa…" and then I tripped over my injured right ankle and I heard something and I rolled into the dust.
My first thought was that I was okay. My second thought was that no, actually, I really was okay. The sound I guess was the velcro on my ankle brace shifting. Still, it's frightening, taking a tumble on an injured stump in the backcountry. I resolved to be more careful, a resolution that lasted for the entire rest of that mile.
Someone I talked to at Snowbowl said that when he saw me racing by he knew I knew what I was doing. He could not have been more wrong.
Ah, Snowbowl. A quintessential campground for those planning to spend two nights on the trail. The name in some indefinable way conjures visions of mountain majesty, of peaks on three sides, open spaces where the snow accumulates in winter and there's plenty of clean water in summer.
What a shithole. What an absolute sty. What a verminous pit. I may have formed a harsh opinion, on account of the outrageous bugs that drove every camper to his tent when he wasn't actively cooking or eating. While permethrin or DEET keeps them from biting areas you've dosed, they're still there, and they'll attack through your socks or your pants or your shirt as surely as anything. They're big and fat and slow and you can slay them at will but see if that stops them. Where-ever I sat, be it sun or shade, they came by the legion, and I built great cairns of their bodies, and much though I hate the feel of bug repellent on my skin, soaking into my sleeping bag, I tried to hide in my little tent but it was too hot and the insects struck the fly like hailstones. Even after 9 PM, with the sun well down, the mosquitos attacked8.
But even had the bugs been gone I could not have loved Snowbowl. The trail in either direction is gorgeous, but the campground is enclosed by little pines and almost viewless. The myriad of adorable little streams on the way in gives way to a dry campground and a Parks Canada sign that says "water source 0.8km". Luckily on my visit there was a shitty muddy larvae-filled stream closer by which, with a good filter, felt more appealing than the walk. For a campground with only eight sites it felt awkward and sprawling.
And, while this is not specific at all to Snowbowl, if this is your first experience with the lavatories in Jasper's backcountry you will be in for a shock. A woman and her boyfriend walked in after me, asked where the outhouse was; I pointed but warned it was a little rustic. She smiled indulgently, said she'd seen the pictures online. A few minutes later I overheard her putting on her pack saying she hadn't needed to go that badly.
Three buckets, say four feet tall. Over each, a toilet seat. Steps up, a wood partition about hip-high. No shelter, no door, no walls. Alone it's really not that bad apart from the smell, which can't be helped, and the bugs, which are worse here than elsewhere but uniformly terrible. But this is a reasonably popular trail and the three holes make you feel like you ought to share the space, though really it's just a neat way of dividing the excrement barrels into thirds, and it's not in the least private, and it's awkward. Honestly, in terms of both comfort and ecological impact, it beats pooing into a cathole, but only a heart of solid stone will view that facility with equipoise9. On the bright side the poop holes have the second-best view at Snowbowl campground, with the best being at the picnic tables.
Writing and reading alike were a bug-infested nuisance. Pleasant conversations were had, mostly along the lines of "these bugs suck." I was very happy to go to sleep, and look forward to a more enjoyable day two.
Day's Distance: 21.1mi (34km)
Total Distance: 28.5mi (45.9km)
Distance Remaining: 0mi (0km)
Day's Elevation Gain: 2891ft (881.2m)
Maximum Elevation: 8179ft (2493m)
Hiking Time: 08:21:57
Speed: 2.5mph (4.1km/h)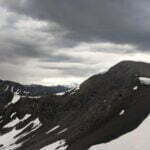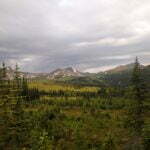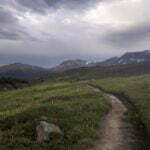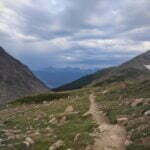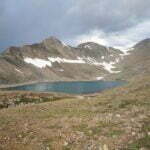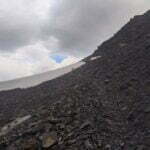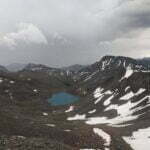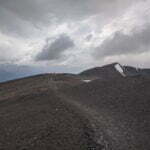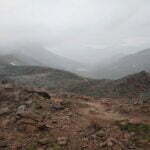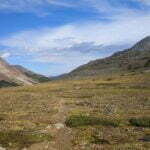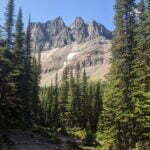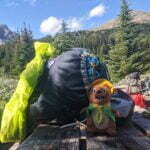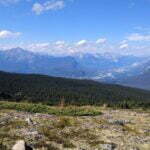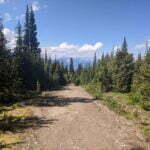 I awake after a night of excellent sleep by the buzz-buzz of my alarm. Fumbling for my watch I realize that, wait, I hadn't set an alarm. I put my glasses on. The bugs look back at me through the mesh of my tent. Breakfast time for everyone.
Unbearable. They swarm while I pack, while I make breakfast, while I eat. They're so bad I skip tea at breakfast, which feels like skipping oxygenating my blood. But I have to get going. I have to not be here anymore.
In driving me out, say, half an hour sooner than I otherwise would have left the bugs may be doing me a favour.
As I finish packing the first spatters of raindrops strike my shoulders. The skies are streaked with cloud, nothing exorbitant, and the forecast called for sun, but it's impossible to see far horizons from here so, not knowing what the future will bring, I put on my rainshell and pack cover and get moving.
Snowbowl campground is near, but not in, the geographical feature called the Snowbowl. The true Snowbowl is a pleasant, subalpine meadow north of and below the campsites. There are flowers and plenty of water. A mama moose and her calf cross the trail a few hundred yards behind me. Far more pleasant than the campground; even better without the rain, without the cloud wasn't whorling not-too-far-above me in menacing, intensifying patterns.
A pair of southbound women pass me at a creek. They are fit and carry limited, carefully-chosen equipment, effortlessly flying across the stone pebbles. I hail them, as the rain thickens and my worries about my coming alpine jaunt grow, and ask how it is up there.
"I've seen worse!" the leading woman says. She looks as though she has seen a great deal. I am not quite reassured.
Still, so far it's only rain, no excuse not to press on. Mountain Weather Is Unpredictable, as every single trailhead on every single mountain reminds us, so rather than try to predict it, I assume it will be fine.
The trail climbs out of the Snowbowl into the alpine. There are more switchbacks, but while yesterday's were elegantly-sculpted, here they are awkwardly drawn on the side of the Watchtower with none-too-steady a hand. My recovering right ankle soon aches handling the trail's camber, every step leaving my right foot a few inches above my left. But the ascent is not too rigorous, the weather stops deteriorating, and at Big Shovel Pass it is cloudy but dry. Moreover, there is a brief window of cell service; I send my girlfriend a quick text about how very safe and comfortable I am.
Out of cellular range, the rain comes back with redoubled force. There are few trees, probably plenty of opportunities for views, but with grey all about there is little to see. I pass the Watchtower trail intersection, in increasing wetness, and pass a crest which gives me a little something to look at: Curator Lake, unmistakable, with a trail heading south to the lodge and eventually Highway 93, the Skyline Trail itself, going down then up, losing its coherence in dark-red and brown rubble, but rising to the Notch, a sharp wall of snow with a thin, but well-defined line of ascent on the northernmost side, so many muddy bootprints knocked in that you can see the track from afar.
When you hike this way your first, instinctive "is that the Notch?" pre-identification is likely to be correct. There are no other features like it. But it's only when you get closer that you know: the line of crumbling shale, the bodies ascending it at a variety of paces, most slow. Really, the Notch is only 900 feet from root to summit. Most of them are lousy feet but you'll get there. It's just the steep slope, the bad surface, the careful routefinding lest you slide back down fifteen feet attempting to gain ten, the scurrying and effort, that sucks.
Also the weather.
The trail junction towards the lodge and the highway was my best bail-out point, if I needed to bail out, and conditions would arguably justify it. The wind was now gusting fierce, the rain was only worse, the sky was grey except where it was black. But above me I could see two parties, five people, getting up the Notch. If they can do it, the dumb part of my brain that tries to overtake distant backpackers with an injured ankle said, I know I can. I could go down Curator trail, walk up to the lodge, smile winsomely at its proprietors, and wait until the weather cleared, but what if it didn't? (Or if it did too late for me to make it to my campground, which amounted to the same thing?) I went on.
The climb up over Curator Lake is slow and annoying. Gale-force gusts push me any old way, usually forwards, but once so hard it knocked me over and my glasses popped off, luckily landing almost in my hand. I trudge, up. The rain thickens even more. The path is not obvious; sometimes I scramble up the best way, sometimes I do not. The ground crumbles beneath my hands and feet. I flail and paw and make it, every time.
At this moment lightning strikes, for all I can see right next to me. And if you're ever tempted to think that I'm an imperturbable outdoorsman who hides his guts behind a self-effacing facade, know that I saw that bolt land when I was in a highly exposed position, and I really thought it was so close I could have touched it, and there were hikers up ahead and hikers behind, and I warbled like a third-rate Ranger Gord "ahh, that's not good!" at 110 decibels.
In my surprise I neglected to count how long the roll of thunder came after the flash, until I heard it after some non-zero number of seconds. Enough that the bolt's immediacy must have been an illusion, so I kept climbing. Another flash. One, two, three, four, fi—BOOM. This time I was sure the white streak had come down the other side of Curator Mountain, which seemed like as good an excuse to keep climbing through the storm as any. But I resolved, as I knocked down the last hundred feet of incline to the Notch, as the wind blew me every which way and the rain wetted out my jacket, that if the next stroke of lightning was closer and I wasn't over the top, I'd turn around.
There was no third stroke. The hikers ahead of me had moved out of sight; those behind had, I think, sought shelter. It was just me, the wind, and the rain. I did not know there'd be no more lightning at the time, of course, so, with one foot on snow and one on rock, I crossed the icefield in a single push and gained the top as quick as I could. Over-heavy pack, rain, bum ankle, and all, it took me 45 minutes to get from the Curator Junction sign (which is as near the start of the climb to the Notch as makes no difference) to the top. It's difficult, but that's all it is.
I posed for a water-logged selfie at Parks Canada's Notch sign which claims, as nobody even pretends to believe, to be the highest point on the Skyline Trail, and felt good. I'd been planning to celebrate with a GORP bar for lunch, but with wind and rain still ripping me to the core, I decided I'd be better off if I kept moving.
The Notch is not really the Skyline's high point, though it ends the only serious ascent, and there is a nice long walk on an exposed ridge with wonderful views of the northern half of Jasper National Park including, on a clear day, Mount Robson. This was not a clear day to say the very least. And, when in a hurry to get out of exposed terrain, that ridge walk feels surprisingly long.
All I did was glare at a quilt of blue-grey that was sometimes pouring rain and sometimes only drizzling it, sometimes starting to obscure the trail and sometimes opening up brief glimpses of a valley, a mountain chain, on one side or the other. It ought to have been beautiful, and even in the conditions it was grand, but I was anxious for it to be over, to get below treeline.
The trail weaves up and down, gradually, which in good weather must seem like a joy, but in bad is a test of patience. Always the weather changed. I passed the other two parties ahead of me, kept going, and the cloud was so thick that when I turned around I realized I'd lost them, then fifteen minutes later I turned again and there they were. Of course I was worried, in a vague, impersonal way, that hypothermia or a slip would do somebody in on this miserable day, but I was also more-than-usually aware that it might happen to me.
Why am I still climbing? I asked myself a million times. Why am I not going down? For me the best view on Skyline was not the gorgeous mountain panoramas, most of which I was denied, but the moment I crossed over the last crest and I saw, clear as day, the path heading down, into the trees, a path I could see almost all the way to Tekarra, and I knew the worst was past me.
The sun even appeared. The weather was so lovely for the rest of the day that I was able to appreciate the views I didn't get, the scenery that when I passed it was hopelessly hidden. Even where I was, back among the trees and well below the peaks, it was gorgeous. Beautiful enough that it was almost worthwhile, fantastic, fabulous, easy mountain hiking. There was hardly a human voice to be heard, and when you did hear one it was hail, fellow, and well met, for we'd all been through the same crap and made it. Look at us. We're the best.
I got to Tekarra before anyone else, and scoped out the campsite. It had far better views than Snowbowl, an excellent creek running right alongside, a couple decent-looking sites. Parks Canada had laid the sites out intelligently, the ground on most of them was dry already. I stopped, shrugged off my backpack, charged my electronics. Swatted the bugs. Swat. Swat. Began building another hecatomb of biting insects. Oh no. Here we go again.
There's a saying, "hike your own hike." Don't set your itinerary based on what's expected or "standard." If you want to spend nine nights on the West Coast Trail, looking into every nook and cranny and hiking short days, you do it, even if the book tells you that weak hikers finish it in six. This is your vacation, this is why you're here. Andrew Skurka, among others, usefully expands this concept into a distinction between those who "hike to hike" and those who "hike to camp," those for whom the primary joy is the journey and those for whom it is the destination. You cannot go backpacking unless you're into both elements, but ultimately many people prefer one to the other.
I enjoy hiking well enough, as indeed I have to, but the best part of any day in the backcountry is when my tent is up, my sleeping pad is inflated, it is hopefully a respectable time in the afternoon, and I can sit on my chair, chug clean mountain water, nibble on a bar, read my book or write in my diary, and soak it all in. The camping is definitely the best part for me. And what I was coming to realize was that, on Skyline, the camping sucks.
This isn't an aspersion on Parks Canada. When it comes to backcountry trails their job is to ensure a safe, happy hiking experience for those who hit their trails, be they veteran outdoorsmen or newbies who saw an Instagram snap and said "I want to be there." There are limits to how much challenge you can take out of a trail, subtle limits, more easily understood than expressed but, to pick an example, putting Snowbowl campground in a safe woodlot with plenty of protection but no views, instead of a meadow that looks pretty and has water but would get blown out in a storm and buried beneath yards of snow nine months of the year, is reasonable. Yet, if you're me, with the capacity to keep moving if the campground was exposed on a given day but the desire to lay down in a beautiful spot if I could, this is a shitty compromise.
This was how I felt stopping at Tekarra. It was a safe space. But relaxing around for an hour, building yet another heap of bug skulls and thinking, with the grim certainty of experience, that this night was going to be no more agreeable than the last, I realized that this trail could fuck off and die. I wanted to not be on it anymore. The tiebreaker was chatting to a couple I'd spoken to the previous night at Snowbowl, who'd not only come to the same conclusion, but, if I arrived at the parking lot before them, would give me a ride to town10. So I left.
The first three miles out of Tekarra are terrific. You ascend a couple hundred feet and skirt around the mountains for a while. This part is very lovely. With the sun shining it was rather beautiful, with enough fog rising off the Maligne River to be confused with a forest fire. It goes on, winding, climbing and falling but trending down, through adorable, easy hiking, until you reach the turnoff to Signal Campground. This was probably my favourite part of the trail.
From Signal, though, you finish with over five miles down an old fire road. It is a steady, not-too-moderate, constant downhill plod. You'll see trail runners and heavy machinery and maybe bears. At the top of the fire road, a bike rack caters to those who find this stage so boring that they'll drag a mountain bike up it in advance just so, at the end of a long hike, they can ride back down. There's no variety, few views.
But doing it once was not horrible. You're still walking in the mountains. The air is crisp and clean. The long trip down a rock-strewn trail can do a number on the joints at the end of a big day; many complain of aching knees and my uninjured ankle was getting awfully sore. I spent the last mile staring at my GPS watch, gritting my teeth. The sheer distance is a trudge, as fire roads always are. It's not that bad, though, and when my cell phone came back to life I was able to pass some time calling hoteliers and transit providers, rearranging things to leave a little early and booking, as far as I could tell, the last bed in Jasper for less than $300 a night11.
I got to the parking lot in good time. It was packed, but my most-gracious ride-providers arrived not long after. We lamented weather and insects and pains for a few minutes, then arrived in town. I checked in, slung my bag onto my bed, went in search of a gallon of beer, and was soon dodging a trillion be-masked tourists filling patios, sidewalks, and restaurants, and began to wish I was on the trail after all.
Also that I'd done Assiniboine.